All about 'outcomes', as new community grants show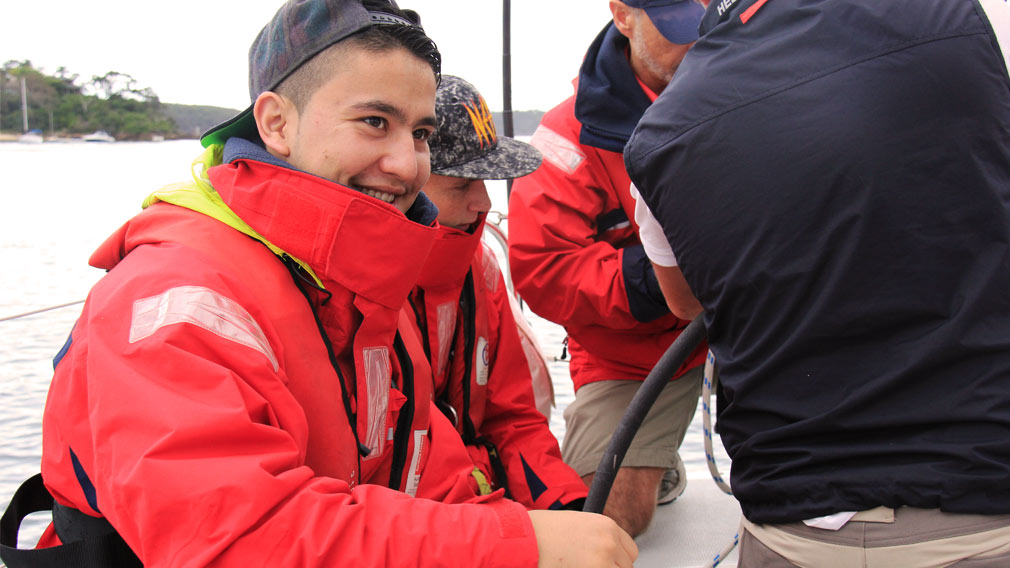 In his sixteen years, Rashad* has had two life-changing journeys on a boat.

The first was when he came out to Australia from Afghanistan. The second was with The Helmsman Project where he participated in a sailing-based adventure education program.

"When I migrated to Australia, the only English words I knew were 'yes' and 'no'," Rashad says. "I used to sit quietly in class but often I wouldn't understand what the teacher was explaining. I was scared that if I asked a question in class, I would be laughed at."

He is one of around 300 year 9 students from low socio-economic communities in Western Sydney at risk of disengaging from school to have taken part in The Helmsman Project's programs. These include multi-day sailing, hiking and camping adventures under the guidance of qualified coaches, designed to stretch participants' limits and help them gain confidence and new life skills.

Rashad says the program helped him discover talents he never knew he had. "My mum has noticed a big change in me. I can see she is proud of who I have become, that I am attending class and working towards my future. I am now doing my Assistant in Nursing certificate at Liverpool Hospital and would like to become a nurse or paramedic."

The hands-on experience offered by The Helmsman Project, which was today named among 200 grassroots not-for-profit organisations to receive a $10,000 Westpac Foundation Community Grant, draws on research in the fields of psychology, education and youth development.

The team has also received an Australian Research Council Linkage grant to measure the change in the lives of participants over time.

The Helmsman Project's focus on measuring "outcomes", rather than just "outputs", was key to Westpac Foundation's initial attraction to the four-year old not-for-profit during the 2016 Community Grant application process.

The ability to measure how effectively a program is changing participants' behaviour and making a difference to their lives (the outcomes), rather than the simple measure of whether they participated (the outputs), is something the Westpac Foundation team looks for in all the organisations in which we invest.

The importance of this type of measure was reflected in the recent inclusion of a new assessment criterion in the globally respected investment benchmark, the Dow Jones Sustainability Index: "impact measurement and valuation". This assesses "whether companies have business programs for social needs and if they are measuring and valuing their broader societal impacts".

The Australian banking industry led the way on this new measure in the 2017 DJSI assessment, scoring an average of 72 per cent compared with the global banking sector's 9 per cent. Westpac scored 100 per cent, reflecting our focus on how much of a difference we are making, not just how much money we invest.

While it is often complex and time consuming for community organisations or social enterprises to develop and manage this deeper type of evaluation, it is increasingly becoming expected by philanthropists, social impact investors and charitable foundations like Westpac Foundation.

We are in the early stages of building up our own social impact metrics. The data we gathered during the 2017 Community Grant application process shows that the 200 not-for-profits announced today will help almost 47,000 people – like Rashad – who may be victims of domestic violence, experiencing homelessness or mental illness, or facing other barriers to education or employment. This adds to the 11,000 people helped by the 100 Community Grant recipients last year.

Westpac Foundation also measures the effectiveness of its non-financial support, such as the matching of Westpac Group employee volunteers who work with grant recipients to identify how they can benefit from leveraging the bank's resources. Last year, 236 Westpac employee volunteers contributed close to 5000 hours to support 150 community organisations. A survey shows 89 per cent of the community organisations said they were more effective as a result of the volunteering support and, among employee volunteers, 90 per cent said they developed professionally.


Westpac Foundation is a philanthropic organisation, independent from Westpac Group. It gives financial grants and non-financial support to community organisations and social enterprises that address complex social problems. Since 1999, it has granted more than $34 million to 590 not-for-profit organisations.
* Rashad's surname withheld to maintain his privacy.