Former refugee's fix for skills-starved construction industry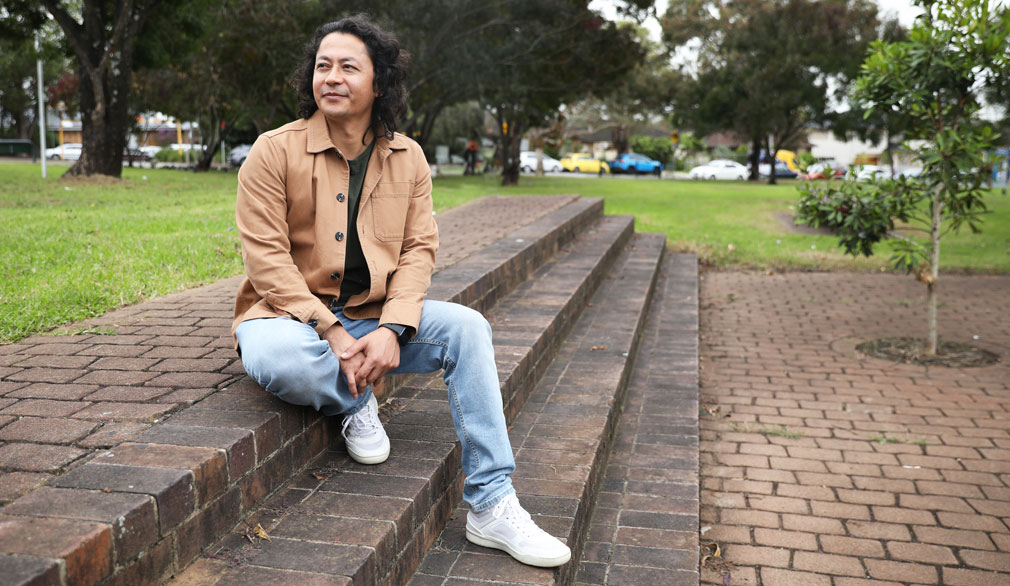 As Australia's building and construction sector grapples with an acute skills shortage, Hedayat Osyan says there's an untapped pool of workers ready to step up to meet demand among the country's refugee community.

Industry body Master Builders Australia estimates that almost half a million more workers are needed by 2026 to meet industry demand for the construction necessary to support the growing population.

"Many refugees have some type of industry experience so it's easy for them to adapt and start working, yet they're often overlooked," says Osyan, chief executive and founder of building trade social enterprise, CommUnity Construction.

"They often face discrimination because of limited English or unfounded fears that they may be difficult to work with, despite being desperate for work and having a willingness to contribute to Australian society."

It's an issue Osyan aims to address through CommUnity Construction, the business he set up in 2017 to provide a platform for humanitarian refugees to gain employment in the industry.

The grass-roots organisation, which supports employees by facilitating training, English lessons and career mentoring, offers an expanding list of building services including tiling, waterproofing, painting and cleaning. Projects have included both home renovations and large commercial jobs with the likes of Stockland, Sebel Hotels and Mudgee Hospital. Osyan is eyeing national expansion for the business, with a goal to employ thousands of refugees around Australia.

"Out of the 90 people we've trained in the last five years, 80 per cent of them have some type of previous experience in the industry," says Osyan, who was recently awarded a Westpac Social Change Fellowship.

"Refugees are very resourceful, they are resilient, they want to make a positive contribution to society – all they need is a bit of help, and that's why I established CommUnity Construction."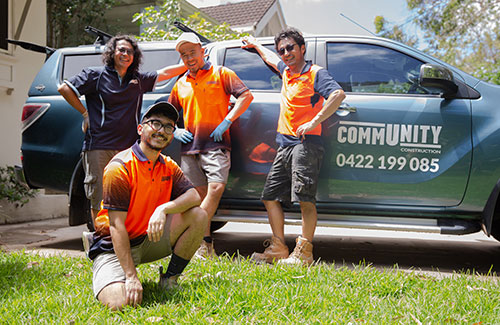 Osyan is no stranger to the plight of many asylum seekers – estimated by the refugee agency UNHCR to number more than 89 million worldwide as a result of forcible displacement due to persecution, conflict or human rights violations – having experienced first-hand the trauma of fleeing his home in Afghanistan in 2009.

Born in 1992 in the Ghazni province south west of the capital Kabul, Osyan's family is Hazara, the ethnic minority group who for complex religious and cultural reasons have been the target of persecution in their own county for centuries. Reports of violence, abductions and discrimination against Hazara people escalated when the militant Taliban political movement took control of the country in 1996 and again in 2021.

Osyan recalls as a young teen having to walk a 50km kilometre round trip to carry food to his father – a school teacher and prominent community advocate – who'd been imprisoned by the Taliban. Soon after his father's release, he was abducted a second time during a trip to buy books for his local school.

"He disappeared," Osyan says. "We've never seen him again,"

In the following years, as Taliban insurgents gained power across the province, destroying homes and kidnapping children, Osyan's mother implored him to flee for fear of meeting the same fate as his father.

Aged just 17, in June 2009 Osyan made his way to Kabul, carrying only a traditional Hazara handkerchief made by his sister, where people smugglers arranged for him to escape by plane and boat, bound for Medan in Indonesia. After a few frightening nights in the jungle, he was arrested for illegal entry.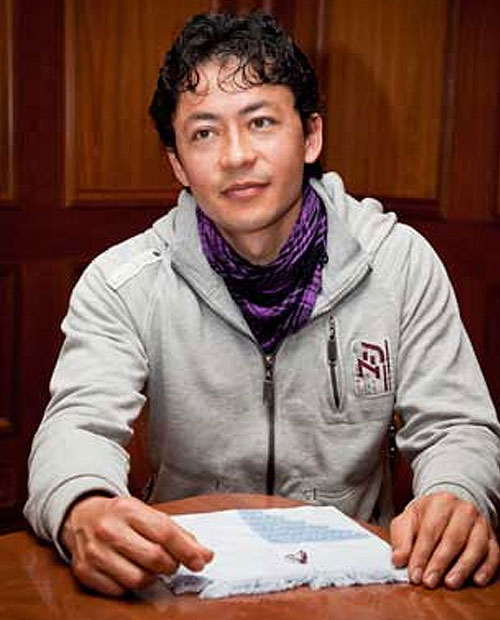 Conditions in the Indonesian prison were harsh – overcrowded, little food, no showers and scant information on what would happen next. After a month, Osyan says he managed to escape through a small window and made his way to the capital Jakarta to find the Indonesian office of the UNHCR. The wait for a formal interview was five months, during which time Osyan lived hand to mouth as an illegal immigrant with the looming threat of re-arrest. At his interview, he was told it would be another 10 to 15 years before he could be settled.

"It was very traumatic. I couldn't wait that long living underground, because I needed to look after my family. That was what made me take the next boat journey," he says of his decision to be smuggled by sea to Australia, knowing how many others had drowned taking the same trip.

In fact, the danger of such trips was a trigger for the Australian Government to introduce military-led border security operations aimed at combating maritime people-smuggling, under which anyone attempting to reach Australia by boat is turned back or sent to an offshore processing facility.

"I knew the risks, but I had no choice."

In December 2009, along with about 45 others, he boarded a vessel he recalls as old, too small for so many people, full of cockroaches, and with no satellite communication and not enough food or lifejackets.

"Every night there were storms. Everyone was seasick, vomiting. It's hard to describe how terrible that time was," he recalls.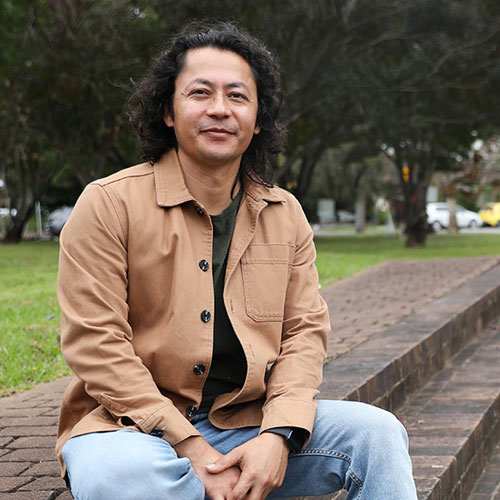 After seven days at sea the engine failed and the boat began to take in water.

"It was a horrible moment. We were all holding hands, many screaming, thinking this next wave is going to be the last," he says.

An Australian navy ship spotted the distressed vessel, rescued the asylum seekers and, after six more days at sea, ferried them to the offshore Australian territory of Christmas Island where Osyam would spend the next two months in detention while his refugee status was assessed.

"I really appreciate the Australian people who saved my life," he says.

"For the first time I felt respected as a human being, and I promised myself that I would work hard and contribute back to this country which gave me a second chance."

After arriving in Australia in February 2010, Osyan completed high school, learnt English, and went on to earn bachelor and honours degrees in politics and international relations and was accepted as a PhD candidate.

The spark to create his social enterprise came when he realised that not only were there huge barriers to employment for many refugees in Australia but also how rife exploitation was in segments of the workforce, particularly the construction and hospitality industries where he found evidence of underpayment, firing without explanation or requests for unpaid overtime.

"It's shocking. Most of them have already gone through difficult circumstances. They're very vulnerable and they have no idea what to do about it," Osyam says.

"I decided to create a safe space for these refugees and I hope to encourage others to do the same."

Under Australia's refugee and humanitarian program, the government is offering 17,875 places for permanent resettlement in 2022–23, including 4,125 additional places for Afghan nationals.

"Imagine if we can train even half of them for the construction industry," says Osyan, whose employees have fled from a mix of countries, including Afghanistan, Pakistan, Iran, Iraq and Sudan.

To get the breakthrough, he would like to see more state governments, local councils and big companies adopting social procurement targets to create opportunities for social enterprises like his to secure contracts.

"The capacity is there, but it's hard for big organisations to trust social enterprises. They're used to dealing with big established companies, and don't want to risk it," he says.

"But we're proving we can do it and with the right procurement frameworks the impact of social enterprises like ours could be scaled to new levels, to employ thousands of refugees while getting dozens more projects completed.

"That's only going to be a win-win-win – for government, the construction companies and for refugees."

Hedayat Osyam was named a 2023 Westpac Social Change Fellow.