There are few industries as immediately impacted by changes in household consumption as the retail sector, leading more retailers to hone in on how they'll navigate the choppy economic waters ahead.

Most economists agree that – despite last year's post-COVID consumer spending rebound which translated to an 11 per cent uplift for the retail industry – the crunch of inflation, nine consecutive cash rate rises and negative real wages growth will eventually take its toll on spending.

But this outlook is surrounded by "unusual uncertainty", as noted by many experts, including Westpac's chief economist, Bill Evans. A key wildcard is the large excess of household savings accumulated during COVID lockdowns – in other words, will households keep spending their pandemic stash this year, or bunker down?

This uncertainty comes at a time of dramatic change in the way consumers shop, leading to big investment decisions for retailers around how to optimise their online and physical networks as it becomes more expensive to win and keep customers.

In the absence of a crystal ball, many retailers are turning to strategic data assets to uncover the best path forward.

They're realising that those businesses with the most effective data insights will be the most competitive as they'll have the most agility to make faster, evidence-based decisions with confidence around where to invest, where to cut costs and how best to optimise operations as the landscape fluctuates.

They're also realising that rather than building armies of data scientists and a sophisticated data architecture to master their own metrics, they can extract immediate value from accessing third party data sets, insights and platforms – like those offered by Westpac DataX – which is making de-identified data easily ingested, digested and translatable for leaders.

So, how does this work in reality? In Westpac DataX's discussions with retail sector business leaders, three key themes have been dominating.

The first is around market share benchmarking.

Most retailers are well across their internal data on sales and product performance. Where it becomes trickier is how to track that performance relative to peers, the category and geographically. No matter how much a retailer optimises their own internal data, the full market context can only be revealed by overlaying insights from a third-party – such Westpac DataX which draws de-identified data from across the bank's operations such as the 6 million-plus daily credit card transactions.

Banking data is often a less obvious source of data for retailers, but it can substantially augment what they know about their market share and drivers of customer value. This helps to fundamentally guide operational and investment decisions in unexpected ways to gain advantage – whether that's about skewing product mix, channel strategy or loyalty programs.

The second is how this can help them navigate the economic slowdown.

With such unusual levels of uncertainty, many retail leaders want to better understand where the pockets of financial resilience are most likely to be – across the community, and specifically among their own customers.

Analysing the right strategic data sets can reveal these insights, by identifying the drivers of customers' value, loyalty and churn. For example, it can reveal insights about a retailer's typical customer's spending patterns and how this lines up with changes in available income and discretionary spend; what proportion of a business' revenue is reliant on what proportion of its customer base; and where the customers are that are most likely to be impacted by cost-of-living pressures versus those likely to be financially resilient.

Having these insights can drive much more robust conversations internally to guide the retailer's response and where the best potential return-on-investment lies – whether that's pulling levers in customer service strategies, marketing, nudges, loyalty programs or workforce optimisation.

The third theme is how third-party data can refine channel strategies.

Even before COVID, many retailers were grappling with reinventing their physical and digital presence – and as we emerge, the challenge seems to loom even larger.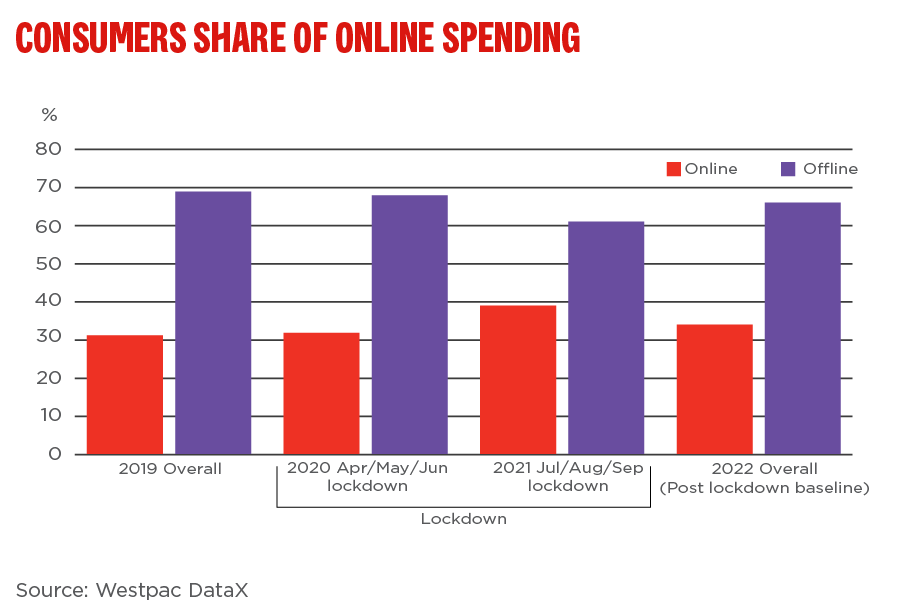 Westpac's data shows that prior to lockdowns in 2019, 31 per cent of consumer spending was done online. That number shot up to 39 per cent during the quarter to September 2021.

While much of this shift seems to have persisted, it's been interesting to watch the categories that have seen a return to in-person purchases, as consumers preference the sensory advantage of 'brick and mortar' stores.

For example, online spending with restaurants looks to be persisting, up by 90 per cent in 2022 compared with 2019. Similarly with groceries, online spending was 80 per cent higher in 2022 than 2019. On the other hand, in clothing, footwear and accessories, much of the shift to online during lockdown has reverted, with online spend just 30 per cent higher in 2022 versus 2019.

These fluctuations have meant retailers need to make big, risky and costly decisions around transforming their physical networks (including closing, relocating, opening and digitising stores); their e-commerce platforms; and their inventory management, warehousing and logistics systems.

While internal sales data has historically been used to make these types of decisions, third-party spending and geographic data gives a much greater ability to pinpoint the locations and formats that will achieve the best return, through analysis of demographics, spending power and the market conditions in a particular location.

The bottom line: strategically valuable data insights enable a retailer to know what buttons to press to improve customer loyalty and skew operations in unexpected ways to jump on growth opportunities.

Despite these advantages, the retail trade sector, as a whole, doesn't yet leverage data analytics to the extent other sectors across Australia's economy do.

There's no doubt in my mind that even in uncertain economic times there are still opportunities for retailers to grow market share, and it will be the businesses that recognise and leverage the power of data that could gain an important competitive edge. This includes responding to emerging trends, improving productivity and building the greatest customer loyalty.

In the absence of a crystal ball to guide us, it's in times like these that harnessing data can be the antidote to uncertainty, helping us find those shining opportunities for growth.


This is an edited version of a speech delivered by Jade Clarke to the Australian Retailers Association Leaders Forum on 22 February 2023.