Deda to champion diversity in economics in new role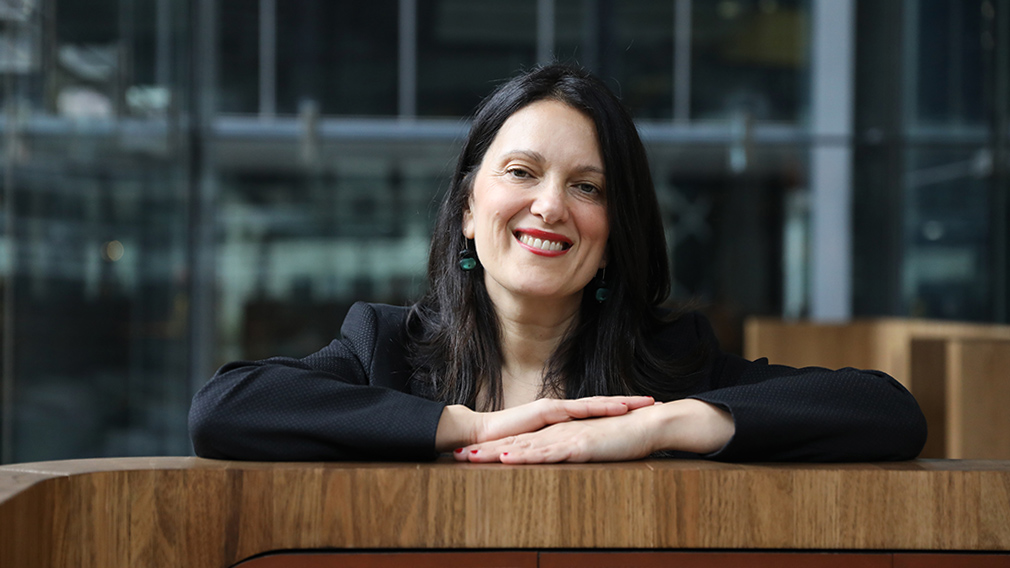 A growing number of women economists in leadership positions can help to break down the profession's "diversity perception problem", says Besa Deda following her appointment as chair of industry group, the Australian Business Economists.

"When I first joined ABE around 15 years ago, there were no other women on the committee," says Deda, Westpac's business bank chief economist.

"In fact, since ABE was founded in 1980, there'd only been one other woman, Janet Torney, in the mid-1990s. But now we make up more than 40 per cent of the committee, and that is an important change."

Deda's appointment – along with new deputy chair Cherelle Murphy, the chief economist at EY – comes at a time of growing concern over the profession's future talent pool following a dramatic fall in the size and diversity of the economics student population over the past 30 years.

One of the most striking aspects of the decline is the falling share of female economics students, according to Jacqui Dwyer, head of the Reserve Bank of Australia's information department, in a recent speech, adding that was likely to affect the composition of the profession "for years to come".

"Enrolments in Year 12 economics in Australia have fallen by around 70 per cent over the past three decades, and enrolments at university have largely flat-lined," Dwyer said.

"Economics was once studied in roughly equal numbers by males and females at school, whereas now males outnumber females by around two to one."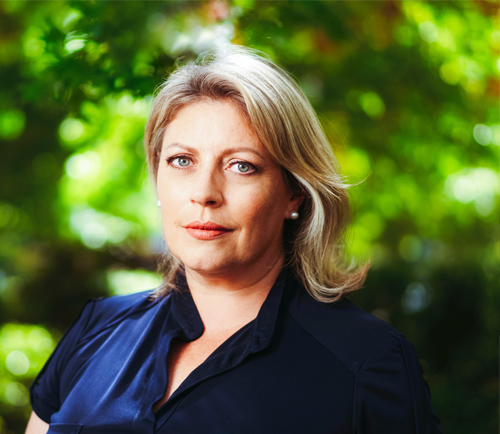 Dwyer also flagged a steady fall in enrolments by students from low socio-economic backgrounds and noted the significant reduction in diversity "will diminish the health of the discipline and the quality of future public policymaking" – an issue that's a priority for the RBA to address through a program of "relentless advocacy and targeted interventions".

Chair of the Women in Economics Network, Dr Leonora Risse, says the appointment of women to the helm in the male-dominated profession – a change also seen recently at the Economic Society of Australia when in 2019 Grattan Institute's Danielle Wood became the first woman president in its 94-year history – is "far more than symbolic".

"It actually means we're a step closer to women's capabilities being more fully recognised and valued, and dismantling those barriers that still impede equal opportunities in our profession," says Risse, also a senior lecturer in economics at RMIT.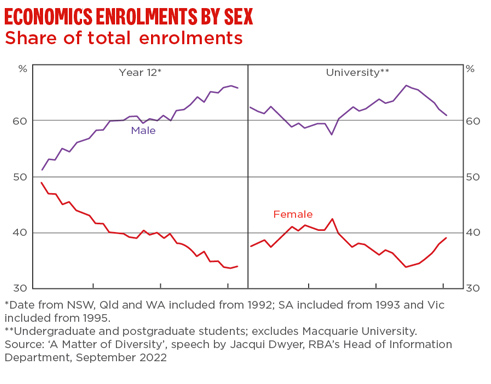 Risse is heartened by the recent pick-up in female enrolments in the last few years evident in the RBA's data, which she believes has been helped by the improved visibility of women economists, supported by groups like the Women in Economics Network and influential appointments such as Deda's.

She also says COVID-19 may have played a role as economists had much greater media airtime during the pandemic to provide expert commentary, and some outlets like the ABC had intentional strategies in place to improve diversity among those featured.

"I also think many of the economic issues that were all the more relevant for women – such as the larger loss of female concentrated jobs, the impact of home schooling, and the pressures on female concentrated industries like nursing and aged care – were the topics that more of the female economists were researching and tuning into, more so than the men," Risse says.

"We've received feedback that people feel like they do see more female faces commentating on economics and it's been refreshing because it's broadened the perspectives and the range of topics. Some of our student members actually remark that they just assumed that most economists were female because that's what they have been seeing on the news. This is amazing for us.

"(But) there are still a lot of inequities in the system."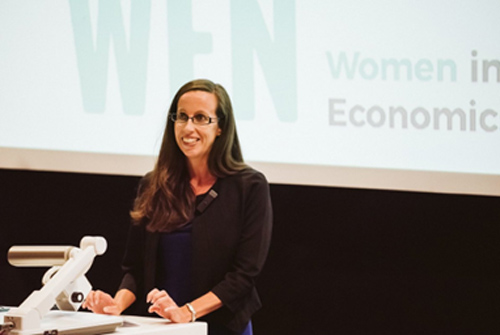 Deda and Murphy take the reins of the ABE committee from outgoing chair Stephen Walters, chief economist of the Business Council of Australia. He finished a five-year stint leading the influential group, whose life members include some of Australia's most renowned economists such as Bill Evans, Janet Torney, Rob Henderson, Stephen Halmarick, Ross Gittins, Ken Henry and Tom Ford.

"People have to see realistic role models in the profession," says Murphy.

"If they're constantly seeing grey-haired, middle-aged blokes, it doesn't appeal to young women to think 'That could be me'. We need to make the profession look like what it actually should be – which is a whole collection of people doing very interesting work across a number of really different fields.

"I just want people to know that the profession is not out of reach for anyone," she says.

Deda and Murphy will look to carry on ABE's tradition of offering a diverse program of events with leading experts invited to foster debate across a range of economic and policy areas – from its traditional annual addresses by the federal treasurer and the RBA governor, through to sessions on emerging issues such as the impact of climate change, carbon trading and crypto currencies.

Deda is also keen for the group to continue to roll out initiatives she spearheaded during the past few years to support the RBA's push to encourage more students to study economics, particularly young women. This has included sponsoring economics students in their senior high school years to attend ABE events, and hosting an annual student-focussed conference.

"We hope to keep running these sessions, where we showcase to students a range of people in economics – for example journalists, people who work on social justice issues, financial markets analysts," says Deda, who has worked in various economics roles since 1999, including with the Westpac Group since 2008.

"The idea is to try to show students that if you study economics, it's a really useful degree that can open the door to so many different roles – it's not just about being an economist at the RBA or the big banks, there are all these other different, really interesting fields you can enter. We have a fantastic opportunity to encourage greater awareness and interest in the work economists.

"Because if you've got narrowing diversity there's that risk of 'group-think'. Diversity means better ideas and improved outcomes," she says.