"Climate positive" coffee gives drinkers an extra buzz
As Brianna Kerr hauls a sack of coffee beans from a shipping container that has just arrived at a roastery in the Sydney suburb of Banksmeadow, she explains the role it plays in her business' ambition to provide "climate positive" coffee.

"By 2050 it's predicted that as much as 50 per cent of the world's coffee growing regions will be wiped out due to climate change," says the young co-founder of social enterprise, Kua Coffee.

"So, for us, when we decided to set up Kua, it was about tackling both the supply chain issues in terms of ethical sourcing but also looking to solve climate change in the coffee industry."

It's a big goal for the enterprise, but just as important as the day-to-day business of providing caffeine-obsessed Sydneysiders with a top-notch daily fix.

Kua's latest shipment is sourced from a smallholder cooperative in Uganda. Once roasted, the coffee will be sent out to a growing roster of customers across Australia, which includes the tech unicorn Canva.

A focus on servicing corporate clients reflects growing appetite among businesses to buy from social enterprises and socially responsible providers, Kerr says.

The business, which has grown tenfold since starting-up in 2019, returns all its profits to climate and land regeneration initiatives in Uganda, while offsetting its carbon footprint by 200 per cent.

"Why 200 per cent? As a business, we feel a responsibility to do more than just being neutral," Kerr says.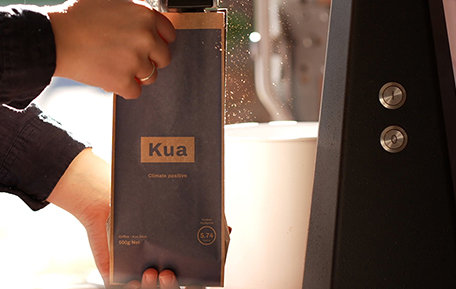 Kua delivers to its business clients in reusable drums, collects all the spent coffee grounds for recycling, and uses compostable packaging for home deliveries. Kua has also developed a comprehensive ethical sourcing tool to ensure farmers earn a profitable and sustainable income from its purchases.

"We do something really unique in the industry - we pay up front for our coffee," Kerr says. "Instead of farmers waiting long beyond the season to end to be paid, we pay them at the farm gate upfront, so they're not waiting for money."

Kua also makes bonus payments during the off season, to ensure farmers can get through the period when their cash flow normally dries up.

In 2020, Kerr was one of 15 postgraduate students to be awarded a Westpac Future Leaders Scholarship, and chose to study for a Master of Human Rights at the University of Sydney.

"Brianna is a wonderful example of a young Australian creating positive social change and not only in Australia but globally," says Amy Lyden, chief executive of Westpac Foundation and Scholars. The bank has made a $100 million investment to create the Westpac Scholars Trust, with a commitment to award 100 scholarships a year forever.

Her studies now complete, Kerr will continue to support the growth of the business in the coming years, with a strong focus on maintaining the highest human rights and environmental standards across its operations.

"I believe wholeheartedly that doing good is good business. The best businesses are the ones that are thinking about all of their stakeholders, not just their shareholders."