A single suburb that saw $1.8 billion of housing swap hands in a year, an apartment selling for $60 million and houses in a prized coastal area spiking almost 60 per cent.

Welcome to the wash up of a remarkable year for Australia's residential property market.

Or rather, markets – as CoreLogic's annual "Best of the Best" property report makes clear to anyone who still thinks property isn't a local game.

Take performances on either side of the country.

In the year to November, Sydney's top performing suburb for houses, Kurnell, gained 54.5 per cent, well ahead of Perth's best performer, Daglish, at 32.3 per cent, and Darwin's Moulden, up 32.6 per cent.

Other strong performers to varying degrees for houses were St Andrews Beach on the Mornington Peninsula in Victoria, which posted the strongest national gain of 58.6 per cent, regional area Gerringong, Queensland's Mermaid Beach, Adelaide's Beaumont and Hobart's Lewisham.

All beat the national gain for detached homes of 24.6 per cent, which helped boost the country's residential real estate value to an eye-popping $9.4 trillion – up from $7.2 trillion a year earlier, and almost three times the $3.4 trillion stashed in superannuation.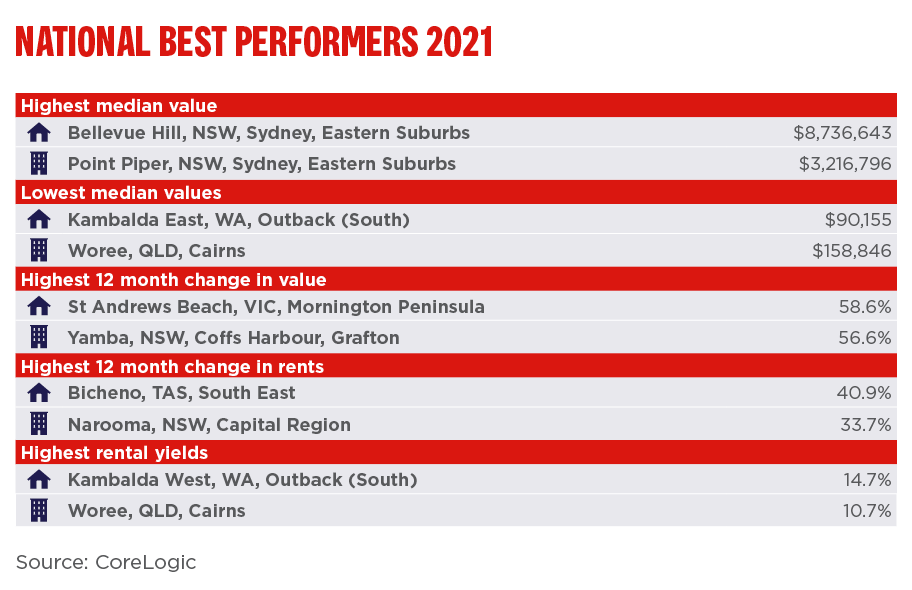 Considering the gloomy predictions when COVID first struck, they're impressive gains and demonstrate the power of record fiscal and monetary policy – not to mention medical breakthroughs – for property, plus returning cashed-up expats offsetting the sudden halt to immigration.

But in terms of actual prices, the night and day between various markets is arguably as extreme as ever at a time of rising (or rather, ongoing?) concerns about affordability, as reflected in the latest parliamentary inquiry into the complex and politically tricky issue.

For aspiring buyers, the report highlights the double blow, with rents up 9.4 per cent nationally – the biggest annual jump since January 2008. Tasmanian renters of houses in the suburb of Bicheno saw them jump the most, up a whopping 40.9 per cent.

Ahead of the federal government's mid-year economic and fiscal update today, Morgan Stanley's analysts predicted housing affordability would remain a focal point in the lead up to the election as cost of living pressures bite more broadly due to higher inflation.

Already, WA's real estate body, REIWA, this month put out a statement highlighting that lower price gains than elsewhere have at least ensured the state remained the most affordable, claiming that servicing an average loan chews up 26.3 per cent of "family" income, versus 44.7 per cent in NSW.

Some of the numbers in CoreLogic's report help explain why.

So strong has Sydney been for much of the past decade, it's now home to nine of the nation's 10 priciest suburbs and all 10 of the most expensive apartments.

Topping the list for houses was the well-heeled Bellevue Hill, which came in at $8.7m, well exceeding Perth's priciest, Dalkeith, at $2.8m, despite being similar distances to their respective CBDs. Obviously not a like for like comparison, but the suburb in Sydney's east not from Bondi Beach is about 51 times the nation's cheapest dwelling, being units in Queensland's Kooralbyn about an hour and a half drive inland from the Gold Coast, at around $171,000.

Not to be outdone, affluent Mosman "OTB" (over Sydney's Harbour Bridge to the north) notched up 325 house transactions worth a staggering $1.77bn for the year.

Demand for Sydney's ultra high-end luxury units also saw them dominate the top 10 most expensive property sales in 2021 nationally, with three in excess of $40m each in Barangaroo on the harbourfront and one for $60m down the road in the CBD.

That bucked the national trend, whereby detached home values almost doubled the 14.2 per cent gain for units, as demand rose for more rooms and backyards amid lockdowns and working from home. But $40m-plus apartments aren't exactly the norm, even for a city like Sydney where the median dwelling price is more than $1m – about $300,000 more than the next priciest, Melbourne.

"Despite protracted lockdowns, COVID outbreaks, jobkeeper ending, and the continued closure of international and interstate borders, there's not much about the property market in 2021 that wasn't good news for sellers," Sydney eastern suburbs agent Ben Collier writes in his end of year write-up.

"Prestige properties did particularly well in recent months but really all segments have benefitted over the past 12 months."

CoreLogic's head of research Eliza Owen says higher-priced suburbs have benefited from several forces since COVID, such as the "sea" and "tree" change trends boosting demand for prized regional areas as WFH increased. Indeed, regional dwellings outperformed this year, up 25.2 per cent compared with the 21.3 per cent gain in combined capital city prices, with the coastal suburb of Yamba in northern NSW recording the strongest growth in units across Australia at 56.6 per cent.

As for the pricier locales in Sydney and Melbourne, Owen says they are always more volatile than the averages.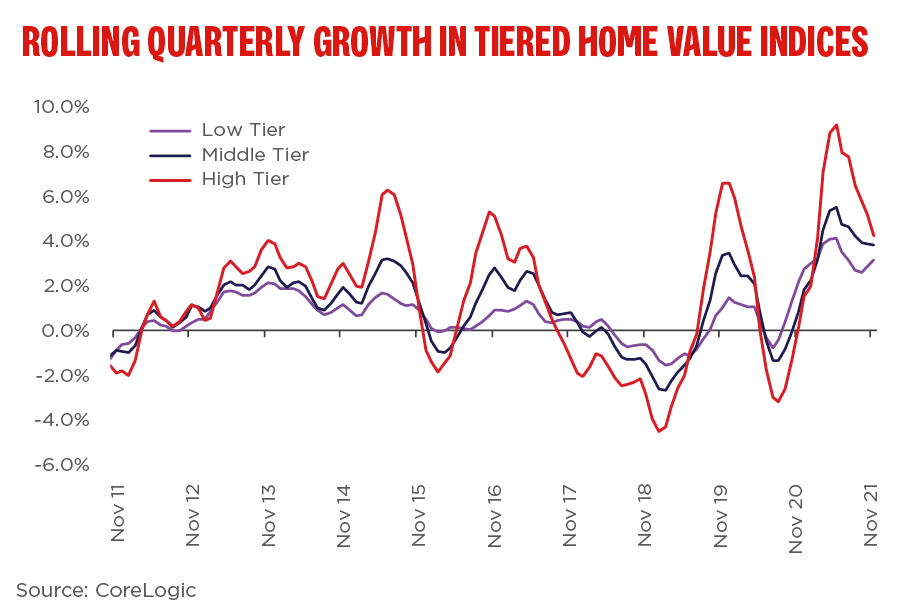 "During the upswing phase of the housing market cycle, expensive property markets in these cities will generally see higher growth rates," she says.

So where to in 2022?

The consensus appears to be that price gains can't continue at the same breakneck pace as headwinds mount. There's the talk of potential RBA rate rises, the banking regulator tightening serviceability assessments, more listings and, of course, eroding affordability.

Westpac's monthly consumer sentiment survey, released yesterday, showed a sharp fall in the "time to buy a dwelling" index as affordability "continues to be squeezed in all markets", while house price expectations also eased.

Just 7.3 per cent of respondents nominated real estate as the wisest place for savings, a 25-year low.
Recently, Westpac's economists stuck with their forecasts for national dwelling price growth to ease from 22 per cent this year to 8 per cent in 2022, before falling to 5 per cent in 2023. Or in other words, a net national gain of 25-odd per cent over three years.

But as they've noted, it's a mixed picture out there in the nation's different housing markets, which are doing different things, all with broader consequences for an economy that remains in recovery mode.

Still, it's hard to dispute the opening line of CoreLogic's latest analysis of 2021: "The Australian housing market recorded outstanding figures."


The views expressed are those of the author and do not necessarily reflect those of the Westpac Group.

The information in this article is general information only, it does not constitute any recommendation or advice; it has been prepared without taking into account your personal objectives, financial situation or needs and you should consider its appropriateness with regard to these factors before acting on it. Any taxation position described is a general statement and should only be used as a guide. It does not constitute tax advice and is based on current tax laws and our interpretation. Your individual situation may differ and you should seek independent professional tax advice. You should also consider obtaining personalised advice from a professional financial adviser before making any financial decisions in relation to the matters discussed.