With COVID restrictions easing, domestic borders opening up and overseas travel underway again, Australians are preparing to dust off their passports and navigate an array of "new normal" travel protocols.

And after almost two years of disruption, the travel industry is preparing itself to get people back in the skies (and on the oceans).

They can't wait.

Earlier this month, an emotional Qantas chief Alan Joyce told the media at Sydney Airport on the day international travel returned: "I got a tear in my eye seeing people meeting again for the first time for nearly two years."

But despite the excitement, no-one is pretending it's an easy runway.

"Everything is not going to come back overnight," says Flight Centre CEO and co-founder Graham "Skroo" Turner.

"We're anticipating leisure travel – whether that's VFR (visiting friends and relatives) or travelling for leisure – it will be two-and-a-half, maybe three years before it's back to pre-COVID levels."

An industry veteran after starting what became Flight Centre in the early 1970s, Turner predicts that corporate travel – which represents half of the travel agency's business – might take longer to return to pre-pandemic levels.

"People got used to Zoom and will be a little more discriminating about how they travel for business, and that will be part of our job, to make sure people aren't wasting money on travel they don't need to do," he says.

In the new world, travellers need to adjust just as operators do.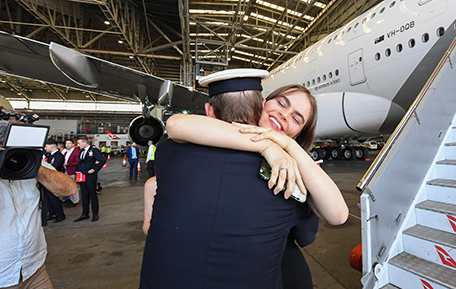 While the rules vary for different countries, the government this week unveiled further changes to the international border from December 1, including opening up to quarantine-free travel from Japan and the Republic of Korea after similar arrangements came into effect with Singapore on the weekend. Other than being fully vaccinated and able to prove it, travellers must test negative to COVID within three days of departure.

Speaking ahead of the changes, Turner says people will get used to the new norms such as COVID testing requirements and more paperwork, but concedes it's an additional headache.

"As long as you're vaccinated and you have a negative PCR (test) that's about all you really need to worry about," he says.

"People know that travelling is not going to be quite as easy as it was before. It's going to be a bit more of a hassle, bit more paperwork, but most people accept that.

"It will take six-nine months before things settle down."

The pandemic devastated travel, hospitality, tourism, airlines, airports and associated industries, losing what Turner estimates as 95-98 per cent in the first six months. According to Australian Bureau of Statistics, there were 150,880 visitor arrivals in 2020-21, down 97.8 per cent on the previous year.

The revenue losses were huge.

Since March 2020 (to 30 June this year) Australia lost $94 billion of visitor expenditure, says Adele Labine-Romain, Tourism Sector Lead for Deloitte and a partner with Deloitte Access Economics.

"It's a staggering amount," she says.

"This is the impact on just one industry. The figure will increase further, because we because we know the September quarter would have been particularly disastrous with the two major states in lockdown."

Turner says he is seeing a "slow but sure comeback" and that people will retain "worries" about travelling for a while. During the pandemic, Flight Centre has reduced its 950 stores to 450 but Mr Turner says the business is operating more online and in call centres and has the capacity to return to 2019 levels.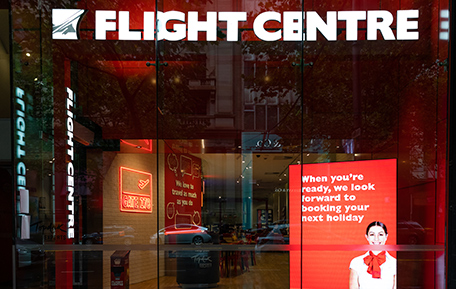 "The number of stores is not really the big issue, getting business in and customers back will be the main thing," he says.

Labine-Romain agrees that corporate travel will be the slowest to return given organisations have achieved "significant" cost savings by reducing travelling.

Also, she says, "technology has proven itself – it has saved us".

"There is a mourning for face-to-face and there will always be a place for that as soon as we can," she says.

"(But) I think the overall level of corporate travel will not return to what it was before and even with the growth in the economy if we look five years down the road we might only (then) be coming back to the levels we saw in 2019."

There are more immediate battles to fight first.

Western Australia still hasn't put a date on when it will reopen to NSW and Victoria, while restrictions and rules remain and vary for travel to different countries abroad.

Undeterred by Clive Palmer's failed attempt, Flight Centre even flagged a fresh legal challenge and judicial review over the WA government's continued border closure, noting Section 92 of the Constitution which allows freedom of movement.

While travel bans have clearly hit the country and industry hard, Australians are great travellers, taking 10 million outbound (international) trips a year.

Labine-Romain has no doubt this hasn't suddenly changed.

"At the end of the day there is absolutely no doubt in my mind that travel is among the things we've missed most, that it will sustain, that the industry is resilient, but it's not going to look the same," she says.

On the domestic front, she says Australia was looking to be back at 2019 levels in the first half of 2023, while on the international front "there's a longer runway, pun intended".

"Our view is that it will take three years to build back to 2019 levels," she says.

For the economy, which is being impacted by skills shortages in the labour market, Westpac senior economist Andrew Hanlan says the reopening of domestic borders ahead of the Christmas holiday period is a welcome boost for the tourism sector, but resumption of international travel is a "two-edged sword".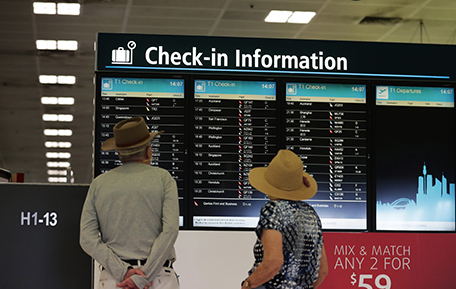 "It will enable stranded expats to return home, as well as permit a return of international visitors and students – although the likely speed of that recovery remains uncertain," he said in a report earlier this month. "At the same time, the opening of the national border will unleash a wave of pent-up demand by locals to holiday abroad, taking their spending dollars with them."

Turner says Flight Centre will lose money this financial year but expects to make "a reasonable profit" next year.

"And that will be fairly typical for businesses in travel and tourism," he surmises.

Still, at the media event this month, Qantas's Joyce said there was a mix of "relief" and "celebration" as Australia reopens to the world.

"I think it's a relief that we do see light at the end of the tunnel, we could get our 22,000 employees back to work. It's been unbelievably hard for them," he said.

"And some of the stories have been heartbreaking, but inspirational as well.

"Hopefully as I said, this is a one-way flow, the more and more borders will open up and we won't see them closing again because of the amazing job Australians have done in getting vaccinated to allow us to have this movement."

So, after adding a pandemic to the list of events including wars, 9/11 and recessions that he's operated through, does Turner feel a sense of relief that better times are ahead?

"I'll tell you in June 2024," he smiles.


The views expressed are those of the author and individuals quoted, and do not necessarily reflect those of the Westpac Group.