Such is the permeation of vaccines into our lives in 2021, they're now impacting our mood.

According to Westpac's closely watched monthly survey of consumers done with the Melbourne Institute, released this week, sentiment is "much stronger" amongst people who have either had a COVID-19 vaccine or plan to get the jab.

In "index terms", the gap between this group and those not willing to roll up their sleeve or who have yet to decide is "literally the difference between optimism and pessimism" – 106.6 versus 95.9 (above 100 indicates optimists outnumber pessimists) – and exists across all age groups, Westpac senior economist Matthew Hassan says.

Yep, a few years ago, most Aussies couldn't tell you which brand of flu shot they had, if they had one. Now, the COVID jab is key to how consumers feel about the world.

With consumption making up about 60 per cent of economic output and NAB's monthly survey of businesses this week revealing a sharp dive, the findings highlight how vaccines have become the biggest game in town for the economy.

As if there wasn't already enough pressure riding on the vaccine rollout…

"The survey continues to demonstrate the significance of virus control and reaction on the consumer," Chris Read, an equity strategist at Morgan Stanley, said. "The vaccine rollout continues to be critical to both recovery path and pace from here – we expect a strong consumer recovery once measures do ease."

To be sure, the overall consumer mood is far from dire.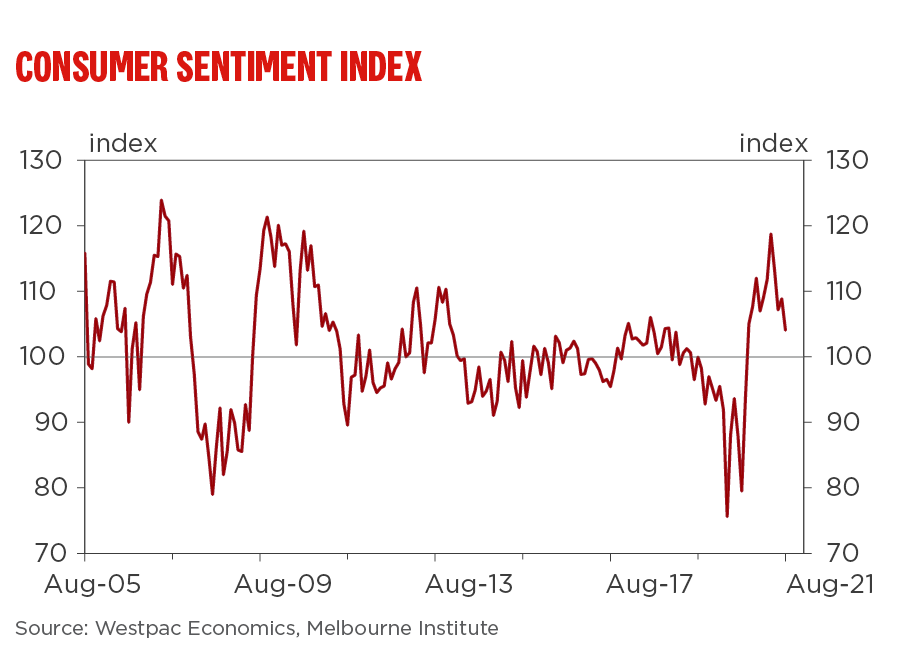 The headline sentiment index slid 4.4 per cent to 104.1 in August, an outcome Hassan says was "better than might have been expected" given Sydney's extended lockdown and snap shutdowns elsewhere. It also remains above the long-term average and the deep lows during last year's national lockdown of 75.6 and Victoria's "second wave" of 79.5.

So, are the vaccinated and those in waiting more confident because they feel safer and believe they're the ticket out of COVID? On the flip side, are those who don't plan to get vaccinated and the undecided feeling particularly down about lockdowns and other restrictions?

Who knows.

But other indicators and anecdotes also suggest faith is high that the vaccines will soon bring back some kind of "normality".

"This lockdown feels nothing like the initial 2020 lockdown when the market stagnated and prices went down," Sydney real estate agency Ben Collier wrote this week in its blog, noting the city's dwelling prices rose a further 2 per cent in July during lockdown.

For one, the agency says Christmas is nearing and people often want to have bought and moved in by the festive season. In addition, a "precedent" was created last year when house prices boomed once restrictions eased, giving people confidence this time around, they add.

Meanwhile, despite expectations the economy will contract this quarter, optimism is also riding high in the stock market, trading around record highs.

In contrast to investors, businesses are far less cheery. NAB's survey revealed confidence tumbled 19 points into pessimistic territory in July, industries such as transport and utilities, and recreation and personal services particularly downbeat.

In NSW, business confidence collapsed even further to minus 21, albeit still above the low of minus 63 last March during the initial lockdown.

Hassan and fellow senior economist Andrew Hanlan say differing policy support from governments may partly explain why consumer confidence is holding up better than business confidence, but the divergence will ultimately one again close once the economy reopens.

"As business confidence recovers, prospects are for this to flow through to hiring and investment spending decisions. Our expectation is that economic conditions will bounce back once restrictions are eased, as has been the recent experience," they say.

The big question is when the reopening will occur, which, again, comes back to vaccines.

Under National Cabinet's "four-step national plan" to transition to a "post-vaccination" world, phase B begins when 70 per cent of the Australian population 16 and older is fully vaccinated and phase C at 80 per cent, up from 25 per cent. No vaccination target exists for Phase D, when COVID-19 is managed similar to "influenza or other infectious diseases".

Economist Matthew Bunny says that if NSW keeps up its current pace of vaccinations, the state should hit the 50 per cent threshold around September and the nation 70 per cent by November. "Supply is set to kick up in the coming months, this should help speed up the rollout, assuming distribution and vaccine hesitancy don't pose major hurdles," he said.

But what exactly Phase D looks like and the path to getting there remains unknown and potentially just as hard, given it likely inevitably involves Australians tolerating some COVID in the community, and the associated hospitalisations and deaths.

Lockdowns and other "non-pharmaceutical interventions" clearly work, as a "mid-term review" of the macroeconomic effects of COVID-19 from the Bank for International Settlements this month suggested. It found no trade-off between "lives versus livelihoods" – countries that suffered more economically have also had the worse health outcomes.

Still, the working paper by Phurichai Rungcharoenkitkul also concluded severe lockdowns "can be introduced only so many times over the course of a pandemic" due to the extremely high economic damage.

With no silver bullet, vaccines are it – everywhere.

Positively, Australia's Department of Health's latest vaccine sentiment survey, released yesterday, suggests outbreaks and lockdowns have boosted intentions to get the jab in August, with 79 per cent "likely to get, or already are, vaccinated", up from 70 per cent a month ago.

Perhaps Charlie Munger's quip is proving as prescient as ever, at least for most: "Show me the incentive and I will show you the outcome."


The views expressed are those of the author and do not necessarily reflect those of the Westpac Group.