10Qs with…a data expert who dragon boats on the side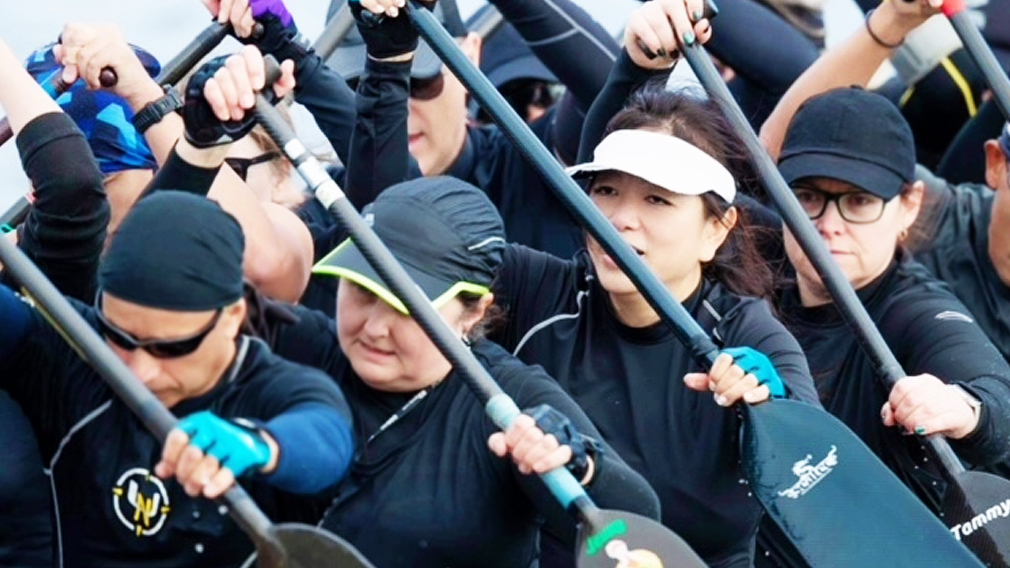 Meggy Chung joined Westpac as general manager, data platforms in February 2020. In the first of a new series for Westpac Wire, "10 Qs with...", she opens up about what makes her tick.


What's your morning routine?

Without fail, my body clock wakes me up around 6am.

The first thing I do is have a play with my dogs. I have a nine-year-old Bichon cross Westie called Bubbles who I've had since a puppy when my son and I lived in the UK. She moved with us to Singapore, where we lived for six years, and that's where I adopted Simba, my Pomeranian. In February last year, the dogs moved with me to Australia, while my son, now 21, moved back to the UK to study musical theatre.

Four times a week, I then do some form of exercise: normally, it's twice a week at the gym; on Saturdays I do dragon boat training and on Sundays it's tennis.

How long have you been a dragon boat racer?

I started around 12 years ago in the UK as part of a corporate team. Finding a dragon boat club here in Sydney was one of the first things I did when I arrived. I joined a phenomenal team. Just before lockdown in June we had our most brilliant competition yet, at the regional NSW championships. We won every single race in the competition and took home the cup!

We've been doing virtual training since then, but I can't wait to get back on the water.


Coffee: first thing, on the commute or in the office?

My commute is virtually non-existent because I live at Barangaroo, not far from the office. That was one of my criteria when choosing where to live in Sydney – it had to be a walkable distance to work.

I make myself a coffee every morning and, during that process of getting ready, I'll catch up on local news, then tune into BBC World News to get a wider spectrum.

Are you a WFH fan or not so much?

I love the flexibility of working at home (my dogs love it too) while also being able to stroll across to the office for the big meetings, like a board meeting or a session with the regulator.

As a whole, I think we've all learnt to work as a remote workforce much better, that we don't necessarily have to be in the same room to be just as efficient.

I also quite like seeing the more human side of people in their homes that you wouldn't see in the office. You often see their pets or children walking around in the background, or the books on their shelves that spark a conversation.

But it's still important to have the flexibility to be able to get together – not so much to complete work tasks, but to really get to know people and have that social interaction.

What's your biggest video call gaff?

I'm always the one on the video call talking on mute. I'm known for it so much that if others in the team do it, they now say, "You're doing a Meggy"!

Day structure: are you a 9-6 or on call sort of person?

I'm quite disciplined around work-life balance, mainly because I do a lot of sports and have a very busy social calendar.

My meetings normally start around 8am and the last wouldn't finish much beyond 6pm, latest 7.

When I'm doing my sports or I'm with friends, that naturally gives me the time to be technology-free.

I do set certain pings on my phone so I know if there's a technology incident, or some other urgent issue I need to deal with. But that's more the exception than the rule, so I can maintain a good balance.

What do you do if you get super busy or feel a bit overwhelmed?

When I detect stress building up, one of the techniques I learnt years ago is to consciously take a step back and say two things to myself, which I find quite helpful.

The first is to remind myself that I can't do everything. No matter how much work you do, there is always more.

The second is, if I have an inclination to log on in the evenings or on weekends, I force myself to stop and ask myself, "Do I have to?" Nine times out of ten, the answer is "No".

What would we find you doing on a typical weekend?

I'm one of these people who can't sit still. I generally divide my Saturdays and Sundays into three chunks – mornings, afternoons and evenings – and I always fill those slots.

Besides dragon boat training and tennis in the mornings, I play golf and go hiking, but I'm also very interested in the arts, so I'm often going with friends to museums, galleries and the theatre. I'm also a bit of a foodie, and I'm working my way through Time Out's Top 50 restaurants of Sydney. I've been to 27 so far.

My friends know I love trying new things, so for my birthday, they threw me a pole dancing party.

My team find it very amusing, as each week I share what I got up to on the weekend, usually with pictures – including one of me all dressed up and swinging around the pole.

What's the best thing you've read, watched or listened to recently?

Well, I'm a passionate traveller. When I lived in the UK (where I'd moved from Hong Kong when I was 12), I travelled extensively across Europe and the US, and saw a bit of India and Africa. When I moved to Singapore, that was a brilliant travel hub, and I literally ticked off everywhere I wanted to go in Asia, one by one.

So, during that first weekend we were completely locked down, I remembered I had this book called the Australian Bucket List, with everywhere you'd want to go in Australia.

I spent a whole day reading it cover to cover and started my planning for when we're finally allowed to travel. I picked out 30 or 40 places I want to visit and grouped them into trips. I've worked out now I need nine trips!

What career advice would you give your younger self?

When I was younger, I always had this belief that my career should take care of itself if I just put my head down and do a great job. I was quite stubborn about it.

What I didn't realise until years later is that your career is not all about putting your head down.

It's just as much about lifting it up.

It's about opening your horizons, building networks, finding mentors, surrounding yourself with diverse views, letting yourself see different perspectives, rather than just the people and things related to your job.

The simplest way is to get involved in initiatives outside your job, perhaps some company led program or community work.

At the end of the day, that's what has benefited my career the most.

You can read more from Meggy Chung in a recent story No data background yet? No worries.