When your side-hustle makes the national stage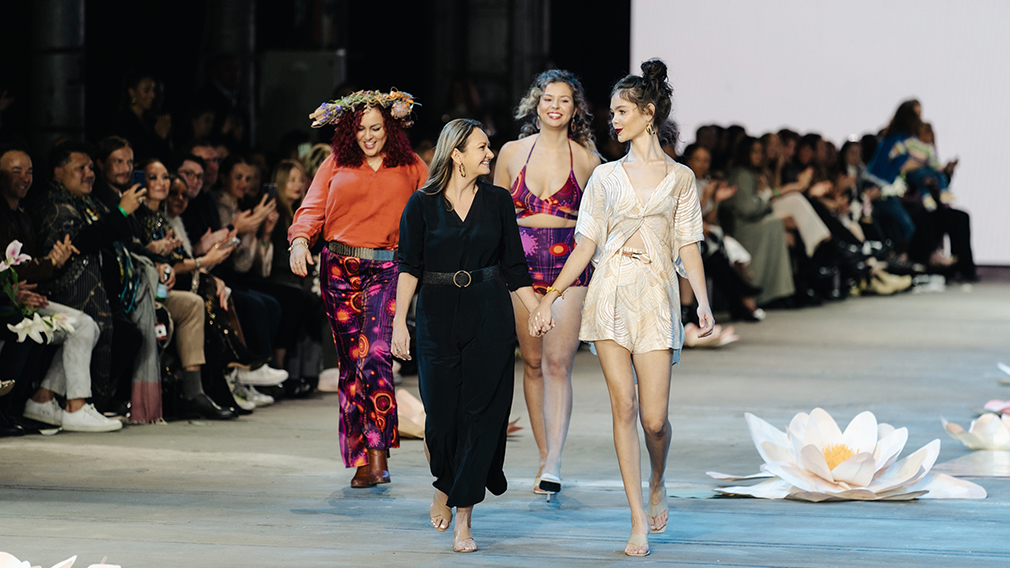 Just days after soaking up the thrill of unveiling her fashion collection at the hottest couture event of the year – last month's Afterpay Australian Fashion Week – Julie Shaw slipped seamlessly back to work in her other job.

The founder of MAARA Collective, who has been labelled one of Australia's most talented, promising and "commercially advanced" Indigenous fashion designers, also works within the Indigenous careers team in Westpac's human resources division.

Since joining the bank three years ago, with a remit to support Indigenous people into employment through programs such as traineeships and internships, Shaw has spent many nights and weekends toiling away at her passion project – a process she describes as a "slow burn" – and along the way has caught the eye of some of the country's top fashion retailers.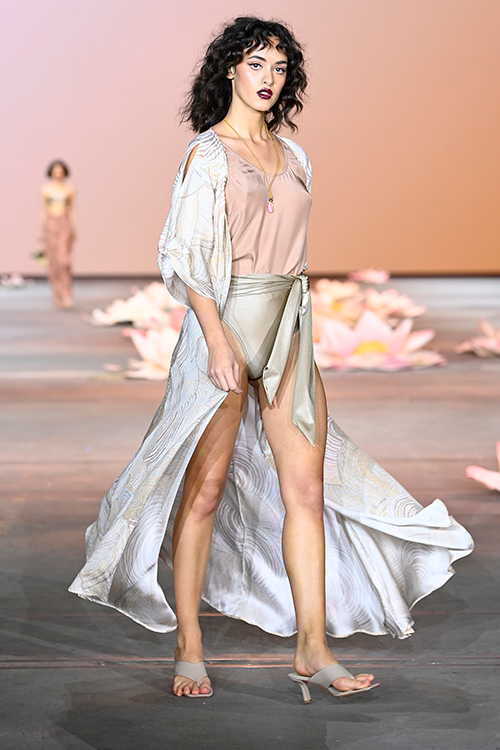 Despite growing up with "no connections to the world of fashion whatsoever", Shaw says she was always drawn to art and creativity and "somehow just knew" that design would be her path. After studying design at University of Technology, Sydney, and working across different parts of the fashion industry for many years, Shaw always had a dream to collaborate with Indigenous artists and weavers.

"It was something I'd been thinking of for a while," says the Yuwaalaraay woman, who grew up in the small outback opal mining town of Lightening Ridge in north-western New South Wales.

"Being an Indigenous woman myself, I've always been exposed to the breadth of creative talent that exists within this country, from remote communities to regional areas and into the urban city environment.

"Our Indigenous art and design practices are incredibly rich and vibrant, and I wanted to explore and showcase that through the medium of contemporary fashion, using my training and experience as a designer."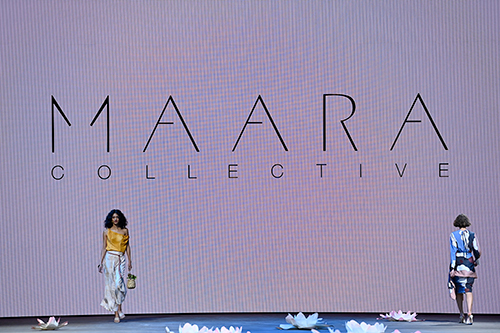 In 2019, Shaw began to collaborate with a group of master weavers, Aboriginal women from a remote art centre in Arnhem Land on Yolngu Country, leading to the birth of MAARA Collective – the name meaning "many hands" in her ancestral language groups of Yuwaalaraay and Gamilaraay. Her resulting collection debuted at "Country to Couture" runway show in Darwin in August that year.

"Walking out on stage at the end of that show in Darwin, hand in hand with the Yolngu women who I worked with on the collection, was such a proud moment," recalls Shaw, who describes her lines as "Australian luxury resort wear".

"I'll never forget sitting front row with them, seeing and hearing their excitement as their pieces came out on the runway."

Since then, Shaw's brand has burst onto the fashion scene, winning both the Fashion Design and Community Collaboration awards at last year's inaugural National Indigenous Fashion Awards, and named as a finalist in the 2020 Australian Fashion Laureate for Best Emerging Australian Designer. Shaw was also ranked one of the most influential people in Australian fashion as part of Ragtrader Magazine's Power 30 List for 2020.

Capping off her remarkable rise to prominence, Shaw's latest collection, Tjukula – created in collaboration with Pitjantjatjara artist Lexie Michael – was chosen to feature in the ground-breaking Indigenous Fashion Projects at last month's Fashion Week, the first time the prestigious event has featured a dedicated Indigenous runway.

"It was a really significant week for us and a real privilege to be part of those shows to represent Indigenous talent," says Shaw, whose brand was among a group of "immensely talented" Indigenous labels, including Indii, Kirrikin, Liandra Swim, Native Swimwear and Ngali, participants in the "Pathways Program" supported by retail giant David Jones.

"With the presence of Indigenous designers, models, stylists, curators and producers, over two separate showings, it really feels like the Australian fashion industry and audiences are sitting up and starting to take notice.

"It's fantastic, because many Indigenous designers employ other Indigenous artists, creatives and often communities within their businesses, so there is a real economic benefit to supporting Indigenous owned and operated businesses."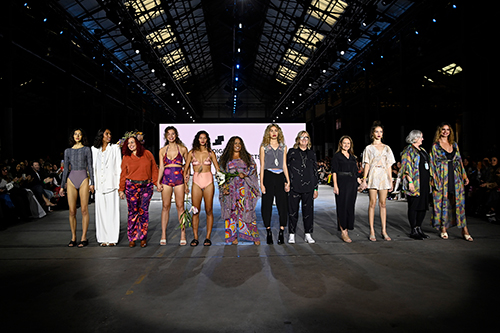 Shaw admits juggling her thriving fashion label while working a full-time day job at Westpac "can be tough". But she's not alone, recent Westpac research finding more than two in five young Australians have a side hustle and, of those who don't, four in five would like one in future.

But Shaw's "passion for both worlds" makes it worthwhile.

"In both of my jobs I work to support my people and communities," she says.

"Having grown up in a remote community with very few employment opportunities, I see the incredible value in the bank's traineeships and pathway programs that we offer to our Aboriginal and Torres Strait Islander candidates.

"I've also watched my mum, who's worked tirelessly in the Aboriginal education system all her life, and seen how helping our kids get an education and a start in a solid career path can really impact their lives and the lives of their families.

"It's feel a real responsibility to work to support my people and communities, and, over the years, in between my fashion work, I've also worked in the Aboriginal training space and in Aboriginal cultural development.

"So, yes, there are definite links between my two worlds."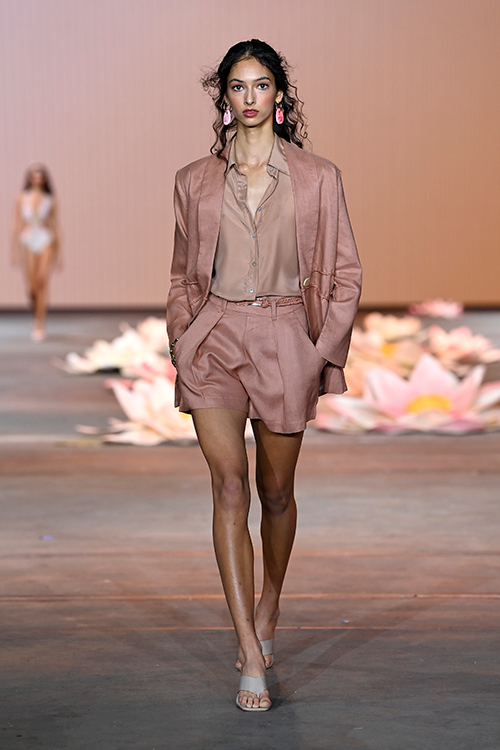 To manage the juggle to date, Shaw employs a remote team of expert contractors, such as patternmakers, sample machinists, web designers – which, over time, she hopes to transition to a direct employment model as she expands. And she says her direct-to-consumer model is "manageable" while she also works full time, although she has dreams of securing key retail partners to increase her sales channels.

As her brand's recognition has grown, sales have steadily increased, customers even discovering her collections online from as far afield as the US, Canada and the UK. For every purchase made, MAARA Collective supports digital training and education in remote Aboriginal communities through the B1G1 (Buy One Give One) program.

"The passion for what I do and the fact that it is more than just a clothing line drives me to make it work. It's what I absolutely love – it's my passion, and that trumps everything," she says.

"For me, the most important thing is to keep on collaborating with and supporting more independent artists and art centres through future collections."