While the horrendous human toll of COVID-19 in many countries around the world continues to play out, hope that vaccines will ultimately bring the virus under control will likely intensify the spotlight on trade in 2021.

This is particularly so for China, with trade relations likely to be a key focus following the dispute with the US leading up to the pandemic.

As our latest Market Outlook detailed, a further escalation with the US under President-elect Biden's administration is unlikely; however, the rolling back of existing restrictions also seems improbable, at least in the near term. This uneasy status quo is expected to see China continue to focus on export growth opportunities within Asia and other emerging markets, which are more open to allowing Chinese businesses to operate unrestricted, providing China's up-and-coming industries with the markets they require to flourish.

Of course, trade is likely to continue to also be a major issue for Australia following China's recent tariffs and restrictions on several exports including barley, beef, wine, seafood and coal. How these issues are resolved remains to be seen, but it's worth remembering that iron ore makes up almost half of Australia's exports to China and, importantly, the price has been at elevated levels of around $US150, limiting the impact of China's trade actions on the Australian economy so far.

Should tensions ease and trade normalise, there's cause for optimism for exporters given China's growth outlook.

Having kept the virus at bay, China's economic data continues to be strong with several purchasing managers' indexes this month coming in at multi-year highs, highlighting both the strength and breadth of its recovery.

Like in Australia, with borders remaining closed, Chinese consumers are restricted to spending domestically, recirculating income and wealth to a large, diversified share of the population.

Still short on investment opportunities, a material portion of household income and wealth will also continue to be invested into housing, providing another fillip for growth and bolstering demand for iron ore.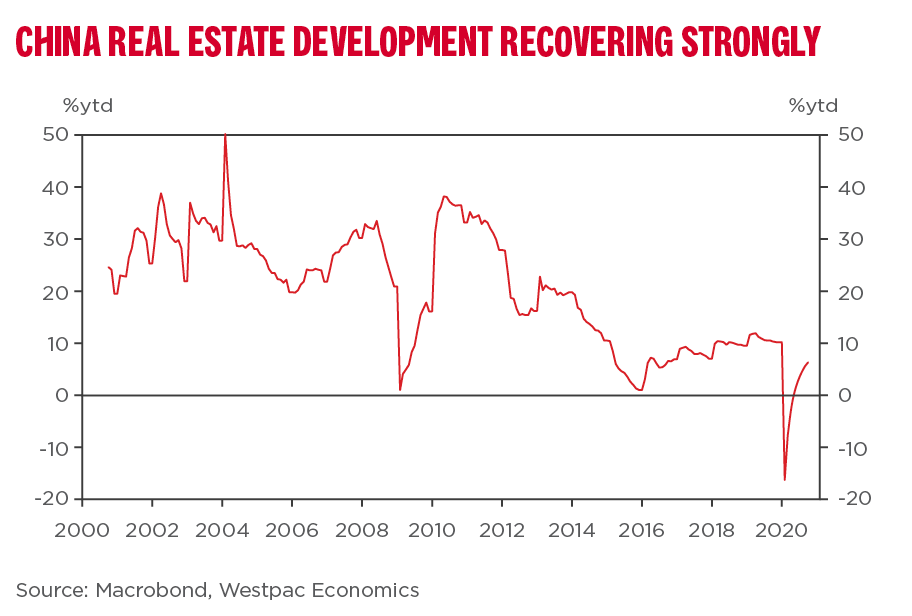 Its economy faces drags though, such as vaccines ultimately leading to more consumer spending flowing back to hotels and education offshore as travel resumes.

But there is more opportunity than risk, and by December 2021 we expect China GDP to be around 12 per cent higher than its end-2019 level while many countries still face drawn out recoveries.

In the US, which is battling a harsh COVID-19-impacted winter with more than 200,000 new cases a day, we see the economy only slightly above end-2019 levels by December 2021. For Australia, we expect the economy to achieve end-2019 levels of output by mid-year after recently upgrading our outlook for 2021 from 2.8 per cent to 4 per cent, albeit followed by slower growth in 2022.

In contrast, China's structural outperformance looks set to continue, able to grow 5.5–6 per cent post 2021 as the world settles back at a sub-4 per cent pace.

For Australia, then, it will prove crucial to chart a path through current trade tensions and build strong trade ties with China and the rest of Asia.

Doing so will position us to recover well from COVID-19's once-in-a-century shock and lay the foundation for a strong and sustainable new growth cycle.


The information in this article is general information only, it does not constitute any recommendation or advice; it has been prepared without taking into account your personal objectives, financial situation or needs and you should consider its appropriateness with regard to these factors before acting on it. Any taxation position described is a general statement and should only be used as a guide. It does not constitute tax advice and is based on current tax laws and our interpretation. Your individual situation may differ and you should seek independent professional tax advice. You should also consider obtaining personalised advice from a professional financial adviser before making any financial decisions in relation to the matters discussed.

Don't miss
By Ben Young
Head of Fraud and Financial Crime Insights