Resilient farmers toast surprise 'agritourism' boon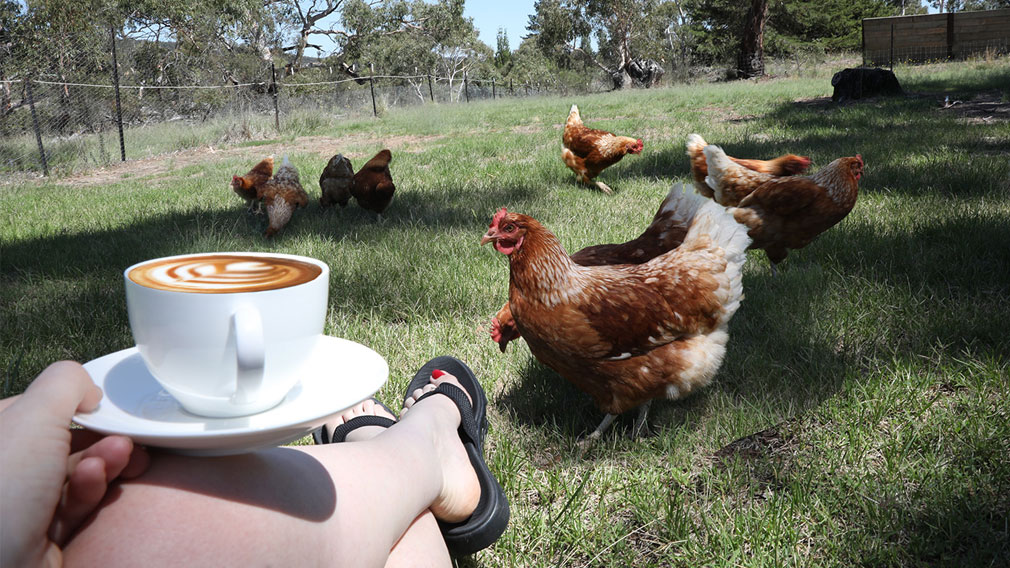 I take my hat off to Australian farmers.


Despite three years of crippling drought, last summer's catastrophic fires, and the economic shockwaves from the COVID-19 pandemic, Australia's agricultural sector has continued to deliver.

Total production is up, and the sector's momentum is reflected in Westpac's own agricultural lending book which grew 9.8 per cent in the year to September 30 compared to the previous year.

While the sector has certainly not escaped the COVID-19 clouds altogether, the pandemic has in fact brought some unexpected upsides – most notably a resurgence in Australians' curiosity and care about their food.

After an initial wave of anxiety as pandemic panic led to fears that food would run out, Australians began to realise we live in one of the most food secure nations in the world, producing substantially more food than our population consumes – and many began to wholeheartedly embrace home cooking.

During a period when families have had to tighten their spending belts, expenditure on food for home consumption has grown during the year, a trend expected to flow well into future years.

At the same time, families began to use their purchasing power to support domestic businesses as their way of helping the country through the economic effects of the pandemic. This "conscious consumerism" extended to Australian grown produce, causing many people to start examining their food's provenance and demanding local produce on supermarket shelves.

While this is a positive trend for farmers, it's by no means all plain sailing for the sector.

On top of the many existing complexities – including ongoing drought recovery and uncertainties around tariffs caused by deepening global trade tensions – COVID-19 has darkened the sector's outlook like almost every other industry.

The global trading environment, in particular, is cause for worry, given more than 70 per cent of our nation's agricultural production is exported. As the pandemic continues to slow economic growth in virtually every nation around the world, prices for Australian agricultural exports are forecast to fall, contributing to a 10 per cent drop in total value to $43.5 billion in 2020–21, according to ABARES.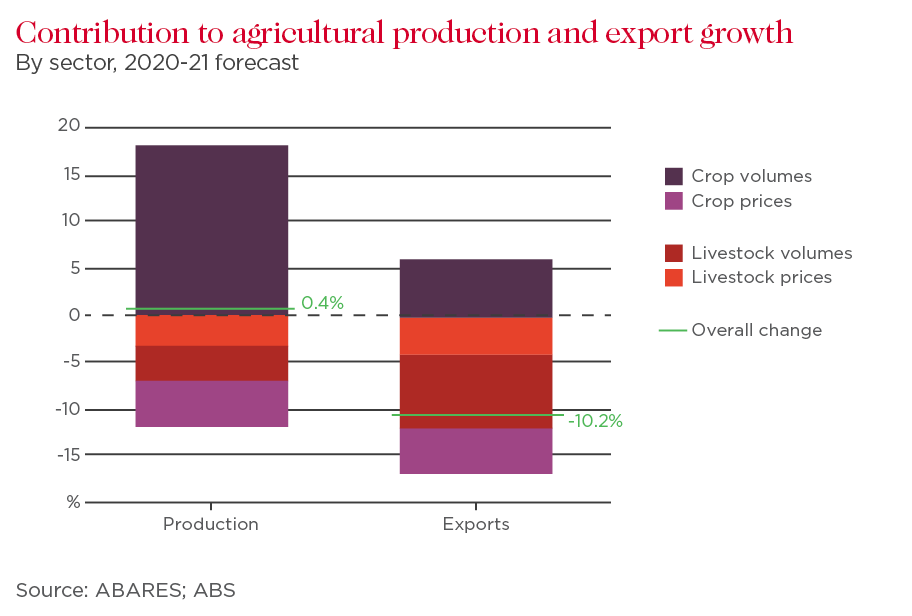 Border closures are also troubling. While the easing of domestic travel restrictions and border re-openings has been welcome news for the sector given its heavy reliance on the movement of equipment and staff, the ongoing closure of our international border will crimp the usual influx of overseas seasonal workers who normally supply a significant share of harvest labour for horticultural production.

On the flip side, however, while international borders remain shut, more Australians are turning their minds to domestic destinations for the upcoming holiday season, which has the potential to support the emerging "agritourism" boom, further extending Australians' awakening food fascination.

A growing number of farming families have opened their doors to visitors not only to diversify their unpredictable income streams but also share their love for their way of life with others. It's an increasingly important part of the Australian economy as it provides direct and indirect benefits to Australian agribusinesses and regional communities.

In fact, a pre-COVID 2019 report by the CSIRO estimated the annual opportunity for agritourism, including accommodation, transport and retail sectors, to reach around $18.6bn by 2030. This analysis, however, assumed the majority of this growth would be driven by international visitor demand, with more than 60 per cent expected to arrive from China, United States, United Kingdom, New Zealand, Japan and India.

While our borders remain closed, agritourism will rely heavily on domestic travellers. There are strong signs that domestic tourism has started to pick up recently in some states, but it will take some time to make up for the dramatic falls in the first eight months of the year with losses estimated at $31.2bn for the domestic tourism industry compared to the same time in 2019, according to Austrade's Tourism Research Australia.

I've been so heartened by the generosity of spirit of so many Australians who have supported our farmers and regional small businesses affected by drought and fires through campaigns like Buy from the Bush. In fact, new Westpac research shows around 27 per cent of Aussies plan to buy Christmas presents from regional and rural businesses to give them a hand.

I have no doubt that generosity will extend through domestic tourism over the holiday period – not only is it an opportunity for families to experience a bit more of our beautiful country, it's a chance to see, touch, taste, smell and hear more of the incredible food our farmers produce, all the while supporting regional families and communities.

Tough conditions are likely to characterise the sector for some time, but it's a sector we are proud to continue to support. Our farmers produce food and fibre to feed our nation and the world, each farmer on average yielding enough food in a year to feed 600 people. The sector also employs more than 300,000 people directly and 1.6 million across the supply chain. Our farmers are the lifeblood of Australia's regional communities.

We will always need safe, quality food. And despite the intense challenges this past year, our farmers have again proved they will continue to deliver.