Despite concerns of a second wave of COVID-19 infections, Australians largely heeded the strident "stay at home" message from authorities during the widespread lockdowns – especially on the part of older or more vulnerable citizens.

In doing so they also left their cash and cheques in the bedside drawer. But don't think for a moment that they stopped banking, transacting and spending.

Aged 18 or 86, citizens swiftly migrated to the digital realm after most non-essential stores closed and the remaining merchants refused to accept cash on hygiene grounds.

As such, COVID-19 has been a massive accelerant to the shift to a cashless and online shopping society that was already underway. In the US, Morgan Stanley notes that 2020 may be the year as that "pulled forward two to four years of e-commerce penetration".

And banking is seeing similar trends.

According to the Reserve Bank of Australia's consumer payments survey, cash has gone from 69 per cent of transactions in 2007 to 27 per cent last year. But as COVID-19 took hold, the big banks' recent results revealed cash was falling even further out of favour: Westpac's average weekly ATM transactions slid by 47 per cent in April compared with February.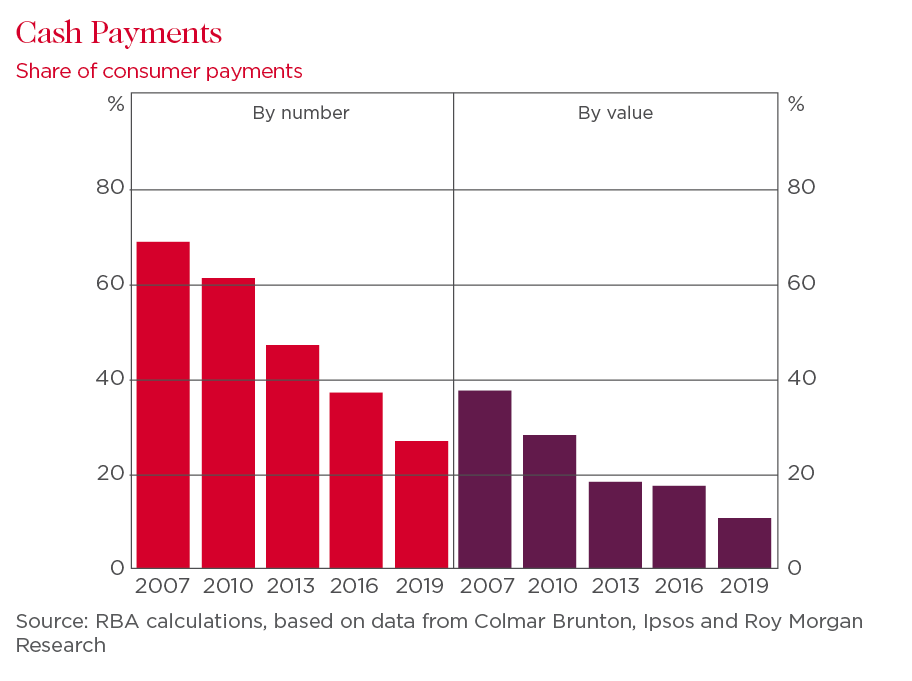 Meanwhile, Westpac's digital transactions in the six months to March 31 rose 4 per cent on the prior period to 267 million, as branch transactions slid 7 per cent to 16.5 million. This was despite 95 per cent of Westpac's branches being open through March and April, on average.

Separately, Mastercard's numbers show a 40 per cent increase in contactless payments in the March quarter for grocery stores and pharmacies, partly reflecting the contactless cap being raised (temporarily) from $100 to $200.

"There has already been a trend of customers moving onto digital platforms to do their banking; however, COVID-19 has accelerated this," Credit Suisse's local banking analysts said in a report last month. "The pandemic has made people increasingly comfortable with the idea of banking online and through their mobiles."

But what's often overlooked in the "death of cash" narrative is the vast number of Australians who still use only a passbook, or have a basic transaction card that can be used for Eftpos but not online shopping or contactless (tap and go) in-store transactions.

"There are half a million of them," says Council of the Ageing (COTA) CEO Ian Yates.

"Not all of them are older Australians, but most of them are. A lot of these people have made the transition in all sorts of ways, not only in banking but with other services such as communications. But for a long time there will be a significant number who don't."

Recognising this, COTA worked with the Australian Banking Association on an initiative which saw the banks mail out Visa or Mastercard debit cards to this cohort.

Westpac also increased one-on-one support for elderly or vulnerable customers in need of an internet banking crash course. Since the virus struck, the bank's customer care team has handled 242,000 digital education conversations, compared with virtually none previously.

Launceston-based Westpac call centre consultant Georgie Cassidy says many vulnerable customers are in a "tricky spot" as they have grown up with face-to-face banking.

She says providing ongoing support is crucial given the anxiety some customers can understandably experience dealing with the online transition, recalling a recent with an 86-year-old gentleman keen to make a donation to the Salvation Army. The octogenarian's experience is not unique: Cassidy says she has fielded "many similar cases" from customers dependent on face-to-face banking.

"He was lovely, but he was obviously struggling with the process," Cassidy says, noting the customer had remarkably been a customer of Westpac (and an antecedent bank) for 79 years.

"We had to try a few times to reset his password and walk him through the transfer process. We got there in the end and we had a good old chat along the way."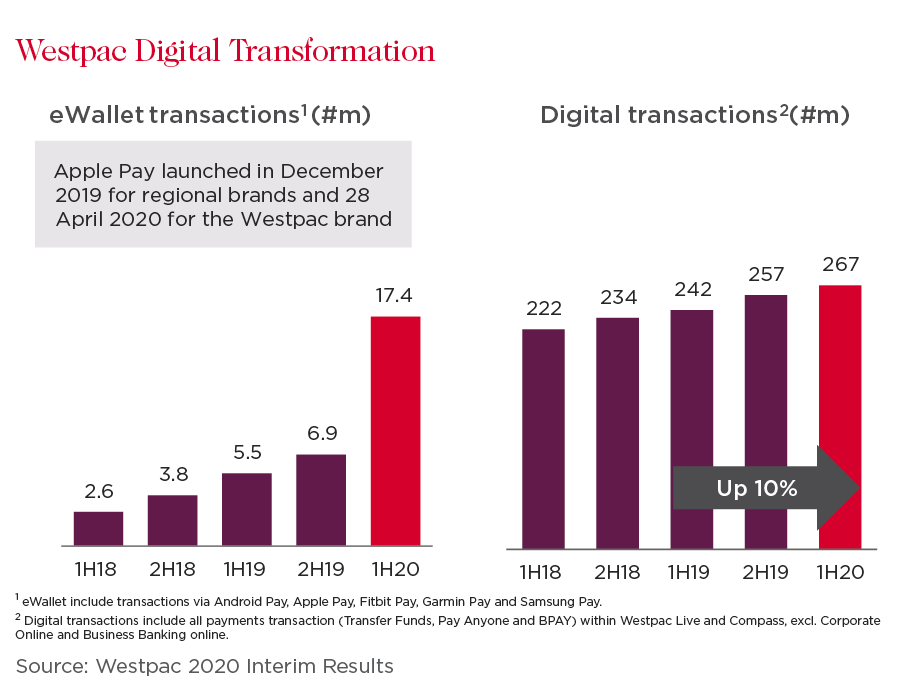 More broadly, evidence suggests that older Australians have proved surprisingly adept at discarding their leather wallets for digital ones.

In a recent address, RBA assistant governor (financial system) Michele Bullock stressed that traditional users of cash and cheques should be adequately catered for, but "the experience of the past few months has demonstrated that the shift to electronic is perhaps not as difficult as many had thought."

Australia Post has been at the forefront of the population-wide surge in online transacting, which had burgeoned well before the crisis. CEO Christine Holgate recently claimed that because of social distancing, self isolation and the closure of bricks and mortar stores, online has become "not just the preferred way to shop, but arguably the only way to shop".

According to Australia Post's 2020 ecommerce industry report released this month, 5.2 million Australian households bought something online in April, a 31 per cent rise on the 2019 average and a 41 per cent increase on a year ago.

Few would have guessed that the denizens of the Victorian coastal towns of Point Lonsdale and Cowes accounted for the highest number of new online shoppers (200,000 in all). Tellingly, their median age is at least 13 years older than the national average of 38.

"These residents who previously may not have been accustomed to making online purchases are now experiencing the need to alter their shopping habits," the report says.

Another measure of digital adaptability during the COVID-19 crisis has been seen in the use of "buy now pay later" (BNPL), which largely has been the preserve of younger tech-savvy consumers.

Leading provider Zip says the average age of a customer for its Zip Pay BNPL product is 35.3 years, which has crept up from 32 in 2017. Furthermore Zip's biggest merchant is not a millennial oriented fashion house but the Bunnings hardware chain – the weekend port of call for older DIY-ers.

Openpay CEO Michael Eidel says that while the company's average BNPL customer is aged 39, just over half of them are older. Surprisingly, 11 per cent of them are 60 years-plus and a further 12 per cent are aged between 53 and 59.

"These ratios have remained stable through the COVID-19 pandemic," he says. "Rather than an increase in any particular age group, we have recorded a substantial ramp up in usage of our plans both in Australia and the UK as customers have made it a habit to purchase though Openpay, with repeat usage and multiple concurrent plans."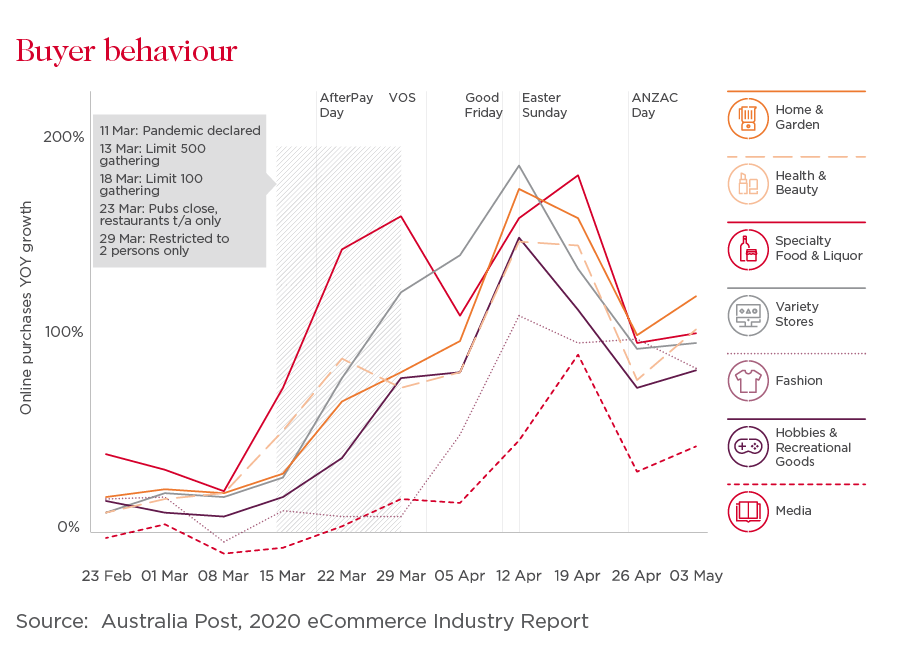 Ratings house S&P Global cautions that, like most developed countries, Australia has an ageing population when compared with, for example, China, which will slow the adoption of fintech products. But it's unlikely to derail the digital movement, as already seen in Australia's world-leading embrace of contactless payments.

"We expect Australian consumers will quickly embrace new financial technologies as they become available, ahead of many other developed countries," says S&P analyst Nico DeLange in a recent report.

This seemingly inexorable trend to the digital sphere makes cheques the banking equivalent of the hairy nosed wombat: critically endangered.

According to the RBA's Bullock, the value of cheque transactions tanked by 40 per cent in April, prompting banks to consider shutting their cheque infrastructure altogether.

Separate RBA data shows cheques accounted for a mere 0.2 per cent of transactions 2019, down from 3.5 per cent in 2013. And should cash also be on the 'critical' list, or merely classed as a threatened species at risk of extinction some time down the track?

Despite predictions that Australia will join Sweden as a cashless society banking as early as 2022, crisp polymer notes at least look like lining our mattresses and biscuit tins for some years to come.

Look no further than RBA data showing that as of June 30 there were a record $90.1 billion of banknotes in circulation, compared with $80bn a year earlier and $48bn a decade ago.

More than half of this value is attributable to $100 bills, with nervous citizens reportedly stashing not just toilet paper but the highest-denomination notes. The hoarding is also attributed to criminal activity.

Taking a different tack in 'pro cash' advocacy, ATM operator Next Payments argues cash has been wrongly maligned as a coronavirus "super spreader".

Next Payments CEO Tim Wildash describes cash as "safe free and private". On the other hand, he says, Eftpos terminals are "tapped, touched, pressed and handled by hundreds of cards and people per day."

So, while cash may not be king any more, perhaps, like the Queen it's got no plans to abdicate just yet.

The views expressed are those of the author and do not necessarily reflect those of the Westpac Group.

The information in this article is general information only, it does not constitute any recommendation or advice; it has been prepared without taking into account your personal objectives, financial situation or needs and you should consider its appropriateness with regard to these factors before acting on it. Any taxation position described is a general statement and should only be used as a guide. It does not constitute tax advice and is based on current tax laws and our interpretation. Your individual situation may differ and you should seek independent professional tax advice. You should also consider obtaining personalised advice from a professional financial adviser before making any financial decisions in relation to the matters discussed.