Wild volatility across financial markets, businesses and schools going into lockdown, and toilet paper flying off supermarket shelves.

The coronavirus, or COVID-19, outbreak has turned the world into a pretty crazy place. Well, more so than usual in an age of negative interest rates and artificial intelligence.

But is China, the epicentre of the virus, starting to get on top of the biggest pandemic scare in recent memory?

Westpac senior economist Elliot Clarke says despite the significant scale and spread of COVID-19, new cases in China have slumped and the mortality rate remained low, meaning the economy could bounce back fairly quickly because it is the restrictions put in place by authorities to contain the virus that is impacting economic activity.

"We have seen a very significant jolt to china's economy in the current quarter, particularly in February," he told a Westpac-Austcham Shanghai webinar on Thursday, noting the slump in China's Purchasing Managers Index in February to a record low. "But I think in some sense this is really going to be the low point for Chinese activity and we'll start to see an improvement."

Clarke, a close follower of the Chinese economy, said migration data and anecdotes from industry across China suggest the significant shock immediately after the Chinese New Year holidays was starting to ease as people go back to work, an important development to support spending across the economy. AustCham Shanghai chief Jack Brady added that on the ground "there has definitely been some support at the local level to businesses".

"This is really being made possible because… there've been a very limited number of new cases now coming through in China," Clarke said.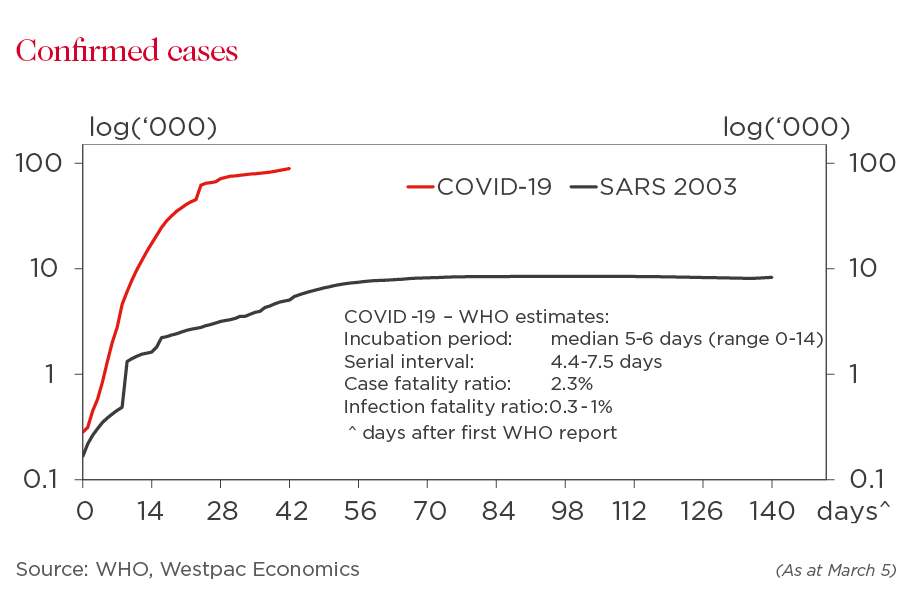 "So you can see quite clearly that China seems to have got this under control and that means as we move through March (they will) be able to start to remove those restrictions that have been put in place and activity will start to function as normal and this is definitely a very big positive for China's economy."

As at March 8, the World Health Organisation reported 3656 new confirmed COVID-19 cases (including eight new countries or territories), taking the total to 105,586 – 76 per cent of which are in China – and more than 3100 deaths. However, of the new cases, only 46 were from China. The WHO added that Australia recorded 12 new cases for a total of 74 but zero were confirmed in the US (which had 213 in total).

For the time being, the spread of the virus is however proving too much for markets, regardless of China's apparent progress in containment. On Friday, Wall Street stocks again suffered heavy selloffs, Australia's sharemarket dived more than 2 per cent and government bond yields plumbed new record lows as investors rush for cover (yields fall when prices rise). Fears rose over the weekend as the Italian government initiated dramatic travel restrictions on millions of people and the WHO revealed more than 100 countries have now reported cases.

Clarke noted the range of uncertainties regarding how this all plays out, including how COVID-19 continues to spread and if more countries introduce more restrictions, further impacting global supply chains and reducing activity. The rest of the world catching the same cold – so to speak – as China recovers wouldn't be without major challenges. But as Australia's largest trading partner and the world's second largest economy, China getting going again is at least something positive to take out of a very uncertain period.

Clarke said while China's economy won't be able to bounce back as quickly as following the SARS outbreak in 2003 given the development in the past decade and a half, a pickup in manufacturing, pent up demand and government stimulus should see improved growth following a contraction in the first quarter. GDP growth for 2020 should end up at a multi-decade low of 5.3 per cent before picking up to 6.1 per cent in 2021, he said.

Amid recession fears in Australia, Westpac expects the virus and bushfires to have a notable impact with annual GDP growth to come in at 1.8 per cent, well below "trend", before picking up next year to 2.6 per cent in 2021, partly assisted by expected stimulus from governments and central banks.

"We expect the impact of COVID-19 to be temporary and mitigated by broad policy stimulus, even as the virus spread is proving more severe than anticipated," JPMorgan strategists wrote in a note on Friday. "Our economists marked down growth expectations for the quarter globally on the back of the virus but look for a strong rebound in activity once the epidemic abates."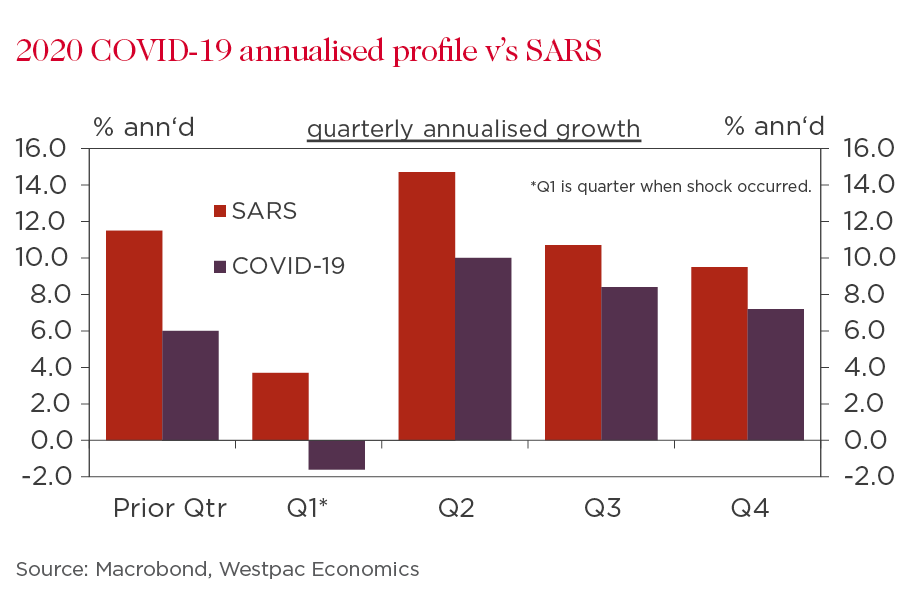 This week, the Morrison government flagged a coming multi-billion dollar stimulus package and The Reserve Bank of Australia cut the cash rate 25 basis point to a record low 0.5 per cent. The Federal Reserve also stepped in at an unscheduled meeting, unveiling an even larger 50 basis point cut.

It's unlikely the end amid heightened jitters about the immediate hit to economic activity and how businesses withstand the stress, creating an uneasy environment proving hard to calm down. Standard & Poor's on Friday predicted $US211 billion of losses across Asia-Pacific economies before a "U-shaped recovery" beginning later this year. It followed an AustCham Shanghai survey of organisations last month that found 87 per cent expected the coronavirus to have a negative impact on revenue forecasts for calendar 2020, small to medium businesses in the services sectors "taking the hardest hit".

Westpac's economics team expects the RBA to cut rates again next month and then likely implement "quantitative easing" – a form of unconventional monetary policy by central banks involving buying government bonds and other assets – before the end of the year. They also revised their forecast for the US federal funds rate, expecting 25 basis point rate cuts in March, April and June as the spread of COVID-19 threatens the world's biggest economy in an election year.

While opinions are mixed on the effectiveness of rate cuts to help economies ride through this particular economic storm, JPMorgan economist Bruce Kasman said central bank action would still assist the flow of credit and offsetting the negative shock to demand, with the Fed's response particularly important. "While monetary policy isn't the panacea for a faster recovery, lower interest rates clearly help," he said.

Clarke said it was an important time for central banks to follow through with flagged support measures.

"If markets are surprised by monetary policymakers going back on their word, that would not be a good situation," he said, ahead of policy meetings this month by central banks in the US, Europe and England.

"It's really important from a policymaker's perspective that they act to try and hold up confidence. If they don't do this then we're likely to see further jolts lower in equities which for countries like the US and Australia even, and Europe as well, that are highly developed and very consumer centric, this would be a very big negative shock which they would have to contend with and that's something we're definitely watching.

"At the moment I guess it's probably fair to say that we do need to see that monetary policy stimulus and some fiscal policy stimulus from more of the developing markets to actually hold markets where they are."

The views expressed are those of the author and do not necessarily reflect those of the Westpac Group.