FUTURE LIVING: Hmlet's expanding habitat
Yoan Kamalski, 30, is no stranger to moving around.

Yet he claims Hmlet, the Singapore-based co-living start-up he co-founded in 2016, is all about slowing down.

"A lot of companies out there are trying to build acceleration in your life…trying to connect you to more people, trying to offer you more, faster, and we became a very impatient…population," he explains on a recent trip to Sydney to explore Hmlet's new 80-room space.

"Hmlet is a deceleration place, it's where you can retreat and actually find five to six people that you would actually build memories."

Hmlet, which this year raised $US48 million from existing backers and new investors including Reinventure, Westpac's venture capital fund, operates more than 2000 rooms across Singapore, Tokyo, Sydney and Hong Kong, offering shared and individual furnished apartments. Kamalski dubs it an app-enabled "lifestyle" product that can save renters money while providing greater flexibility, community events and taking away the hassle of dealing with utility bills and cleaning.

In October, the company unveiled a new offering in the Sydney inner west suburb of St Peters – its biggest in Australia yet – ahead of planned expansions to Melbourne and Brisbane.

Kamalski says while Hmlet can play a role in tackling housing affordability challenges in "first tier" large cities, it was also about providing more choice beyond renting or buying, noting the idea emerged when he couldn't find what he was after in Singapore. He says big global cities will need to adapt to rising populations – particularly millennial workers – given that's where the bulk of jobs and services are, and Hmlet was working with governments, councils and developers on solutions.

But he has a firm message for renters: it's OK. Actually, it's way better than OK.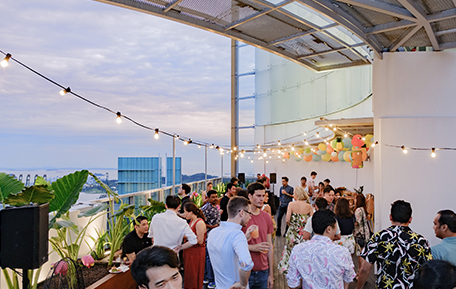 "I look at myself, I'm 30, and buying a house might never be happening," he says, noting the sky-high property prices in cities like Sydney, where it also has co-living spaces in the likes of Newtown, Marrickville and Paddington.

"A millennial, in general, spends an average of a MacBook Pro a month in rent. I was happy when I bought my MacBook. Do you feel the same when you pay your rent every single month? No, right.

"And you probably don't know if you might be in Singapore in a few years, or Hong Kong or San Francisco.

Or tomorrow if you get married, you (have) a kid, your life will be changing overnight.

"We are being highly mobile (these days) and that change just means we're not going to buy a house everywhere we go, we're going to rent. So, we're going to expect that experience to match what we would like to live in."

Hmlet's business model centres around leasing space from landlords, including developers, and on-leasing to its member tenants. In the new St Peters building, prices were being advertised on its website for $370 a week for a "pocket room" – its smallest shared offering – up to $800 a week for a full one-bedroom apartment.

"It's probably one of the most underserviced opportunities. That's what it's addressing right – shared housing is this total hack at the moment," says Reinventure co-founder Simon Cant, adding Hmlet was also leveraging data to tailor its offering.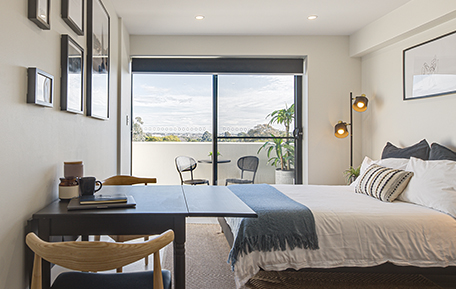 "They're bringing a level of technology to the way that people live within those spaces so that services are readily available for them on an app… which allows them to plan better and better in terms of space utilisation.

"So, at some level we see this is kind of a potential Meriton for the next generation."

Despite the recent fall from grace of US shared working space start-up WeWork, Kamalski says "space as a service" was just getting going and more players would pop up due to major change in real estate, including around affordability, ownership of the assets and people's preferences. He argues the company helps bring back community-living and the connections human beings crave, similar to how previous generations lived in villages. He adds that in the most mature market of Singapore, interest is also growing from locals rather than just people moving to the city – a sign of success in changing the residential market that he hopes will be replicated in Sydney.

"We just went very digital very quickly and just kind of like broke a little bit of the system where we can't even say hi to each other in the lift," he says.

"So we're trying to bring that back. When you come into one of the buildings, people say Hi Hello? What's up? Even internally, we say that we're building a company using the Internet to get out of the Internet. We're actually doing a mini physical social network that actually is valued a lot more."