The older hands among the expat community in Hong Kong know all too well how dislocating a scary new virus can be.

As the World Health Organisation overnight declared the coronavirus outbreak a global public health emergency, British woman Charlotte Bilney, who was working in Hong Kong in the early 2000s, recalls giving birth to a son on March 24, 2003 in the middle of the major SARS epidemic, which began in 2002.

Her first discovery on emerging from hospital was to find that a lot of her expat friends had vanished, having jumped on flights out of Hong Kong to their home destinations, such as Australia, the UK and US.

"It wasn't quite dystopian but it gave me a jolt," she recalls, adding that the big difference between SARS (Severe Acute Respiratory Syndrome) and the current Coronavirus some 17 years later is that the authorities have been much more transparent and proactive, both in mainland China and in Hong Kong, in explaining what is going on.

Francis Chung, who was a fund manager with Schroders in Hong Kong in 2003 and still divides his time between Hong Kong and Sydney, says the most visible difference between the two outbreaks was that "back in 2003, very few people wore masks".

"Now there's been an absolute run on masks and hand sanitiser, to the extent that when I go back I will be bringing as many as a I can carry for friends and relations," he says.

He adds that the Coronavirus outbreak "could not have come at a worse time" given it just preceded the Lunar New Year holiday, making it clear why there has "now been such an emphasis on quarantine".

"Back in 2003, the only imposition that most people can remember was that if you had travelled in the affected area, you had to quarantine yourself for 14 days," he recalls.

According to a Morgan Stanley report published January 28, new SARS cases emerged at the just over 100 a day at its peak in 2003, whereas Coronavirus cases have risen to 1771 a day. More than 7000 cases have been confirmed globally. However, SARS was more deadly at a fatality rate of 6.6 per cent, versus around 2-3 per cent for coronavirus to date, according to the report.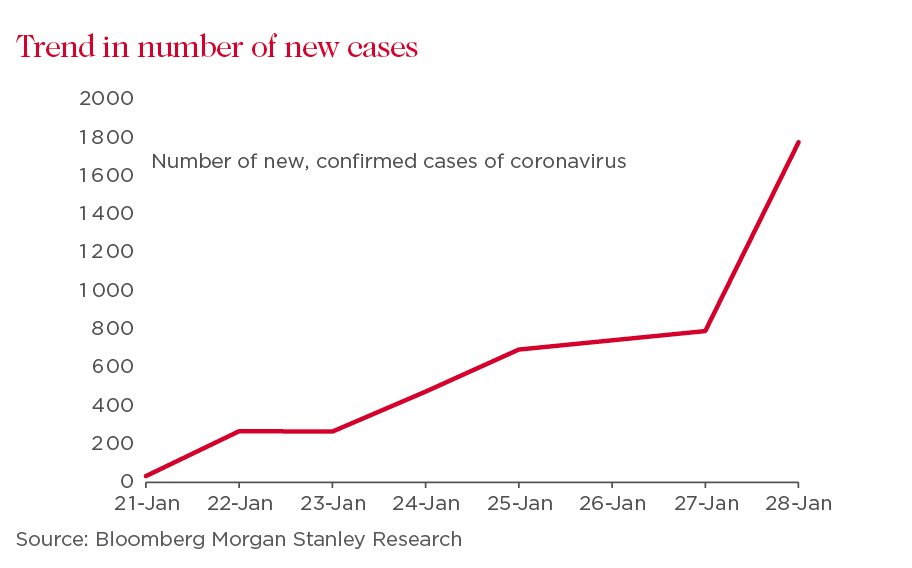 The analysts said that Hubei province, which takes in the city of Wuhan where the virus originated, accounts for 60 per cent of the total incidence but that the virus has spread to most Chinese provinces except Tibet. In comparison, SARS was more localised, with 75 per cent of cases being limited to Beijing and Guangdong, where the outbreak began.

With cases of the coronavirus being confirmed in several other countries, including Australia, economists are turning their mind to the likely impact on economic growth. Several companies that operate in China, including Westpac, have also issued travel guidance to employees and information on symptoms and good hygiene practises.

In research today, Westpac economists say while it's impossible to assess the economic impact yet given the uncertainties, "if the quick actions of authorities contain the virus, then economic activity will quickly return to normal", as occurred with SARS in 2003.

Globally, Morgan Stanley says while the short-term hit to the travel, entertainment and retail sectors, plus flow-on impact to trade, could lop 0.5-1 percentage points off China's GDP growth in the first quarter, assuming the virus peaks in February/March, it was unlikely to "derail" the recovery in global growth.

For Australia, Westpac chief economist Bill Evans says it's likely to largely be felt through its impact on services exports, an "important source of growth" for the economy worth about $100bn a year, of which about two thirds come from travel and education. Other economists have flagged a 0.1-0.2 percentage point drag on near-term GDP growth. Highlighting Australia's increased links to China, the Asian powerhouse now accounts for 70 per cent of global iron ore demand compared to 25 per cent in 2003, according to UBS.

"Issues of importance in estimating the impact on Australia's services exports include: the resilience of the virus; the impact on student travel and the impact on tourism…the Reserve Bank will also be pondering the impact of the bushfires and coronavirus on its growth forecasts," Mr Evans says.

Ms Bilney, who still resides in Hong Kong, says SARS was an endless challenge at every level and many people had a poorer understanding of how to manage changes to their routine back then, such as wearing masks.

"I recall seeing one man walking along the street, quickly removing his mask to sneeze loudly, and then putting it back on again," she says.

"And no one really knew what to do. The Hong Kong Sevens went ahead that very month and many expats went in defiance of the virus, but I recall a number were called by their companies and even their wives during the (rugby) tournament and asked to quarantine themselves for a week before coming back to home or work!

"This time there's some doubt as to whether they will (hold the tournament, scheduled for April 3-5), and we are still in January."

The Hong Kong Marathon, an event that usually attracts around 70,000 runners, was scheduled for February but has been cancelled.

Mr Chung says it took a long time for details of the extent of the SARS outbreak to come out and "in the absence of certainty, speculation ran riot".

Mr Chung adds that during the SARS outbreak there had been a lot of confusion and odd decisions made, such as closing schools but then allowing children to mix at sporting clubs offering free meals.

Other witnesses recall the other flow-on impacts SARS had.

"The airlines saw a big drop-off in business so they slashed fares and you had people flying off to Bali for $100 return," says one Australian who was there at the time. "And the rental market collapsed for a while, which allowed us to afford better apartments."

The views expressed are those of the author and do not necessarily reflect those of the Westpac Group.