Plastic: the war, the wake-up call and the way out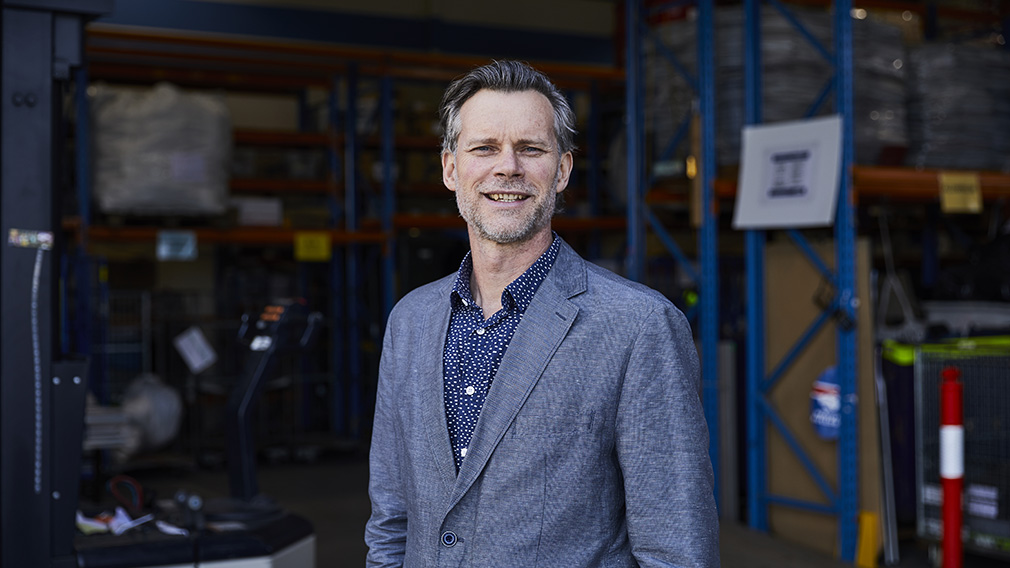 Strolling up the final hole at The Open after a testing week of wind and rain, professional golfer Shane Lowry was swamped by hordes of local fans. An Irish lad, Lowry's clinching of the first Open championship in Ireland in 68 years – and his first "major" – was the stuff of folklore.

But it wasn't the only record notched up.

Amid the screams and celebrations, nowhere in sight was one product synonymous with golf – and other sports – events for decades: single-use plastic bottles.

The Open's ousting of plastic in favour of water-refilling stations and reusable stainless-steel bottles marked the latest high-profile attempt to take action and raise awareness about an issue that has exploded since David Attenborough's 2018 Blue Planet II homed in on plastics, a material analysts believe could in coming decades be more prolific in the ocean than fish.

"Any news, any funding, any support in this area is absolutely welcome and needed," says David Hodge, the managing director of Plastic Forests, which turns plastic "film" destined for landfill into recycled products. "The bottom line is we're just consuming so much plastic and really the … production of plastic is only cranking up and getting bigger and bigger – and cheaper."

Under greater scrutiny from communities than arguably ever before, governments and corporates have been making no shortage of headlines.

New York in April became the third US state to install a state-wide ban from March 2020 on single-use plastic bags while computing giant Dell recently switched to plastics collected from beaches and waterways for some packaging. Closer to home, Western Australian tourism hotspot Rottnest Island, known for its beaches and cat-sized native quokkas, this year became the first Australian jurisdiction to ban plastic drinking straws, as Coles and Woolworths stamped out single-use plastic bags, and Coca-Cola Amatil flagged using more recycled plastic.

At a federal level, Prime Minister Scott Morrison last month committed $20 million for "innovative projects" to grow the recycling industry and flagged a coming ban on the export of waste plastic, paper, glass and tyres.

Hodge, whose Albury-based business was named a top 20 Westpac "Businesses of Tomorrow" in 2017, says while the government's plans were positive, Asia's move in recent years to effectively end waste imports meant Australia would need to spend "billions of dollars" on recycling and manufacturing to deal with the escalating problems.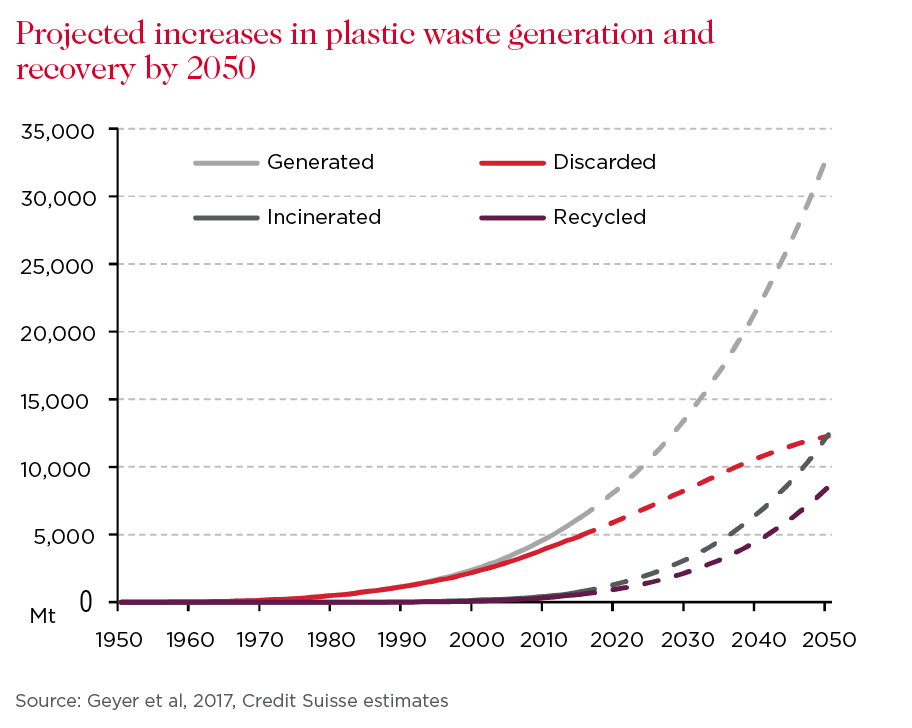 He cites the recent opening of a new $US100m recycling plant in California that converts "PET" waste such as bottles into useable "rPET" products, claiming Australia would need several of these, plus investments to tackle other plastics. As it stands, the government claims every Australian generates around 103kg of plastic waste a year, but only 12 per cent is recycled, mostly overseas.

"One of the biggest shows in ABC's history was the War on Waste – and that's exactly the way we've got to treat it. When you have a war, you have a war cabinet, you make decisions quickly, you deploy assets quickly and you put funds in the right place," Hodge says.

"It's good to be long term and think about universities and studies and things, but there are things we need to deploy and make happen right now."

Fuelled by the rapid rise of plastic packaging – particularly single-use – due to benefits for brands and consumers, plastic has become literally impossible to miss.

According to Credit Suisse, it's become the most prolific material on the planet, with the last 13 years responsible for half of the plastics ever produced as they "infiltrated almost every aspect of human life". Between 1950 and 2015, global production rose from two million to 380 million tonnes, the analysts find, a compound annual growth rate of 8.4 per cent, or about 2.5 times global GDP growth. The result? More than 6000 million tonnes of plastic was produced by 2015, with only around 21 per cent recycled or incinerated and 79 per cent accumulated in landfills or the natural environment.

Why?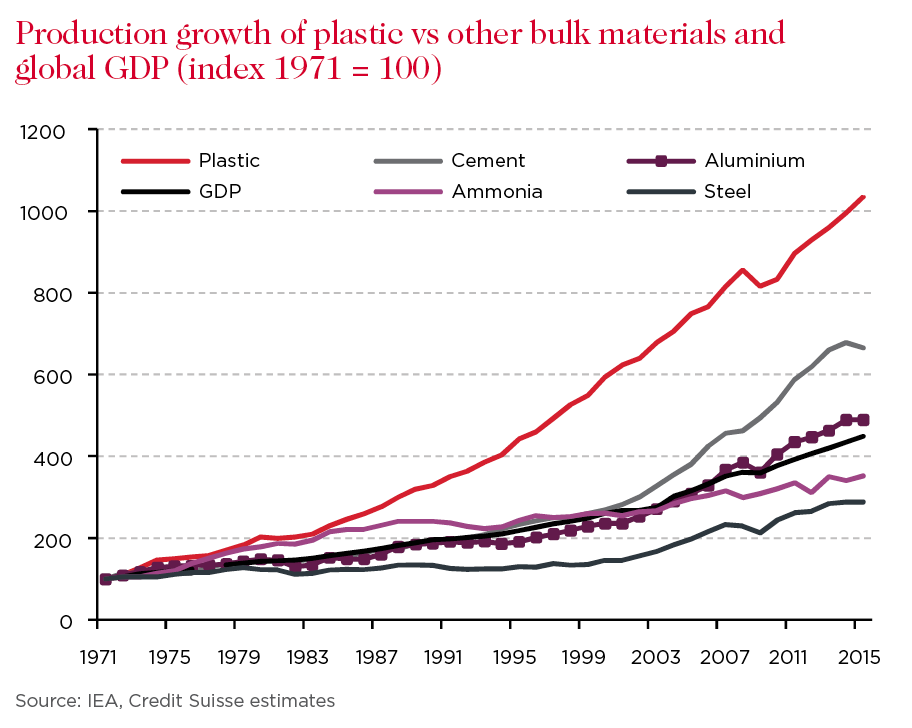 Aside from recycling challenges, usage is often brief – Plastic Oceans International estimates plastic bags have an average "working life" of 15 minutes – but the waste can only be permanently eliminated by "destructive thermal treatment", such as combustion.

"(It's) an intractable environmental dilemma," Credit Suisse environmental, social and governance (ESG) analysts say in a March report, highlighting investors' growing focus on the issue.

"Its production has grown faster than that of any other group of bulk materials over the last 33 years. (But) none of the commonly used plastics are biodegradable, and near-permanent contamination of the natural environment is a pervasive outcome. On this trajectory, 34,000 mega tonnes of plastic will have been produced by the end of 2050 and there will be more plastic in the ocean than fish in weight."

Hodge, who started Plastic Forests 13 years ago alert to the "slow motion train wreck", says Australia was heavily exposed to China's "National Sword" policy last year – which materially cut waste imports – because of a high dependence on exports and lack of domestic infrastructure and incentives for recyclers. Ensuing bans and restrictions by other Asian countries intensified the strain, cutting off a pool of buyers who have long snapped up developed nations' waste.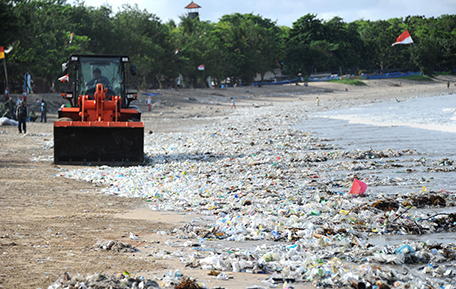 "The issue has been that we're not processing it ourselves … we're expecting someone else to take care of our problem," Darren Andrews, the co-founder of Melbourne-based Green Collect says of the "recycling crisis", claiming the US and Europe were in the same predicament.

"Australia generates 64 million tonnes of waste every year. That's 2.7 tonnes per person…a ridiculous amount. And now that the other countries are saying, 'no, we're not going to take your waste', that's a massive opportunity for us and a wakeup call for us to say, 'oh, what are we doing about it?'"

Andrews, who co-founded Green Collect with wife Sally to recycle and reuse office waste while providing employment to people facing barriers, says plastic was a major part of the broader waste challenge given the rise in production but lack of consideration about how to deal with it post use. Also, there's several different types of plastic that can't be treated and recycled the same way.

"Plastic is a challenge," he says, as reports swirled that India was set to become the latest nation to ban plastic bags, cups and straws. "We're producing more, but we haven't taken time to consider what happens at the end of life."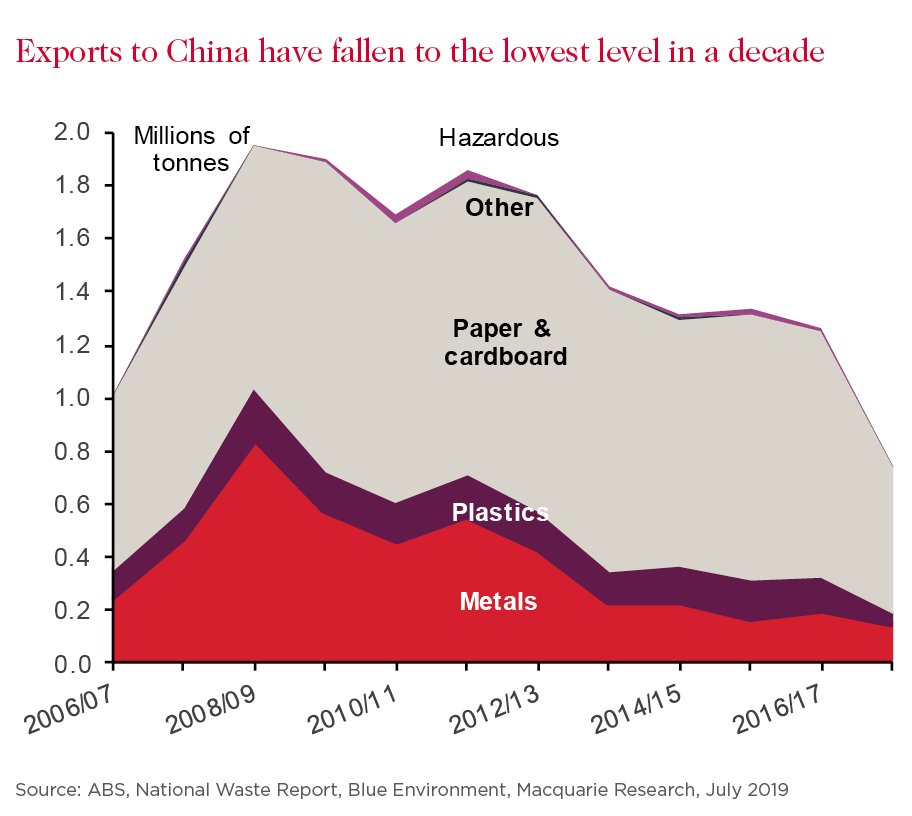 In a July report into waste, Macquarie's ESG equity analysts estimate that although plastics only make up 4 per cent of Australia's waste exports, more than half of recovered plastics were shipped overseas. Thus, the clock is ticking to solve the waste dilemma but options are [?] few: ramp up the development of domestic recycling solutions, be forced to use landfill more or find new export markets.

Already, the analysts claim Australia has a "relatively high level of landfilled waste" – with 665 in operation – due to fewer bans and lower levies than other countries in the European Union. In contrast, countries with greater population density and less available space for landfill, such as Japan and Singapore, have relatively high waste incineration rates.

"Increasing plastic recycling has raised global public attention and is a complex issue that involves revolutionary change across the supply chain (from manufacturing, consumers, to waste managers)," the analysts say, noting one of the reasons a lot of plastics end up in landfill was because of limited sorting technology.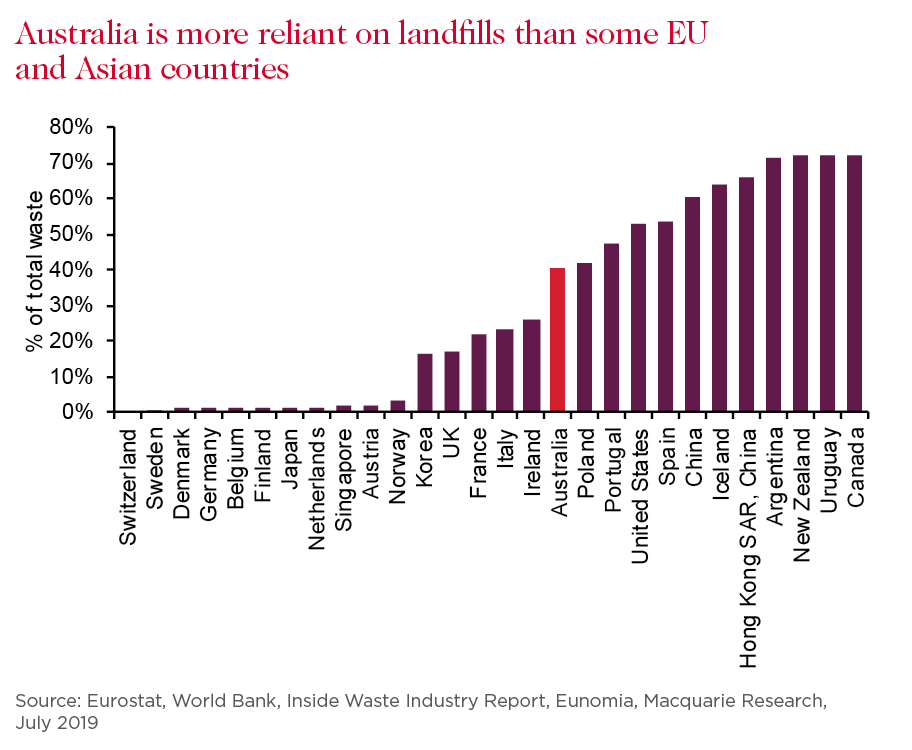 Hodge knows first-hand the challenge from poor self-separation of waste by businesses and consumers.

Every day, his team at Plastic Forests deal with the contamination of plastics from the likes of food residues that need to be treated when waste comes in. He adds that they're tackling the "hardest area in all of plastic recycling" – plastic films often used in food packaging that require lots of water to treat – and, like the rest of the industry, face relatively high labour costs.

He argues that greater government support is needed, pointing to tax incentives for certain industries and measures that drive greater awareness about the products people buy. Elsewhere, billionaire businessman and philanthropist Andrew Forrest has even called for a tax on polymers, a key ingredient in plastic.

"I can't mention any customer names, but boy some of the stuff we get is just monumental in the levels of contamination and this is what the Chinese had to deal with," Hodge says.

"But I think what's happening from a consumer perspective right now is people want to recycle and there's a whole range of means for that, obviously your yellow top bin etc. The next step, as I keep saying, is recycling doesn't happen until someone buys a product that has recycled content in it.

"And we've got to get on our bike and build the infrastructure and we need the government support. Long term, the price of virgin material is going to decrease or remain low and so that makes it hard because the recycling side of life is an expensive process."

To be sure, governments are increasingly wading in and more infrastructure is in the works.

The WA government last month unveiled a further $1.17m in funding for projects that improve the recovery and reuse of waste, including plastics, plus those that "encourage behaviour change". In Victoria, the government is developing a "circular economy policy and action plan" slated for released later this year, while South Australia and New South Wales have also signalled support for the concept.

Indeed, the first recommendation of 2018 Senate Environment and Communications References Committee report on the waste and recycling industry recommended the federal government prioritise the establishment of a circular economy. Other countries are heading in similar directions and even utilising Australian talent, UK circular economy initiative The New Plastics Economy recently offering former Westpac Scholar and Queensland PhD student Leela Dilkes-Hoffman a full-time position to leverage her research into a naturally produced bioplastic called PHA.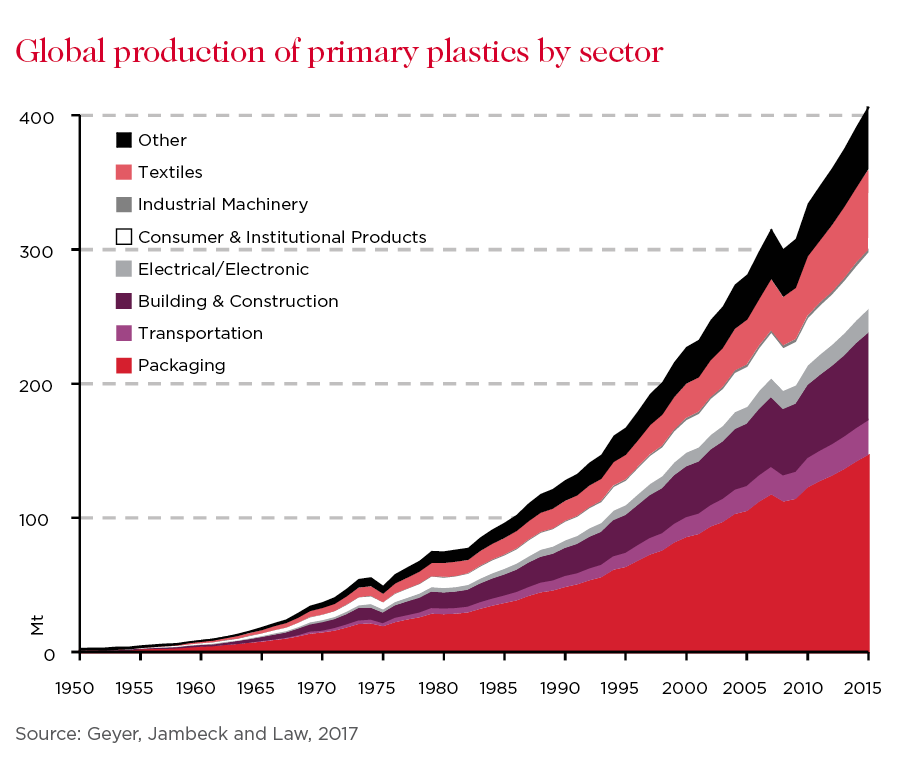 Macquarie's analysts say facilitating a circular economy will require further investments in infrastructure that reduce inefficiency and emissions in the supply chain, pointing to the new Advanced Circular Polymers plastics recycling plant in Victoria that can process 70,000 tonnes of low value contaminated mixed plastic into material for making new products.

Listed company Downer also recently opened a new soft plastics asphalt plant in NSW that will produce road and pavement materials out of plastic bags, glass bottles and toner cartridges, while the nation's first "Energy from Waste" plant is being built in WA at a cost of $700m to produce around 36MW of baseload power for the grid from waste.

Olivia Tyler, a director of sustainable business services at Westpac, says greater community awareness of plastic following the foreign import bans, the rise in prominence of corporate responsibility and louder consumer campaigns, including via social media, was driving positive action. But Tyler, who has worked in sustainability for more than 20 years, says "systemic change" takes time and the biggest gains typically come from tackling problems early with preventive actions, rather than starting at the end with corrections.

She adds that the changes in how people are living these days needs to be considered given the impact convenience and lifestyle factors can have, such as different eating habits flowing through to food waste.

"We need to turn the argument around and think about what led to the waste being created in the first place," she says.

"We've been talking about circular economy principles for 20 years or so – waste is a by-product of poor design, simple. In many instances, you need something to move a product from A to B. But what you do with that and how we reframe the argument from waste to resource is key. Consumers are not powerless here and often the individual choices you make can have a huge impact. By choosing to not use a plastic bag, or a straw or a coffee cup – sounds small, but if everyone did this – we'd make a dint in the problem.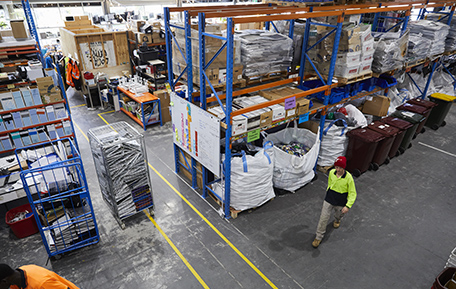 "If we wait for the problem to be solved by someone else, nothing will change. My 'waste' should be your 'resource'. How we develop markets for these "wastes" or resources is critical. You can implement mechanisms that collect materials, but until you have a value on these goods for inclusion in new materials or products, we won't solve the problem."

In Albury in regional NSW, Plastic Forests is channelling the circular economy vibe. Its most recent product was the "Mini Wheel Stop", a mixed recycled plastic film product that helps people to park in their garage. The company also lays claim to be the first to commercialise a process that recycles contaminated plastic films into resin without using water, before selling it back into the plastics industry.

Hodge says the key is "trying to think of ways to engage the consumer better", hoping to have his latest product stocked by national retailers soon.

"All this packaging has got nowhere to go, so we're trying to develop some really good new nifty products that are fit for purpose and priced competitively into the markets we're aiming for," Hodge says, noting the challenge for Australian entrepreneurs was often not innovation, but commercialisation.

Andrews from Green Collect, which has received several community grants from Westpac Foundation since 2012, says the social enterprise has a similar ethos, believing people and society need to take more responsibility, including "a bit more consideration" when buying things.

"What are we buying, how are we using it and what are we going do with it when it's come to the end of its life?" he says. "These are the sorts of things that we really need to start thinking about and not saying, 'oh, it's the council's responsibility or government's responsibility to deal with my waste'. We need to take responsibility ourselves."

Naturally, tensions exist and solutions not straightforward.

The Australian Fresh Produce Alliance – made up of major fresh growers and suppliers – recently committed to minimising packaging waste and working with government and industry to increase recycling, but also noted an estimated $20bn of food is lost or wasted every year in Australia and released research showing the several benefits packaging provides, including product protection, extension of shelf life and information.

Looking ahead, Tyler says businesses – such as Green Collect and Plastic Forests – typically play a key role solving sustainability challenges, driven by "very creative and driven individuals" delivering innovative solutions to complex issues. And plastic waste is unlikely to be any different.

"You create an inner whirlwind – prove that stuff works from a financial, consumer, brand, logistics perspective and then you scale," she says.

The views expressed are those of the author and do not necessarily reflect those of the Westpac Group.