Banks and fashion? 90 years of uniforms
It was an otherwise unassuming dress in a "medium shade of blue grey" featuring a "button up down front, with slit pockets and raglan sleeves and tailor's darts in a lighter shade".

Designed by Germaine Rocher, a Parisian trained dressmaker, the dress however made waves upon launch in May 1956, including a colour spread in The Australian Women's Weekly. It would go on to be the uniform Bank of New South Wales female employees wore when women were first allowed to take on customer-facing roles, starting with the bank's first female teller Judy Millar in 1961.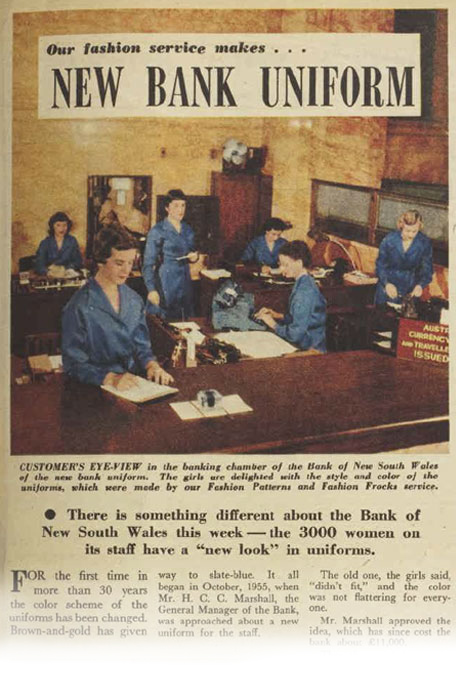 Staff members each received two new dresses – at an initial cost of £11,000 for 3000 women – every eighteen months, and were reminded not to "embellish" their uniforms with scarves, leather belts or chunky jewellery.

Its origins can be traced back a year earlier in 1955 when a committee of interested staff members turned their minds to a uniform design and asked five of Sydney's leading dress designers to put their ideas forward, eventually going with Rocher, one of Sydney's most celebrated couturiers.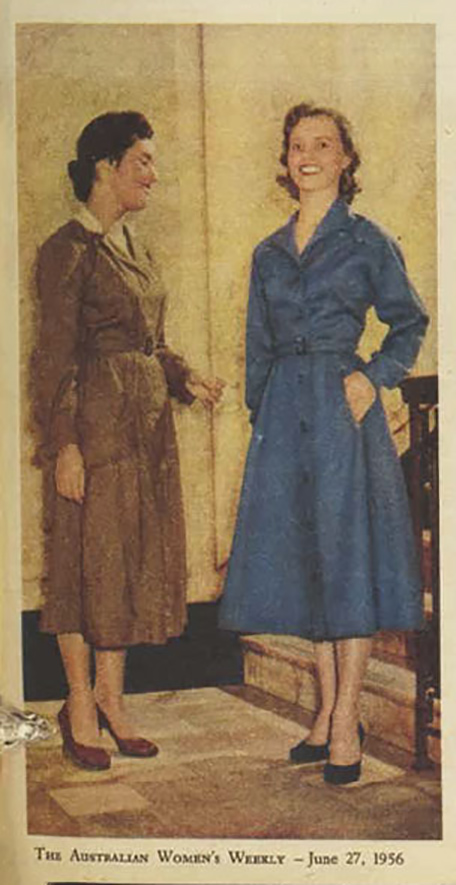 While marking the start of the bank's support for the burgeoning fashion industry, it all began back in the 1930s when the wife of the bank's then General Manager Alfred Davidson designed the first full dress uniform for female staff.

Introduced in 1934 and worn throughout the war years, Dorothea Davidson's design was made of a cotton-linen blend material, in brown with yellow stripes on the collar, cuffs and pockets, believed to have been chosen to complement the décor of the newly-completed Head Office at 341 George Street.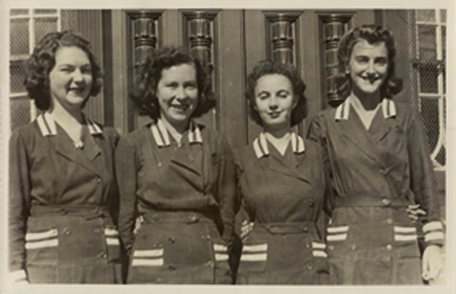 Prior to the 1930s, female staff were "issued with Overalls on joining the service, [making] it a rule that the uniform must be worn at all times in the Office", according to a 1929 Bank of New South Wales letter book describing the "Tobralco" fabric, more akin to a dress coat than modern overalls.

From 1934, staff were encouraged to wear Dorothea's uniform, but were not permitted to wear it outside bank premises unless running messages, and when wearing it were required to have a "lady-like demeanour". It went on to specify that "the munching of pies, frequenting of public bars, passionate love scenes whilst in the Bank's uniform cannot be tolerated", according to bank circulars.

Ever since Germaine Rocher's redesign in the 1950s, the bank's links with the fashion industry have remained, working with a raft of icons including Carla Zampatti, Peter and Adele Weiss, Jill Fitzsimon, Peter Metchev and Camilla and Marc.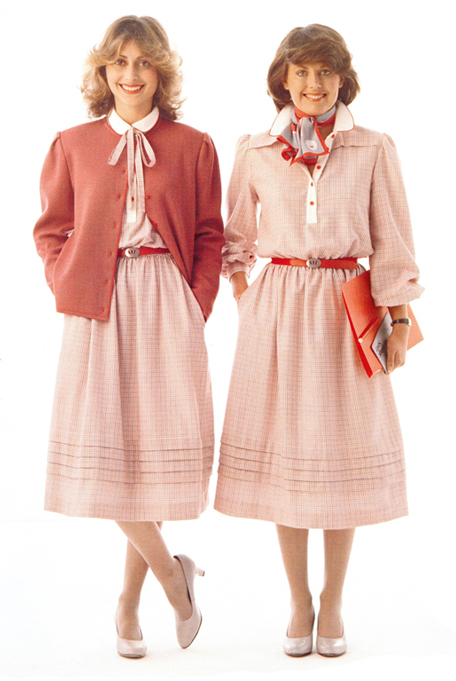 The burgeoning industry's supply chain has also benefited, the vast majority of items having been made in Australia. Early on, these manufacturers were often small businesses run by families who had recently fled war-torn Europe and set up premises in inner-city Sydney or Melbourne to start new lives. A scan of the bank's Signature Books shows many were customers, including Sydney Pleaters, A & L Stern P/L Shirt and Frock manufacturers, Fashionshirt manufacturers, RH Tafts Fashion Distributors.

As fashions began to change in the late 1960s, the wide-skirt and long sleeves of the "new look" dress was modified into a slim-line version. By 1979, the slim-line design was available in red or blue, button up or zip front and short or long sleeve options, and a skirt/blouse/jacket ensemble was available for optional purchase.

For a short period from 1970, the bank drifted away from compulsory wearing of the uniform, issuing a notice to staff that it had implemented a policy that it was "optional". But nine years later, then managing director Bob White issued a new set of work-wear guidelines, noting that "good appearance and dress generally go hand in hand with good service, and I look forward to your cooperation in building our reputation for both". He wrote: "Unless we create a neat and business-like atmosphere, our customers might well be left with the impression … that we are not very efficient or not 'on the ball'."

The next major wardrobe change came in 1982 when Westpac was formed following merger of the Bank of NSW and Commercial Bank of Australia.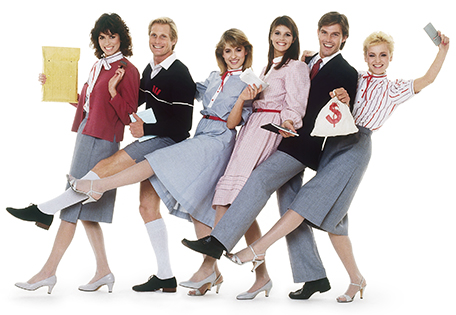 Created by Australian designers Peter and Adele Weiss, this was the first time a comprehensive and unique range of styles was developed for the entire staff – including men – of one corporation, the designers noting the challenge of creating a wardrobe to "suit the needs of so many thousands of men and women, giving each one of you a feeling of pride at being part of Westpac while retaining your own individuality".

The Wiess company rolled out a new range every few years, interspersed with refresher items throughout, which built on the design ethic of the current range. Throughout this time, the company made a point of sourcing from a range of small local manufacturers, using different small businesses to make different wardrobe elements to share the opportunities afforded by the contract.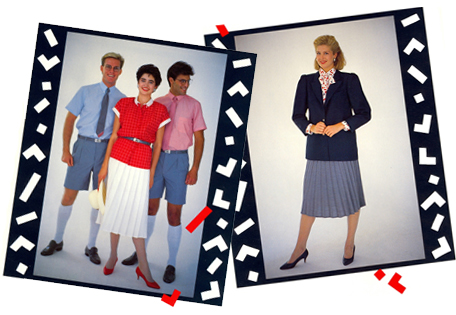 At a similar time, corporate wardrobes were being created by other local designers for the different brands within Westpac Group, including Jill Fitzsimon who created the uniform for the New South Wales Building Society, eventually part of St.George Bank. Fitzsimon was a key part of the 'Dynasty decade' of the 1980s, when fashion was all about excess and power, and is remembered for her shoulder padded suits and flared disco attire.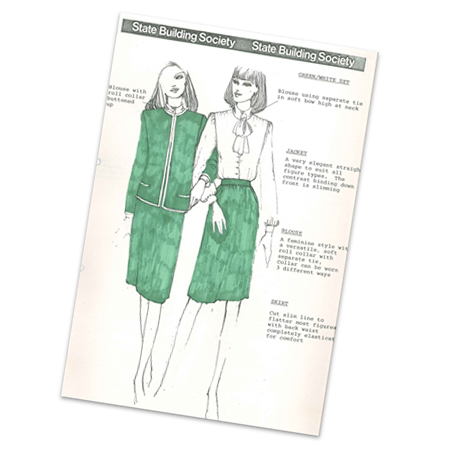 Another Sydney-based designer, Peter Metchev, created the launch wardrobe for St.George when it gained its banking licence in 1992 and, more recently, Camilla and Marc created a wardrobe for St George in 2014.
Carla Zampatti was selected to design the new Westpac uniforms released for the bank's 200th anniversary in 2017, which are still worn in all Westpac branches today.