Nathan Tucker is starting to get recognised at his local Bunnings.

"Bunnings is like a close friend of mine now – we're there at least twice a week," says the 34-year-old, who has been renovating a newly-bought Fremantle home in Perth's south with his partner Morgane Chebahi over the past month.

"They're making a lot of money from us."

According to the Australian Bureau of Statistics, Australians spent about $8.7 billion on home renovations last year, the average spend coming in at about $25,000. Interestingly, figures suggest activity in the renovation market increased over the year as property markets stalled, interest rates remained stagnant and lending conditions tightened. In fact, the three months to September 2018 was the busiest quarter in 14 years, according to the "renovations" component of the third quarter national accounts data, in contrast to the slide in new home approvals.

While data suggests the trend has been more mixed in recent months as the federal election approaches and homeowners adopt a wait and see mentality, renovations activity remains strong.

The most recent numbers shows renovation approvals bounced back in February to be up 4.4 per cent for the month "with a decent uptrend in place", particularly solid gains coming through in Queensland and Western Australia, according to Westpac Economics.

Tucker and Chebahi are on the front line of this trend.

The couple had been searching, unsuccessfully, for a home within their $500,000 to $550,000 budget for about six months. They never dreamed of buying in central Fremantle, the one-time working-class harbour city that has evolved into a bohemian hotspot. But Perth's soft property market has, quite literally, opened doors.

Average prices have dropped 17.8 per cent since their June 2014 peaks, with the median property price back at around 2006-levels – a time when Perth's median price was the highest in the country. Today, Perth is the cheapest capital to buy. Tucker and Chebahi were under no illusions that a home in Fremantle on a 460sqm block would be a "fixer", given Fremantle prices have fallen less than Perth overall to an average of $780,000.

But as soon as they walked in they "fell in love".

"We saw some people at the home open walk in, and walk straight out," Tucker, a drafter by trade, says.

"This is our first home, and we never really had any intention of renovating when we were searching.

"But we also never dreamed of being able to live in Fremantle. We weighed up the numbers, and put an offer in. After a bit of back-and-forth we got a big discount, and got another $20,000 off the price, to $540,000.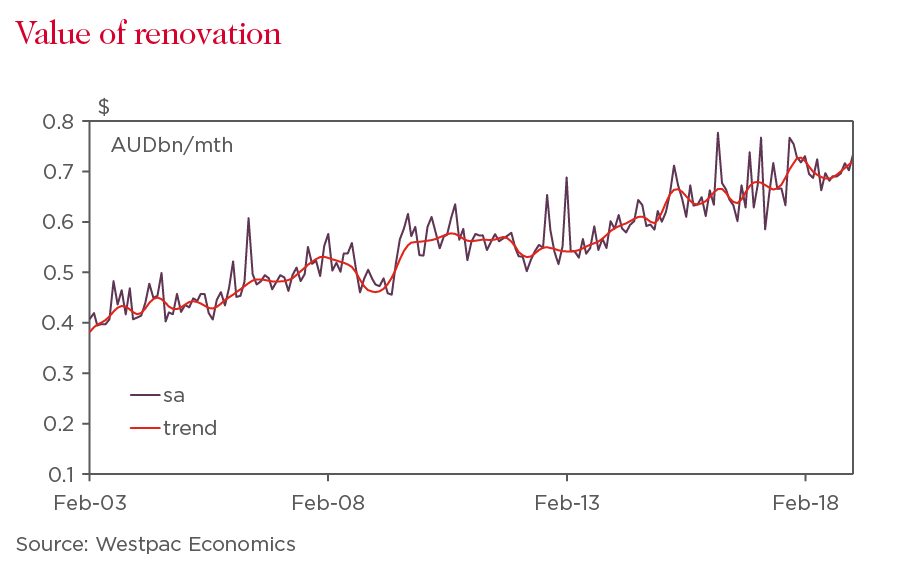 "We're planning to spend $30,000 on the initial renovation, so it just makes sense. It's a lot of work, but we had a look around at prices nearby and there is nothing that's sold near our price range, so we feel like it's totally worth it."

The couple is now in the middle of an intense six-week renovation spree to get the house up to a liveable standard – with more work planned in the years ahead.

"All I'll say is that it's nothing like The Block," Tucker says. "It's tough going!"

Westpac senior economist Matthew Hassan says the strength of the renovation and alterations market is dependent on both pro-cyclical and counter-cyclical trends in the housing market.

"When the market is on the way up, people renovate to sell and there's more activity," he says.

"On the counter-cycle, when turnover is low, the prospect of selling an existing home, well, you may build the third bedroom rather than buy, and we're seeing that in markets such as Sydney."

However, looking at the numbers, he says there is a question mark around the trends in the growth of "alterations and additions" – which the ABS tracks and economists tend to use to monitor renovations activity – given it may not pick up all activity, such as lower-value purchases. Also, it is hard to get a hold on the outlook as people consider purchases under $10,000 big-ticket discretionary spends, like buying a car or going on holiday.

"That discretionary spend is being hit by the downward cycle, and people generally are less inclined to jump into the decisions you can put off – that's particularly the case with the looming Federal election," he says.

"Previously you'd expect renovations outperforming new building, but that's not necessarily the case," he adds, noting the recent spike in high-rise approvals in the volatile monthly building approvals data.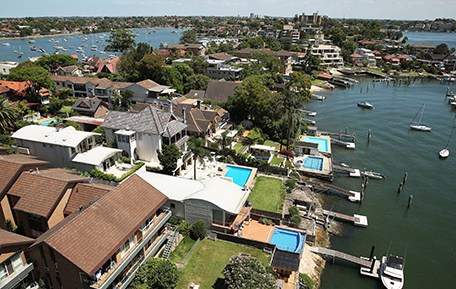 Businesses involved in the construction sector are responding to the adjusting property market and economy. GWA Group, one of the country's leading suppliers of building fixtures and fittings to households, late last year moved its emphasis to the renovations segment in both residential and commercial, in turn reducing its direct exposure to new residential construction.

In its recent results in February, Dulux, a paint supplier, highlighted its focus on maintenance work on existing homes – which accounts for 66 per cent of revenue – to continue providing growth and weather the downturn in new dwellings.

Meanwhile, listed plumbing supplies company Reece was warier, saying it expected "moderated trading conditions [to] continue", while Wesfarmers-owned Bunnings – a consistent high performer for the conglomerate – also predicted "moderated trading conditions".

"Australian households are under pressure from stagnant wage growth, rising costs of living, and falling wealth," Standard & Poor's analyst Graeme Ferguson said in a report this month aptly titled "Australian Corporates Vulnerable To A Thrifty Consumer". "A rise in the household savings rate poses the greatest near-term risk to Australian corporates."

Yet for now, Mitch and Katherine Krahe in Sydney are also spending many afternoons at Bunnings.

The couple, who bought their Quakers Hill home in Sydney's west six years ago, have been renovating on and off the whole time. They added an extra bedroom and bathroom, as well as cosmetic renovations and landscaping, spending about $20,000.

But recent news led them to weigh up a very important decision.

"We are expecting another baby," Krahe, a teacher, says.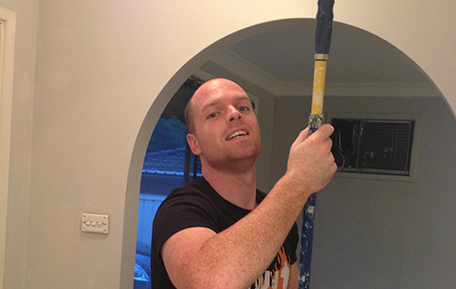 "And we were running out of room. So, it was either sell in a soft market, which I wasn't confident about, or renovate."

The couple decided with the latter, and are in the middle of building a free-standing "office pod" where the backyard shed once was to free up the current office-bedroom for the new addition. Krahe says he hopes it will also "buy them a little time" to see the weakening Sydney market make a turn – and then sell.

"It makes sense to wait a little bit longer," he says.

"It allows us to pay off more principle, and I guess being fist homeowners, we haven't been able to access as much equity as we would have liked.

"And my brother-in-law and uncle are both builders – so that helps!"

The views expressed are those of the author and do not necessarily reflect those of the Westpac Group.