Inside Westpac's core network tech upgrade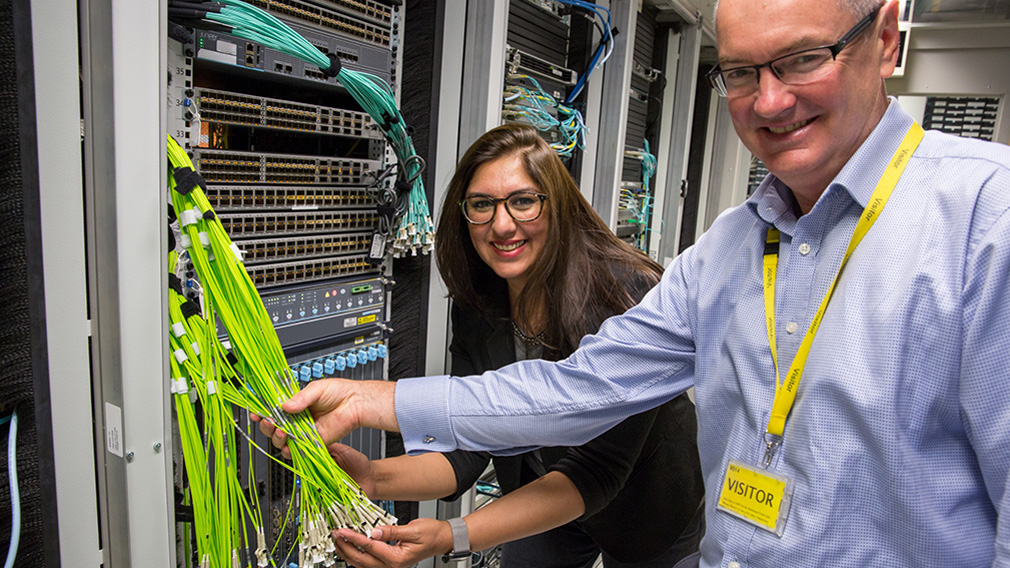 In a large warehouse in Sydney, seemingly drab racks of routers, computing boxes and cables dominate a metallic maze of high-tech hardware. Other than security and the odd technician, humans are scarce.

But the interplay with millions of people never stops.


"It's where we run pretty much the entire bank," Asifa Sherazi says of the "core network" housed in Westpac's two data centres, the location of which is tightly held.

"It's the spinal cord of the bank's technology infrastructure, underpinning all the customer experiences such as ATMs, branches, apps like Westpac Live and websites, so if there's an issue it can affect everything else."

Mrs Sherazi, who has spent more than 10 years at Westpac, is acutely alert to risk from "issues". A program director in the Group Tech division, Mrs Sherazi is driving a critical roughly $100 million program to simplify, strengthen and modernise the bank's core network. The three-stage "core network transformation" program involves consolidating the bank's 11 networks bolted together over the years through various corporate transactions, such as the 2008 St.George merger, down to one to reduce costs and enhance customer services.

And it needs to be done soon as the network, or the "plumbing" as Mrs Sherazi describes, approaches its "end of life".

"We got here because of multi-brands, strategic mergers and we're trying to simplify it and make it as easy as possible to do business," she says. "The technology is getting old and there's been a high rate of tech change…so we're putting in state of the art infrastructure."

Over a weekend in late November, the program passed a major milestone when more than 200 apps and systems were migrated into the new core network. It involved more than 60 Westpac technology and risk employees (plus up to 400 stakeholders interfacing with the change) bunkered down at the bank's Kogarah offices along with several third-party providers.

Working out of the national operations centre that monitors the bank's systems 24/7, Mrs Sherazi recalls two long and tense days after many long weeks of preparations and testing with hundreds of stakeholders in the lead up.

"We had a couple of issues that we resolved and a few red herrings, but nothing major," she says. "By 10pm Saturday… we said 'we've got this'. It was quite a phenomenal coordination effort because if we had done something wrong, something small, it could have impacted some of the bank's critical apps."

Group Tech general manager of infrastructure and operations Richard Holmes, who was getting and relaying regular updates over the weekend to then-chief information officer Dave Curran, says the success of the initial migration provided confidence ahead of the more complicated second stage of the program.

"There's a long complex run ahead, so getting this one over the line is a great relief and gives me great confidence in the people and process going forward. But the work's not done yet," he says.

Technology represents one of the biggest expenses for banks, rising 6.9 per cent to $7.2 billion across the big four lenders alone in full-year 2018, according to KPMG. Banking equity analyst at Macquarie, Victor German, last month predicted the pace of technology spending would continue to "step up" in coming years, reflecting new competition and risks, such as cyber security.

At the same time, in the current operating environment, banks are under greater pressure to balance investments given competing demands. The issue was laid bare in a September speech by Australian Prudential Regulation Authority chairman Wayne Byres, who warned about the risk of not prioritising "far less exciting" ongoing investment in existing systems in favour of other technology investments, saying "keeping the lights on and systems operational is no trivial task".

Mr Holmes says there are probably few similar programs, if any, of the scale and complexity of the core network transformation occurring in the Australian market. Despite the hype and attention surrounding new technological capabilities and products, he says several benefits would flow from the "significant" investment in the core network upgrade once completed in the next 18 months, including a more stable customer experience and reduced complexity.

It feeds into Westpac chief executive Brian Hartzer's broader push to consolidate, simplify and automate systems across the group in the past four years. Releasing the bank's full-year results in November, Mr Hartzer upped the bank's annual productivity savings target to $400m, and said a further $63m in costs had been taken out from the technology and operations platforms last year. He also flagged more opportunities ahead.

Banks globally are facing into similar adjustments.

In the UK, which suffered a far worse economic fallout from the global financial crisis than Australia, Royal Bank of Scotland has in the last five years more than halved its technology systems and applications, according to KPMG.

RBS has also created group-wide assets and capabilities across legacy and new businesses following struggles with complexity and operational issues going back to its 2000 merger with NatWest, resulting in "not just a better customer and financial performance, but also vastly improved operational resilience and agility".

In Australia, EY claims banks have also added "layers of new products, policies, processes and technology" that created "highly complex businesses with complicated IT architecture" over the past decade or so of strong revenue growth. The accounting and consulting major argues banks need to move to a "holistic, end-to-end view of their business", helping to deliver efficient processes, controls and compliance.

For Westpac, Mr Holmes says while being a full service, multi-brand bank after mergers had created greater technology complexity, programs like the core network transformation reflected strong progress in simplifying, that provided near-term cost reduction benefits but importantly also improved the ability to "deliver better customer functionality quicker" in years ahead.

"This is just one of our initiatives, but an important one," he says. "The efficiency element is to drive the number of networks down to one, the customer experience element is to deliver better stability for our systems, and it allows our businesses to deliver better customer functionality quicker."