Three things elite sport brings to business
Onlookers were a little stunned.

Bryce Quirk, a 5'10 Melbournian triathlete in his late 20s, had just suffered some disappointing results in two key races he was defending. A year earlier, in 2005, victories in the same Australia and Oceania championships briefly lifted him to number one in the world for the gruelling sport that tests competitors across swimming, cycling and running for up to two hours.

But 12 months on, the very different results saw him miss out on one of Australia's three triathlete spots in the Melbourne Commonwealth Games in March 2006, ending a potential "pinnacle" achievement for the local boy who'd made prior cracks at the Commonwealth and Olympic Games.

"A lot of people when I retired were like 'what, why are you retiring, you were the Australian champion a year ago?" Quirk, who now works at Westpac's BT Financial, recalls of the rollercoaster series of events that ended in him stepping away from the sport he'd loved since high school.

"Basically…I got a taste of where I needed to go (in 2005), then effectively I tried too hard and put too much into it and I think I got to the start line completely fatigued.

"(And then) I got to the end of the 2006 season and thought 'well I'm not getting the results I want and I've got a uni degree and a good job… I probably need to think about the rest of my life'."

Excelling at an elite level only to fall short at reaching the ultimate stage is an experience many athletes know well. Quirk, a talented swimmer in his youth, started out competing against the likes of Olympic gold medallist Michael Klim before switching to triathlons and taking on champions Miles Stewart, Brad Bevan, Greg Welch and Peter Robertson. Despite the competition, he competed in seven World Championships, including five as a professional, and made the podium in two World Cup events as well as multiple top five finishes.

Yet the Games, where each nation selects fewer competitors than for World Championships, eluded him.

"Unfortunately, they had my number," he says of his peers with a laugh.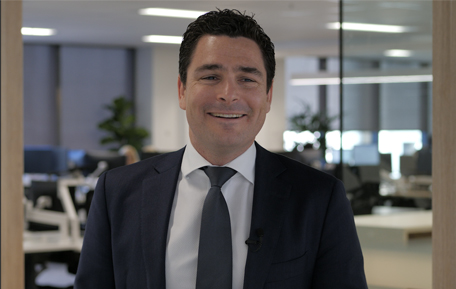 Fast forward more than a decade and competition is only intensifying across most industries in the economy, often off the back of rapid technological advances and new entrants. Amid predictions of increasing automation of roles ahead, some see a future where elite sport and business share more and more similarities.

Quirk, who studied commerce and spent 18 months at EY in his early 20s prior to turning his attention to triathlons full time, says corporates have much to gain from leveraging the talents of athletes and that he hopes to do more driving Westpac's efforts in this space.

For one, athletes and sportspeople bring critical skills such as being alert to feedback, identifying talent and understanding the importance of playing their role, he says. A challenge, according to Quirk, is that many corporates lack appreciation for athletes' work ethic, motivation and process-driven outcome mindset, traits and attitudes.

In triathlons, its comes from punishing training for races kicking off with a 1.5 kilometre swim, then a 40km cycle and finally a 10km run. But the immediate, cutthroat reality of elite sport is also clear when competing as part of a team.

"There's no greater feedback than when you're six goals down at quarter time. It's pretty obvious there's a problem," Quirk says. "Whereas in the corporate world you can tend to blame or shift or divert or amalgamate problems, so I find good teams just own it, they come together and get on with it."

Quirk, who at BT oversees a team of 45 employees and five direct reports, says the ability to give and receive feedback is one of the most valuable attributes athletes bring to companies given their background in monitoring training sessions and learning from coaches. In today's rapidly changing business environment, he says people not open to feedback or willing to learn will get left behind and are best avoided.

"When I'm hiring people, I'll always look at the underlying person and their character, and whether you can harness that to teach them to be better," he says, noting it's a priority ahead of trained expertise or experience.

"If they don't have that willingness to make mistakes and learn…some young girl or guy will jump straight past them because they'll be a dog with a bone that just really wants to improve themselves, and perform for themselves and the business."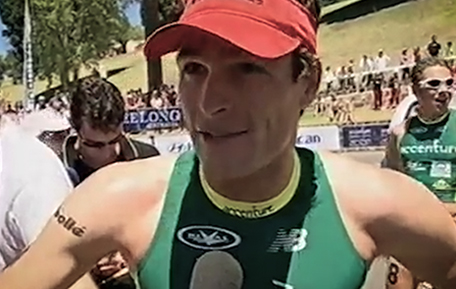 For Quirk, who since he was 15 competed in an individual sport, joining teams in business was an adjustment compared to being in control and responsible for his own training, strategy and outcome in triathlons. It began when he retired from sport and re-joined EY after the global accounting and advisory major held his job for almost six years and even sponsored him, which along with prize money helped Quirk fund his sport.

Like so many of his contemporaries, he says the transition away from sport was "very difficult", amplified by an untimely move into the financial services sector at a small firm just prior to the GFC and being made redundant. But by 2009, he'd joined BT and recently led the delivery of the newly launched BT Open, part of the business's efforts to leverage its modern Panorama platform for financial advisers and investors.

Again, he says there's much to take from how teams function in sport, the key being that "everyone's got a role to play" and is willing to do it.

"That's the difference between elite team sport and what I see in the corporate world -- you quite often see people not willing to play their role. They either want to do more or less, as opposed to 'this is what you're in the team to do and this is what we need you to do a great job of for this team to be really successful," he says.

"If you listen to any football coach these days, it's all about the process, it's all about the role of the team players. You see that when someone like Buddy Franklin leaves Hawthorn, you think they're going to fall apart and then they win two premierships in a row straight after because it's the system and the process."

Outside of the office, Quirk says he doesn't even own a road bike these days and is mostly a "summer fitness person" in the pool and running. Asked to recall the hardest leg of a triathlon and Quirk doesn't hesitate: "On race day the run was always the most painful because that was where the race came to a head."

"But it was a sport that really rewards all-round capabilities and that's one of the difficulties -- you could be flying in two of the disciplines and really struggling in the third one irrespective of how fit you were."

"It's a sport where you're pushing your body to the edge."

Video: Josh Wall