When I speak to small business owners, it's hard to ignore the difference in sentiment between those whose businesses were born in the digital age, versus their more traditional peers.

Owners of younger start-ups – many of whom are capitalising on new technologies and thinking about how they can go global – are full of confidence and optimism for the future.

Sentiment is far more sober among established businesses – that make up over two thirds of the 2.2 million small businesses in Australia.

Although as a whole the sector is doing well, 67 per cent say they are in "maintain" or "wind down" mode, according to a survey of around 1600 businesses commissioned by Westpac.

They say their confidence is waning as they face challenges including too much red tape, increasing costs like energy prices and commercial rents, and intense competition from established foreign entrants and newer digital platforms.

There's no doubt they're finding it tough. Indeed, it's startling to note that conditions have barely registered a positive quarter since the Global Financial Crisis a decade ago.

Around 40 per cent of small businesses that have experienced disruption say it was caused by new technology, 31 per cent by changing channel preferences and 30 per cent by new entrants, according to research conducted for Westpac by RFi Consulting of 500 SMEs that import or export. And almost a third said they expected their industry to see significant disruption over the next five years.

As they find themselves at this cross-roads, it's clear that to really flourish, more mature businesses need to re-invent themselves, and make tough decisions about how they can future-proof their businesses.

In other words, they need to discover their "second act", which will revive this vital sector. I believe small businesses can do this through product or service innovation, access to new markets or simply the ability to adapt to the rapid changes in consumer behaviour.

And positively, many are up for the challenge.

I've seen first-hand many established small business customers turning these challenges on their head.

One example is Sydney-based creative design business Corban & Blair, which celebrates 30 years in business next month. The co-founders have responded to changing consumer habits, transforming from a stationery maker into a leading seller of customised products to large corporate customers, while upping revenue from web-based retailers and online sales.



Many established small businesses, like Corban & Blair, have the same opportunities as the wave of fresh new 21st century start-ups that are attracting warranted excitement.

There's a wealth of knowledge and experience in this cohort that is so valuable to Australia, often hiring more staff than start-ups and making investments that have an impact on the broader economy, such as buying equipment and machinery.

A lot of discussion of late has focused on the prospect of tightening credit in the marketplace and the risk this may pose to small business success. But there have also been positives for the sector: ASIC last month approved the Australian Banking Association's new Banking Code of Practice, providing improved protections and terms for small business customers which borrow up to $3m, equating to coverage of 92-97 per cent of businesses in Australia. In addition, Westpac has $30 billion in pre-approved lending available right now and we are keen to back businesses looking to the future.

While technology is not always the answer for every business, leveraging technology is critical to every industry. According to Deloitte Access Economics, small businesses that are highly engaged with technology are 14 times more likely to be innovating, seven times more likely to be exporting and more likely to be growing in revenue terms.

Yet we must think about the opportunities a little differently.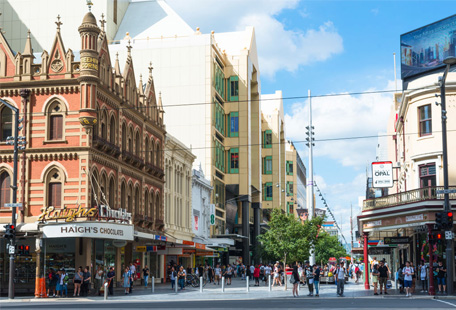 Despite all we have heard of manufacturing's demise, it still plays a key economic role in Australia and could be re-defined for a new era. Indeed, our research with RFi found that almost 60 per cent of businesses in the manufacturing sector have experienced an increase in revenue over the last two years.

A lot of it is about tilting the manufacturing focus from big production lines towards research and development, design, repairing, customising, packaging, logistics and recycling; and tapping global markets.

One of our customers, Dave Steadman, is a good example. Although he could have retired, Dave started a new small business called Steady Racks after frustrations about his garage getting clogged with his family's bicycles. He's now exporting his product for residences and commercial spaces to nearly every continent, leveraging his passion, experience in business and zeal to capitalise on the huge growth in cycling.

The export opportunity is also massive for small businesses operating in education, training, law, marketing, health and fitness and aged care, particularly in nearby Asia where Australian products and services are highly valued. Although there are obvious challenges to operating abroad, it's surprising that just 7 per cent of SMEs are taking advantage of the China-Australia Free Trade Agreement signed in 2015.

Confidence is critical and this is unfortunately lacking. That puts the onus on banks – along with government, industry and the broader business sector – to come together to navigate these cross-roads and remove the barriers that are holding small businesses back, clearing the way so they can continue to drive our nation forward.

For our part at Westpac, we're actively supporting small business customers by helping to reduce red-tape and making it easier to do business; and building awareness around ways small businesses might discover their "second act" by using their skills, knowledge and contacts to drive the sector forward.

And we are keen to back small businesses looking to the future because we know there's much in the sector to be bullish about.

This article is based on a speech delivered today by Ganesh Chandrasekkar at the RFi Business Banking Summit.