Behind Corban & Blair's retail resilience
There are not too many co-founders still running their business together 30 years later.

But cousins Gillian Corban and Amanda Blair, who in 1988 founded Corban & Blair – their eponymous Sydney-based stationery-turned maker of custom-designed journals, wallets and other products – will celebrate that milestone next month.

This is no mean feat when almost a quarter of Australian small businesses of a similar size cease operating after just four years, and the past three decades has been peppered with recessions, retail disruption, offshoring and technological transformation.

Not to mention both co-founders had very little knowledge of how to run a business.

"It took me a year to adjust my language from educational-type language to business," says Corban, who previously worked as an art teacher, while Blair's background was in fashion.

"Starting a business was the last thing I thought I'd do, truly. It's like always climbing mountains," she says.

"Either knowledge mountains, staffing mountains, client mountains – you're always climbing. You never get to a plateau, because the market's always changing, and the change is coming quicker now."



Many who know Corban & Blair may still think of stunningly elegant photo albums and other "stationery" items purchased at large retailers like David Jones and Myer, but Corban says they shifted their business model some years ago in line with evolving customer wants and retail dynamics.

Designing new albums – which used to be a staple – has ceased and the business no longer sells through retail chains anymore, many of which no longer exist.

Instead, the bulk of Corban & Blair's business – around 80 per cent – are customised products "made to order", predominantly for large corporate customers including Westpac, the Prime Minister's department and Lendlease looking for unique gifts for customers or employees. The remainder of revenue comes from products bought online through web-based retailers like Temple & Webster, Red Balloon, and Corban & Blair's own website.

The decision to pivot and lift its focus on the corporate sector was spurred by securing a licence to create products for the Sydney Olympic Games in 2000, such as unique delegate travel wallets and other collectibles, which opened their eyes to the possibilities.

"Whether it's for corporate customers or individuals, we try to create beautiful, useful, clever objects that are meaningful, touch the heart, don't waste, can be used forever, and are genuinely valued by the people who receive them," says Corban.

Despite its large clients and item sales reaching into the hundreds of thousands annually, Corban & Blair's operations are quite small. Less than a dozen staff work across its quaint head office in Sydney's Lewisham and its manufacturing plant and warehouse in Revesby, supplemented with manufacturing operations at partner factories in China's Guangzhou, and a New Zealand factory owned by Corban's brother.

"People think we're big, but we're not. Our brand is bigger than we are, because we've been around for such a long time," Corban says, adding that revenue has remained steady for the last five or six years.

"This idea that somehow you've got to be big and growing all the time, I think it can ruin things. You just have to be sustainable. We're profitable and motivated creatively. Our interest is maintaining a business that people want to work in, that does good things."

This emphasis on "good things" has set Corban & Blair apart from its earlier days, when the concept of environmental sustainability was far from trendy. Dotted among the shelves of handmade, leather-bound journals and recycled wooden frames are unusual objects made from obsolete technology, like notebooks with stitched covers made from old floppy disks and CDs.

"We're always looking for opportunities to avoid waste," Corban says.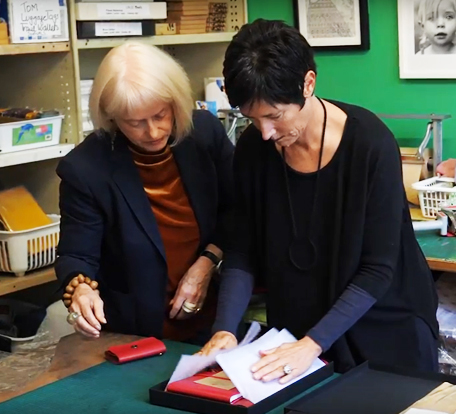 In the late 80s, Corban says sourcing recycled paper wasn't possible in Australia, leading them to bring it in from America. "We also used a lot of Kraft brown paper and wanted to print on it but the printer said 'no you can't'. We said 'yes you can'. We even made boxes and albums out of old mother boards – the circuit boards from inside obsolete computers – that we exported to Japan and Taiwan."

Looking ahead, Corban says she is turning her mind to getting better use out of the company's Revesby factory which sits idle at night and over weekends.

An enduring aspect of the business has also been the co-founders' philosophy of ongoing collaborations with Indigenous and non-Indigenous artists and artisans to help showcase Australian cultural narratives to a broader audience.

It began through a collaboration with Indigenous artist Susan Vaughan, who Corban met when she was teaching at Cleveland Street Boys School in Sydney. Vaughan painted what became known as the "Murrumbidgee collection", which was used as cover paper for Corban & Blair's earliest photo album range to give a unique creative edge while sharing Vaughan's story.

Since then around two dozen collaborators have worked on numerous Corban & Blair collections, including Euraba – a group of Indigenous artists and papermakers based in Boggabilla, contemporary Yuwaalaraay artist Lucy Simpson, and Studio A, a unique social enterprise to help forge the artistic careers of talented artists with intellectual disability.

But it hasn't all been "plain sailing".

Along with dealing with red tape, paperwork and employment laws, one of the hardest decisions the co-founders had to make was to expand manufacturing into China, a move they made around 18 years ago with their first order of 20,000 business card wallets.

Fast forward to today and their long-term manufacturing partner in Guangzhou, China, is their largest supplier.

"We'd always seen ourselves as an iconic Australian-made brand, but we just weren't operating on a level playing field with others who were manufacturing off-shore. We didn't have access to the skills in Australia to do what we wanted to do, and the prices were too high for us to compete," Corban says.

"Amanda and I went through quite a difficult emotional time to make that change but we did, and we've been manufacturing most of our leather products, by hand, in China, ever since."

While in hindsight the risk proved worthwhile, just the concept of taking risk was something the co-founders took some time getting comfortable with. Corban says the key is not instantly viewing opportunities as being too hard, and making calculated calls. "We take a lot of risks, but we're women – we don't take stupid risks," she says pointedly.

The approach saw the co-founders dip their toes into international markets over the years, including China, the US, UK, Japan, Taiwan and New Zealand. After mixed success, Corban says they figured out they were "better off" returning focus to Australia and made to order for companies, which makes up the vast bulk of the customer base today.

And after 30 years, the pair has no plans for an imminent exit, but to continue to evolve with their team, to create meaningful products that delight.

"We want to keep doing what we're doing, which is evolving and changing and getting better at what we do, not wasting, and just keeping on being creative, working with customers we like, working with staff that we like, so we're inspired."


Westpac is a customer of Corban & Blair and, through its Supplier Inclusion and Diversity Policy, is committed to increase supply chain opportunities for companies like Corban & Blair that are driven by a social or environmental mission or support people who have traditionally been financially excluded. Westpac also provides transactional banking services to Corban & Blair.