When it comes to Australia's immigration policy, seldom have I seen so much disconnect in the worriers' minds between current problems and future benefits.

Former Prime Minister Tony Abbott recently got the hares racing when he suggested the rate of immigration should be cut back sharply to 110,000 people a year, an idea quickly swatted down by Immigration Minister Peter Dutton.

Our population growth rate is around 390,000 people, or about 1.6 per cent a year, a bit over a third from natural increase and the rest from net overseas migration.

True, that sounds like a lot. And if you cite immigration for "stagnant wages, clogged infrastructure, soaring house prices and, in Melbourne at least, ethnic gangs", as Mr Abbott did, it's not surprising some people's blood pressure rises.

And John Daly of the Grattan Institute has just pitched in with a report that highlights the problems of housing affordability, although he stops short of specifically demanding a cut in immigration.

But there's actually a major issue for which arguably a short term rise in migrant intake is the only readily available solution: the looming retirement of a big cohort of baby boomers.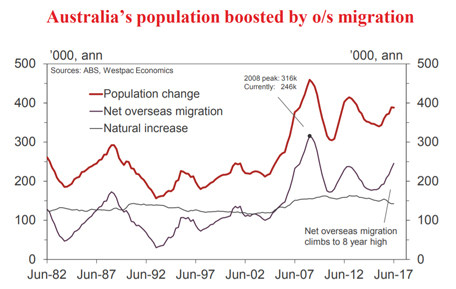 Treasury's 2015 InterGenerational Report predicted that by 2054-55 the number of people aged between 15 and 64 – workers – for every person aged 65 and over is tipped to fall to 2.7 people from 4.5 people. For workers, read taxpayers.

At the same time, the much touted push to turn us all into self-funded retirees and get us off the government teat in our dotage is going to take time. A reported 80 per cent of retirees are dependent on some kind of government pension, and that is only going to drop slowly as the superannuation system fully matures.

The InterGenerational Report warned that the share of the population dependent on an Age Pension would barely change over the next 40 years, although a bigger percentage would be on part pensions. It added the cost to the budget could soar from 2.7 per cent of GDP, or around $50 billion, to 3.6 per cent unless the indexation rate of Age Pensions was cut and the pension age increased to 70 years.

And this is all despite more of those over 66 years are forecast to remain employed in some form.

The last baby boomers (born in 1960) haven't even got to retirement age yet so the ageing problem is going to get bigger before it gets smaller in coming years as our total population moves up to almost 24 million people compared to fewer than 8 million in 1945.

As Melbourne based journalist and author George Megalogenis aptly noted in his 2015 book Australia's Second Chance, most of the economic stagnation or recessions in this country in the last century have tended to occur whenever there was a cutback in immigration.

Conclusion: cutting our migrant intake in the short term could do dire things to supporting our ageing population, and keeping baby boomers in the style to which they have become accustomed. Not to mention push up debt levels for the next generations.

We can't have it both ways.

The views expressed in this article are those of the author and do not necessarily reflect those of the Westpac Group.