A stroll down WA's road to recovery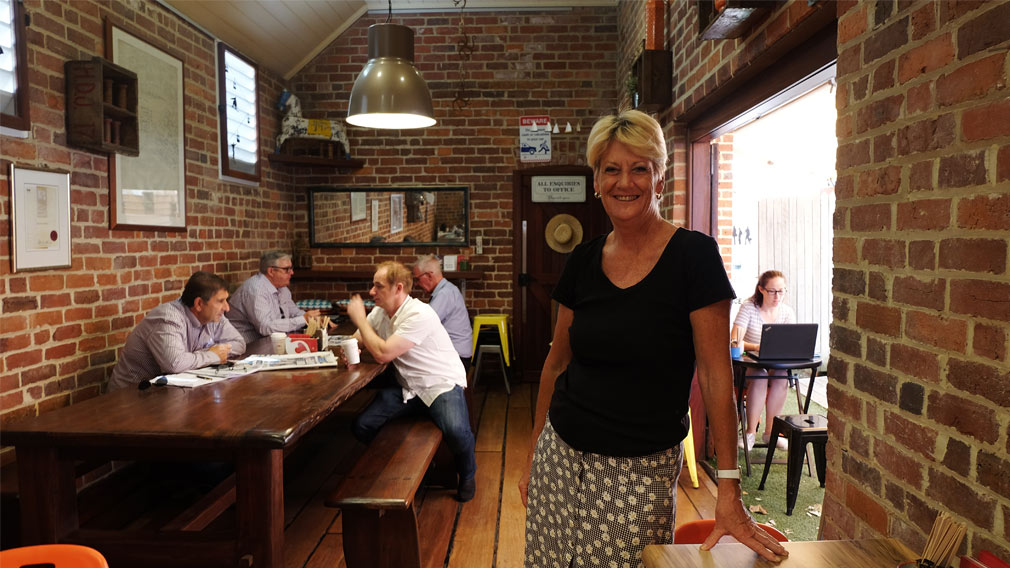 If the walls of Black Tom's could talk, you'd need to book in a very, very long lunch.

Multi-million dollar deals, failed pitches, business break-ups, punch-ups and, needless to say, many bottles of wine – the West Perth mainstay of Perth's business lunch set has seen it all.

Surrounded by hundreds of small to mid-tier mining companies and a spattering of some of the state's biggest businesses, the restaurant has long been considered a telling barometer of the economy. During the boom, walk-ins were unheard of. By 2012 when the boom began cooling as the iron ore price peaked, the place was an echo chamber.

But with whispers of an economic recovery in WA evolving into loud noises, Black Tom's manager Philippe Kordics says the restaurant – and perhaps the whole WA economy – has shifted into "second gear, waiting to jump into third".

"There's definitely room for improvement," he said late last month, albeit noting it was still the end of holiday season.

"But there's no doubt we saw an improvement in business in the latter half of last year, and there's an increased sense confidence around in general. I get that from talking to our clientele."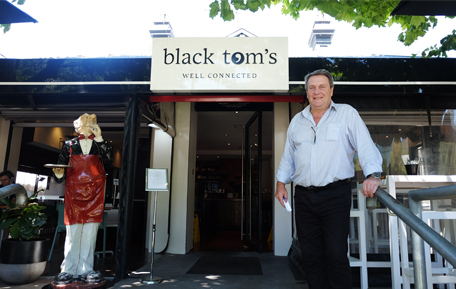 A short 300m stroll to well-known coffee joint Pony Express O, owner Wendy Naude agrees there's "something happening".

"I chat to everybody," says the talkative proprietor, who bought the café in the middle of the slowdown three-and-a-half years ago and describes business as "steady".

"There is definitely a positive feeling that things are on the up again…they all say things are improving. I haven't heard of many redundancies lately, whereas a year or two ago people would come in and say goodbye all the time.

"The recovery won't happen overnight, which people expect it to, but it's definitely turning."

If sustained, it will mark some turnaround.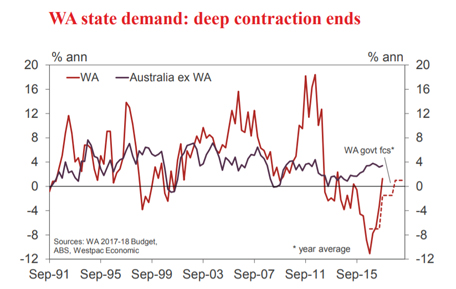 In the 2016 and 2017 financial years, the state languished in recession as the iron ore price and mining investment boom sank, taking its inevitable toll on employment and house prices.
Across the Nullarbor, much of the east coast of Australia ticked along on the back of a weaker currency and as cities like Sydney and Melbourne enjoyed a housing boom that began firing up in 2012 right around the time iron ore peaked.

The "two speed economy" so commonly discussed during the heights of the mining had flipped.

But in the second half of last year, evidence strengthened that the economy had bottomed, no more so than in the state's jobs market. In December, the unemployment rate dipped 0.9 percentage points to 5.7 per cent, according to the Australian Bureau of Statistics, translating to 1.34 million West Australians having a job – about 50,000 more than a year ago.

No prizes for guessing where the rise has come from: a sustained bounce in commodity prices and new life breathed into the mining industry from the likes of lithium explorers on the back of rising demand for battery-powered cars, particularly in China.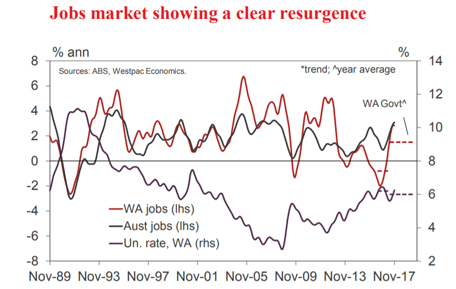 The recovery of mining contractors – some of which went close to the wall in prior years – have also lifted sentiment, including among the many local investors who've been key to why Perth has for decades been home to hundreds of the smaller miners listed on the stock exchange.

In Perth's CBD around St Georges Terrace where WA's finance community sets up camp, stockbrokers speak of a "bull market" that had sped up early this year.

But optimism isn't isolated to the mining space. According to the WA Chamber of Commerce, consumer confidence in WA hit its highest level in four years during the December quarter, helped by key infrastructure projects, such as the Labor state government's Metronet project and the previous Liberal government's new sports stadium -- known to locals as the "craypot".

In the final three months of last year, Perth dwelling prices even rose 0.1 per cent after declining almost 7 per cent from the mid-2015 peak In contrast, the hot Sydney market went backwards 2.1 per cent, according to Corelogic, raising some concerns about households' debt levels and the resultant potential hit to already soft consumer spending.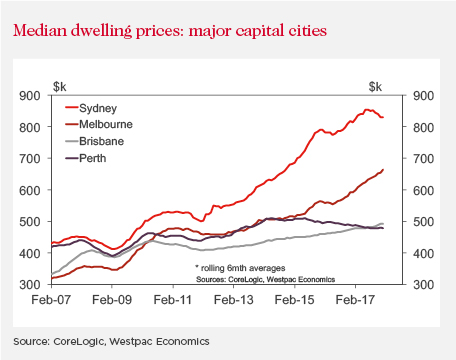 Westpac senior economist Matthew Hassan says that after "much hope and several false starts" there's no doubting that WA's economic recovery looks to be coming through. However, he cautions that conditions outside the state's mining sector are mixed. "While labour markets provide the most convincing evidence of a turnaround, the downturn in housing markets has yet to stabilise and consumers remain under significant income pressures," he says, noting dwelling prices pulled back in January.

On the ground in West Perth, the harsh effects of the slowdown are still hard to avoid.

In the 50m radius of Black Tom's, "For Lease" signs are everywhere, some promoting a "reduced rate" and special deals. And the streets of the business district around Pony Express O are sleepy at worst and steady at best, with more For Lease signs in prime view.

The Australian Property Council's most recent figures show the office vacancy rate in the Perth CBD and surrounds eased slightly to 21.1 per cent in the six months to July 2017, about double the national vacancy rate. Oversupply also continues to haunt the residential real estate market where the rental vacancy rate is at lofty 7 per cent-odd, which take time to be absorbed. Indeed, economists say the state's economic fightback needs to kick on strongly to inspire migration inflows and offset last year's state budget that flagged lighter spending growth.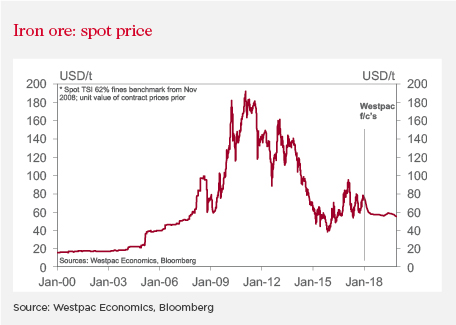 Ms Naude, who is also secretary of advocacy group West Peth Local, says the suburb's lack of after-hours activity, high office vacancy and poor residential development are a familiar bug bear of businesses in WA.

"Red tape," she says. "I put in an application for a small bar licence 18 months ago, just so we could open after hours on Thursday and Friday and offer some wine. But it sat on someone's desk for months and months, and I found out last week it was knocked back.

"Those kinds of delays don't help business."

But perhaps the true marker of WA's supposed recovery sits far away from St Georges Terrace and West Perth – 1600 kilometres away to be exact.

In Port Hedland, WA's iron ore heartland, things have also started to turn.

During the peak of the boom the port town - where BHP Billiton, Fortescue Metals Group and Gina Rinehart's Roy Hill all export their iron ore - rents for a 4x2 home on a patch of red dirt rivalled a studio apartment in London's Chelsea district.

Predictably, as the boom subsided, so did rents, and as the slowdown in work took hold, people abandoned the town. Even as late as mid last year, homes selling for half their listed sale prices were being celebrated by real estate agents.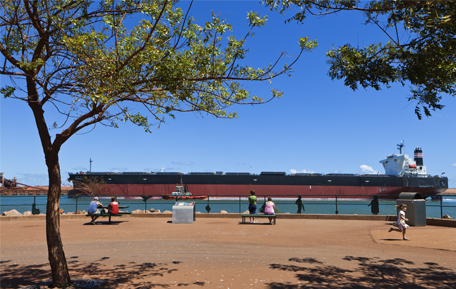 According to Crawford Realty manager Claire Boyce, over the past six months genuine "signs of positivity" have returned to the town, with big impacts on the property market.

"With the steadying of the mining industry, we're seeing contractors coming back into town," she said.

"That has impacted the rental market. For example, so far this year we're renting out nearly two properties a day, for prices well above what they were on this time last year.

"And there's even a bit of competition. This morning I had four calls for one property.

"On the sale side things are still slow, but we hope to see that improve."

Port Hedland stalwart Arnold Carter has seen it all. The Port Hedland Chamber of Commerce and Industry secretary is in his 53rd year in the town.

He reckons "it hasn't turned yet".

"But things are improving, slowly but surely," he said. "The miners are producing more, but I guess we will see what happens with the iron ore price – and that's something no one can truly predict.

"Within six months we'll have a better idea of what's really going on, a lot can change in between."

The views expressed in this article are those of the author and do not necessarily reflect those of the Westpac Group.