'We need more trustworthiness, not trust'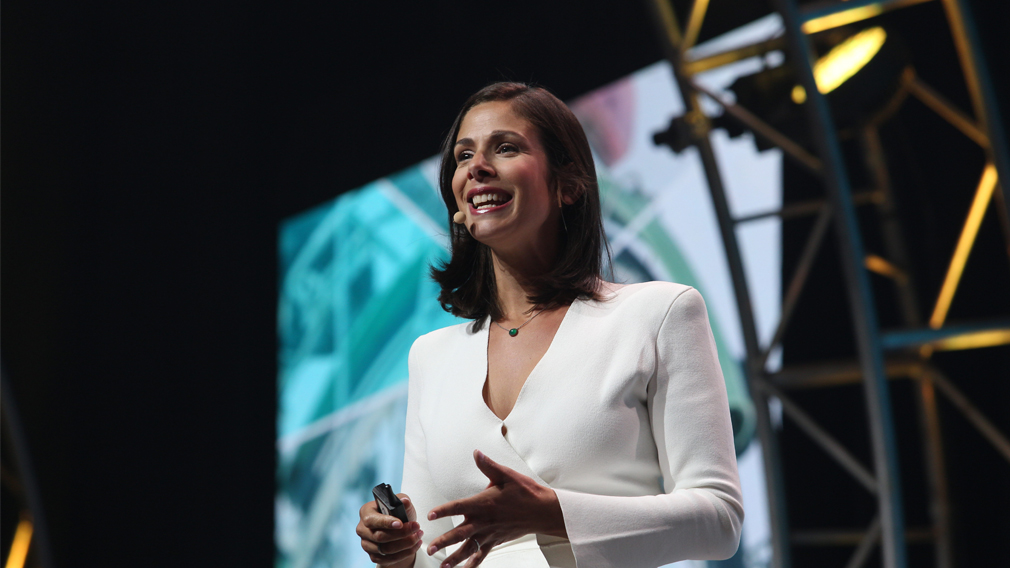 Speak to Rachel Botsman about banks and trust, and she says many are simply thinking about it all wrong.

"At every panel event I attend, I'm always asked the same question by institutions - especially banks: 'how can we get customers to trust us again?' And I give the same response every time: 'you're asking the wrong question'," she says.

On the eve of the first royal commission into the banking, superannuation and financial services industry in more than half a century, Botsman says that asking customers to trust again wrongly puts "all the onus on them" and side-steps the real issue that institutions themselves need to redesign for the age of "distributed trust", where it flows sideways to peers, neighbours, colleagues and strangers, rather than upwards to institutions, authorities and regulators.

"Institutional trust, taken on faith, kept in the hands of a privileged few and operating behind closed doors wasn't designed for the digital age," the author and consultant tells Westpac Wire.

"It's a myth we need more trust in our society. Simply giving away more trust means it could end up in undeserved hands – in the wrong people and new precarious places. What we need is more trustworthiness.

"As the Italian social scientist Diego Gambetta beautifully put it trust has two enemies: poor information and bad character. Once these two things have depleted, trust is lost very quickly - and that's what we've seen with many institutions."

Botsman says the shift to distributed trust means people are just as likely to trust a "bot" on the internet, an Airbnb host or a new cryptocurrency as they are an established institution, a change that cannot be underestimated and showed the world was far from being in an "age of distrust". She refers to "trust leaps", which humans are remarkably good at taking but are getting faster and larger on the back of technological advancements.

But ironically, she suggests technology giants such as Uber, Facebook, Amazon and Google could learn from what the banking industry has faced, noting they could face similar sources of mistrust. "A loss of trust amounts to a lack of faith and confidence in 'the system' itself. Who, or what, can be relied upon? We begin to fear what else can go wrong. What other shortcomings we don't yet know about might lurk in the system?

"So, there is a pressing need to crack open the 'black boxes', to lift the veil on the opaque systems with which we interact daily and yet know very little about."

In the wake of the global financial crisis and instances of misconduct, banks have dramatically increased their focus on trust, reputation and culture through various individual and industry initiatives to meet changed community expectations and greater political and regulatory scrutiny. Morgan Stanley analysts this week grouped conduct with competition as key challenges facing the industry in 2018 amid several inquiries and reviews, including the royal commission that gets under way this month.

Despite the decline in trust, Botsman says banks should also look at the opportunity to change products, services and the overall experience to "make the customer feel the bank is always on their side". She says banks need to openly acknowledge and own mistakes, hold people accountable and provide reassurances that these will not be repeated by changing products and services and making "deep changes" to the culture of the industry.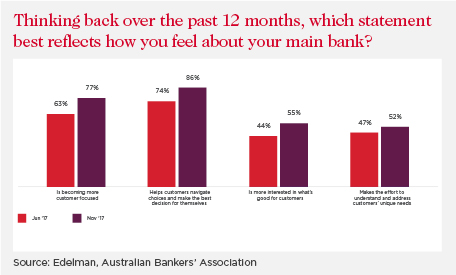 "I think there is a difference between restoring reputation (what the public thinks of the banks) and trust (the confidence they have in their financial systems.)," she says.

"In the case of the banking royal commission, there (are issues).

"Restoring the public's trust in the banking system requires a step-by-step process driven by the banks working closely in partnership with regulators and key political figures."

There has been progress.

According to Edelman Intelligence research commissioned by the Australian Bankers' Association released this month to monitor its "Banking Reform Program", almost 80 per cent of people believe their bank is becoming more customer focused, up from 63 per cent six months ago. But work remains, highlighted by the findings that people with "high trust" in the banking industry rose 1 percentage point to 32 per cent, and trust in the broader financial services industry lifted slightly to 50 per cent last year.

But according to Edelman's research, banks are far from alone in experiencing loss of trust – it declined last year in the media, government and the business sector more broadly compared to the prior year. Banks also remain trusted for deposits relative to major tech companies, according to McKinsey's widely-reported October report Remaking The Bank For An Ecosystem World.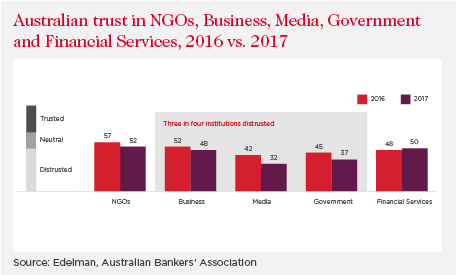 But a report by The Actuaries Institute this week claimed banks may have to also reassess conventional risk management, noting that risks "from swiftly changing social norms and attitudes" still weren't being managed.

Asked which industries were fostering trust well, Botsman cites some fintech companies as being good at demonstrating trustworthiness through their products and transparent communications, making use of their communities of users through "social proofing and peer to peer trust". "Instead of saying 'trust us!' they say, 'don't take our word for it - take theirs!' she points out.

"The age of distributed trust has more in common with the age of localised trust - in many ways it returns us to that time when we trusted individuals and our neighbours, rather than massive faceless conglomerates. The brands that get this right and figure out the right balance between the efficiencies, speed and convenience offered by new technologies and authentic human experiences will be the ones to win over time."