EFTPOS 1 standalone terminal
Enjoy the convenience of a fast, reliable and portable EFTPOS machine in your shop, restaurant or mobile business.
Why choose EFTPOS 1?
Clear and simple flat rate pricing
24/7 customer support
Accepts Tap & Go, insert and swipe cards
Prints receipts and splits bills

Instant settlement¹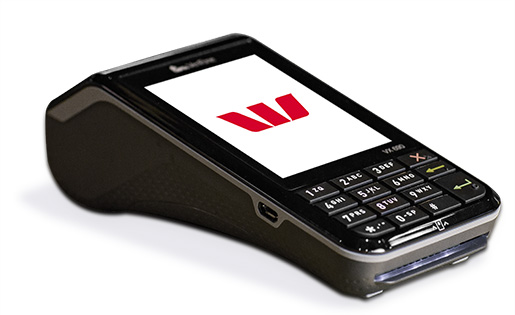 1. Request a callback
Tell us the best time, and we'll call you back within 1 business day to chat about your business needs and process your application.
2. Receive your device
Once your application is approved, you'll receive a call within 24 hours on business days to book the installation of your ETFPOS 1 terminal.
3. Start taking payments
Simply activate your terminal (we'll tell you how), then start taking fast, cashless payments.
$24.75 a month machine rental + 1.2% flat rate
on all eftpos, Mastercard, Visa and UnionPay transactions2.
No setup fee
No charge for paper receipt rolls
No fee for investigating transaction disputes (unless they are excessive³).
Additional EFTPOS 1 features
Reliable
Multiple communication options mean that even when one option fails, you can carry on accepting card payments.
Instant settlement1
Receive your daily business takings instantly, to help keep your cash flowing. Learn more about instant settlement.
Print receipts and split bills
Print receipts and split bills from your terminal, so you can take payments wherever customers are in your business.
Merchant support & stationery
Things you should know
Applications for merchant services are subject to approval. Terms and conditions and fees and charges apply. Full details are available on request.

1.Westpac instant settlement functionality is not available between 9:30 pm and 11:59 pm (EFTPOS 1 and Presto Smart terminals) and between 9:30 pm and 11:00 pm (EFTPOS Now and EFTPOS Connect terminals) - Sydney time. You can only perform a settlement once a day, before 9:30 pm (Sydney time). A settlement done after 11:00 pm for EFTPOS Now and EFTPOS Connect terminals and after 11:59 pm for EFTPOS 1 and Presto Smart terminals, will be processed as a settlement for the next day. Subject to system availability, settlement can take place 7 days a week. Settlement must be to an eligible Westpac transaction account. Instant Settlement functionality is not available on Corporate Online. Instant Settlement is only available for Mastercard, Visa and eftpos transactions (plus UnionPay if using EFTPOS Connect).


2.Our 1.2% flat transaction rate does not apply to American Express, Diners Club and JCB cards.

3.Fees may be charged for chargebacks that are deemed to be excessive by Westpac. You will be notified in writing one month prior to the fee being charged.

# If you want to accept American Express, you'll need to call 1300 363 614 to enter into a separate merchant agreement with American Express.

Mastercard® is a registered trademark of Mastercard International Incorporated.
American Express® is a registered trademark of American Express.