EFTPOS machines
Get a fast, reliable in-store payment solution – choosing a standalone EFTPOS machine, or one that integrates with your POS system.
Our EFTPOS machines
Accept payments at the counter or when you're on the move.
Instant Settlement1
Receive your daily business takings instantly, to help keep your cash flowing.
24/7 customer support
We're on call 24/7 to ensure your business keeps receiving fast and secure payments night and day.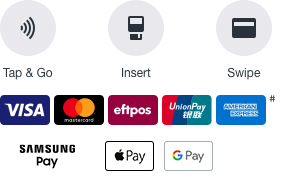 Frequently asked questions
EFTPOS stands for Electronic Funds Transfer at the Point of Sale. It is the term used to describe an electronic payment system (or machine or terminal) that enables the taking of payments by debit, credit and charge cards. EFTPOS machines – which can be standalone or connected to a Point of Sale (POS) system – facilitate the movement of funds from a customer's card account to a nominated business' bank account.

Then there is eftpos (not in capitals), which is the debit card payment system that takes funds directly from a customer's cheque or savings transaction account to pay for purchases in store.
Every business is different, so will benefit from different payment solutions including combinations of services – such as EFTPOS in store and a virtual terminal for phone and mail payments out back.

Some machines integrate with Point of Sale (POS) software and some are standalone, meaning you manually key-in the amount to be paid.

Then there are eCommerce payment gateways and systems for handling batch and/or regular payments. Request a call back from a member of the Westpac merchant services team if you'd like to discuss options that may suit your business.
It's worth carrying out research to help you identify the right payment system for your business needs. A great place to start could be our handy Payment Solution Selector Tool, which is designed to help you find payment products that may match your specific requirements.
Yes, if it is compatible. Having an EFTPOS machine that integrates with your Point of Sale system helps speed up payments and avoid errors, as you won't have to key each amount into your terminal. Westpac offers Presto Smart that integrates with a variety of popular POS systems and EFTPOS Connect that integrates with a range of Linkly POS systems.

All Westpac EFTPOS terminals can connect to the internet via a mobile network (3G/4G) or via Wi-Fi (excluding EFTPOS Connect) and ethernet.
Things you should know
1. Westpac instant settlement functionality is not available between 9:30pm and 11:59pm (EFTPOS 1 and Presto Smart terminals) and between 9:30pm and 11:00pm (EFTPOS Connect terminals) - Sydney time. You can only settle a Westpac issued EFTPOS terminal once each day. Subject to system availability, settlement can take place 7 days a week. Settlement must be to a Westpac business transaction account. Instant Settlement functionality is not available on Corporate Online. Instant Settlement is only available for Mastercard, Visa and eftpos transactions (plus UnionPay if using EFTPOS Connect).
2. Changes to merchant pricing plans are effective from the following month.
3. Standalone mode allows you to process card payments even when the POS is not connected to your EFTPOS terminal.

# If you want to accept American Express payments, you'll need to call 1300 363 614 to enter into a separate merchant agreement with American Express.
Mastercard® is a registered trademark of Mastercard International Incorporated.
American Express® is a registered trademark of American Express.