BusinessChoice Rewards credit card
Use your Qantas Points to reward yourself, your staff or your family.
Special offer
Start soaring with 80,000 bonus Qantas Points1 after the first eligible purchase on a new BusinessChoice Rewards card facility opened before 31st May 2017.
Qantas Business Rewards program joining fee waived (saving you $89.50) for new Westpac BusinessChoice Rewards cardholders.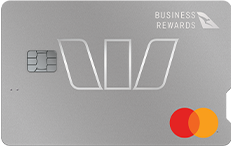 From 1 June 2017, BusinessChoice Rewards credit card will be renamed BusinessChoice Rewards Platinum credit card.
Earn 1 Qantas Point for every $1.50 you spend on eligible business purchases. Earn 0.5 Qantas Points for every $1.50 you spend on government payments.
Up to 45 days interest free on purchases when you pay off your closing balance in full by the due date shown on your statement each month.
Individual card credit limits from $1,000 on up to 10 cards for each account to keep track of each card's activities.
Easy tax reporting by exporting your transactions into MYOB and BAS with ease.

Secure transactions so you can enjoy the peace of mind that comes with the Westpac Added Online Security service.
Qantas Business Rewards
The Qantas Business Rewards program enables you to earn rewards points1 on business expenses paid for on your BusinessChoice Rewards credit card. Qantas Points earned by your business can be transferred to any Qantas Frequent Flyer account3 giving you more flexibility to choose how to use your rewards including flights, upgrades and over 3,000 items in the Qantas store.
Earning Qantas Points
To earn Qantas Points, your business must first join the Qantas Business Rewards program. A joining fee usually applies, however, Westpac has arranged for this fee to be waived for eligible BusinessChoice card facilities - a saving of $89.501. All businesses with an ABN are eligible to join. Qantas Points are credited to the ABN holder's Qantas Members' Business Rewards account within 60 days of the first eligible purchase or card account has been linked to the BusinessChoice rewards facility.
The Westpac BusinessChoice Qantas Business Rewards Terms and Conditions will detail how and when Qantas Points will be earned on card purchases and how points will be credited to the business' Qantas Business Rewards membership.
Visit qantas.com/business for more information.
Fees

Amount

Annual card fee
$150 for each credit card

Foreign transaction fee

3% of the Australian dollar value of any Foreign Transaction.

It may not always be clear to you that the Merchant or entity processing the transaction is located outside Australia.

Cash advances / withdrawal fee

$2.50 if you account is in credit (has a positive balance) after a cash advance transaction.

2% of the cash advance amount (minimum $2.50 and maximum $150) if your account is in debit (has a negative balance).

These charges will appear on your credit card statement directly below the relevant cash advance.

Missed payment fee

$15 may be payable each statement cycle that the whole of the minimum monthly payment is not paid by the statement due date.

These charges will be debited to your account and appear on your credit card statement.

Over-limit fee

$15 each time you exceed your limit during a statement cycle. This fee may also be charged whenever your account is over the limit at the beginning of a statement cycle.

These charges will appear on your credit card statement on or after the day(s) you credit limit is exceeded.


Duplicate statement fee

$7.50 is debited from your card account when you request a statement that has already been issued.

These charges will appear on your credit card statement on or after the day(s) you order the duplicate statement.
For more fee information see the
BusinessChoice Cards Terms and Conditions (PDF 153KB)
Information needed
Income, employment, financial commitment details, Liabilities, assets and expenses
Business details (including ABN, principal's details, address, phone number)
Personal and the Business finances, including after-tax income (including previous year)
Accountant or financial secretary details (including phone number is optional)
Australian driver's licence (if you have one)
Westpac account and customer numbers (where applicable).
What to expect
The application form will take approximately 20 mins to complete (10 mins for existing customers).
Applicants must be
Australian permanent residents
Over 18 years old
Intending to use the facility for business or investment purposes
The business owner, trustee or company director.
Things you should know
Annual card fee: For Altitude Business Platinum and Altitude Business Gold credit cards, the annual card fee covers all cards associated with the product. For BusinessChoice Rewards and BusinessChoice Everyday credit cards, an annual card fee is payable for each card associated with the facility.

Special offer: 80000 bonus Qantas Points: Apply for a new BusinessChoice Rewards Card facility between 1st February 2017 and 31st May 2017 and receive 80,000 Qantas Points within 60 days of your first purchase on any card linked to the BusinessChoice Rewards facility. This offer does not apply for additional cards being added to an existing BusinessChoice Rewards card facility. Switches, upgrades, customers accessing employee benefits or packaged cards are ineligible for this offer.
Qantas Business Rewards membership: A business must be an Qantas Business Rewards Member to earn Qantas Points for the business. A one-off joining fee usually applies (currently $89 including GST), however businesses that are not members of Qantas Business Rewards program at the time of application for a BusinessChoice card facility will be offered complimentary membership upon approval of a new Westpac BusinessChoice Rewards credit card facility. Qantas Business Rewards membership and Qantas Points are subject to the Qantas Business Rewards Terms and Conditions available at qantas.com/business.
Earning and redeeming Qantas Points: To use Qantas Points earned by your business, simply transfer them to any Qantas Frequent Flyer account (Qantas Point earn rates may vary between Qantas Partners). Qantas Partner conditions and earning thresholds apply. We recommend you consult your accountant or tax adviser to ensure you understand possible tax implications, for example fringe benefits tax (if applicable). You must be a Qantas Frequent Flyer member to earn and redeem Qantas Points. Membership and the earning and redemption of Qantas Points are subject to the Qantas Frequent Flyer program terms and conditions. A joining fee may apply.
Complimentary insurance covers: QBE Insurance (Australia) Limited ABN 78 003 191 035 AFSL 239545 has issued an insurance group policy to Westpac Banking Corporation ABN 33 007 457 141 which allows eligible Westpac Bank account holders and cardholders to claim under it as third party beneficiaries. The terms, conditions, limits and exclusions, of the group policy, are set out in Westpac Business Credit Cards Complimentary Insurance (Effective 1 June 2015) which may be amended from time to time. Westpac does not guarantee the insurance. You can get a copy of the policy booklet by calling 1800 091 710.
American Express® is a registered trademark of American Express. The Westpac American Express Card is issued by Westpac Banking Corporation pursuant to a license from American Express.