BusinessChoice Rewards credit card
Use your Qantas Points to reward yourself, your staff or your family.
Special offer
Start soaring with 80,000 bonus Qantas Points1 after the first eligible purchase on a new BusinessChoice Rewards card facility opened before 31st May 2017.
Qantas Business Rewards program joining fee waived (saving you $89.50) for new Westpac BusinessChoice Rewards cardholders.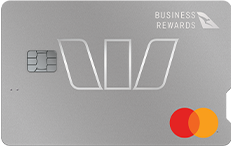 Earn 1 Qantas Point for every $1.50 you spend on eligible business purchases on your BusinessChoice Rewards credit card. From 2 May 2017, the earn rate will change from 1 Qantas Point to 0.5 Qantas Points for every $1.50 you spend on government payments. This change will not impact the earn rate on eligible business purchases.

Transfer your Qantas Points to any Qantas Frequent Flyer account to redeem for your choice of rewards.3
Up to 45 days interest free on purchases when you pay off your closing balance in full by the due date shown on your statement each month.
Individual card credit limits from $1,000 on up to 10 cards for each account to keep track of each card's activities.
Easy tax reporting by exporting your transactions into MYOB and BAS with ease. Read the

Terms and Conditions (PDF 153KB)

before deciding.
Contactless technology gets you fast and convenient payment option for purchases under $100. Simply hold your contactless card against the terminal wherever you see the contactless symbol or your card logo. No need to enter a PIN.
Secure transactions so you can enjoy the peace of mind that comes with the Westpac Added Online Security service.
Joint and several liability
The business and the business principals who apply for the credit card on behalf of the business are each liable to the bank jointly and severally for all amounts outstanding on the BusinessChoice Rewards card account.
Read about the difference between personal liability and joint and several liability and how BusinessChoice credit limits work.
Complimentary travel related insurance
Overseas Travel insurance (includes your spouse and certain dependent children) for up to 3 months - when overseas return tickets are purchased on your credit card before you leave
Interstate Flight Inconvenience insurance - cover for specified flight delays, loss or damage to personal items and more when flying interstate in Australia for trips of up to 14 days - when the entire cost of your return ticket is charged to your credit card before you leave
Transit Accident insurance - protection against specified accidental death or injury when sustained while riding as a passenger in a plane, bus, train or ferry.
Travelling overseas and insurance

Complimentary purchase related insurance
Purchase Security insurance - cover of up to $5,000 for up to 90 days against specified loss, theft or damage to business items or personal goods purchased anywhere in the world using your credit card
Extended Warranty insurance - beyond the expressed Australian warranty on business items (by up to 3 months) and personal goods (by up to 12 months ) when using your credit card
Account holder's Guaranteed Pricing Scheme cover - use your credit card to purchase business items or personal goods up to $350 anywhere in Australia and if you're the account holder of the BusinessChoice Rewards facility, you're guaranteed the best price on the Australian market for that product or model where the price difference is greater than $75.

Complimentary business related insurance
Account holder's Unauthorised Transaction insurance - receive automatic protection (up to $20,000 per cardholder and $150,000 per account holder) against unauthorised transactions made by cardholders in a 12 month period (if you are the principal and the account holder of the card)
Account holder's Business Inconvenience insurance - cover for up to $10,000 a year if the account holder's business premises are invaded during normal business hours, and up to $10,500 for recruitment expenses incurred for replacement of a cardholder unable to continue their employment.

Fraud Money Back Guarantee
Westpac Fraud Money Back Guarantee ensures that any unauthorised transaction claims will be reimbursed provided that the cardholder has not contributed to the loss and contacted us promptly. Refer to the BusinessChoice Cards Terms and Conditions for full details of when cardholders may be liable. Further information on resolving credit card transactional issues please go to What to do if there is a fraudulent transaction on your card.
Manage your account online for greater convenience
Register for Westpac Business Online Banking to manage your account more conveniently. Principals can obtain copies of individual credit card statements.
Fees

Amount

Annual fee
$150 for each credit card

Foreign transaction fee

3% of the Australian dollar value of any Foreign Transaction.

It may not always be clear to you that the Merchant or entity processing the transaction is located outside Australia.

Cash advances / withdrawal fee

$2.50 if you account is in credit (has a positive balance) after a cash advance transaction.

2% of the cash advance amount (minimum $2.50 and maximum $150) if your account is in debit (has a negative balance).

These charges will appear on your credit card statement directly below the relevant cash advance.

Missed payment fee

$15 may be payable each statement cycle that the whole of the minimum monthly payment is not paid by the statement due date.

These charges will be debited to your account and appear on your credit card statement.

Over-limit fee

$15 each time you exceed your limit during a statement cycle. This fee may also be charged whenever your account is over the limit at the beginning of a statement cycle.

These charges will appear on your credit card statement on or after the day(s) you credit limit is exceeded.


Duplicate statement fee

$7.50 is debited from your card account when you request a statement that has already been issued.

These charges will appear on your credit card statement on or after the day(s) you order the duplicate statement.
For more fee information see the
BusinessChoice Cards Terms and Conditions (PDF 153KB)
Information needed
Income, employment, financial commitment details, Liabilities, assets and expenses
Business details (including ABN, principal's details, address, phone number)
Personal and the Business finances, including after-tax income (including previous year)
Accountant or financial secretary details (including phone number is optional)
Australian driver's licence (if you have one).
Westpac account and customer numbers (where applicable).
What to expect
The application form will take approximately 20 mins to complete (10 mins for existing customers).
Who can apply?
18+ years old
Australian permanent resident
The business owner, trustee or company director must complete the application
For business or investment purposes.
Things you should know
BusinessChoice Cards Terms and Conditions (PDF 153KB)
BusinessChoice Rewards Card Qantas Business Rewards Terms and Conditions (PDF 143KB)
Westpac Business Credit Cards Complimentary Insurance Policy (For claim events prior to 1 June 2015) (PDF 306KB)
Westpac Business Credit Cards Complimentary Insurance Policy (PDF 325KB)
Qantas Business Rewards membership and Qantas Points
1. A business must be an Qantas Business Rewards Member to earn Qantas Points for the business. A joining fee usually applies, however businesses that are not Members of Qantas Business Rewards program at the time of application for a BusinessChoice card facility will be offered complimentary membership upon approval of new Westpac BusinessChoice Rewards credit card facility. Qantas Points are offered under Westpac's terms and conditions. Qantas Business Rewards membership and Qantas Points are subject to the Qantas Business Rewards Terms and Conditions available at qantas.com/business. 80000 bonus Qantas Points special promotion - Apply for a new BusinessChoice Rewards Card facility before 31st May 2017 and receive bonus 80000 Qantas Points within 60 days after your first purchase on any card or card account linked to the new BusinessChoice Rewards facility. This special promotion does not apply to customers who obtain new BusinessChoice Rewards card facilities by switching or upgrading from an existing Westpac card, or accessing Westpac employee benefits, or as part of a package. This offer also does not apply for additional cards being added to an existing BusinessChoice Rewards card facility.
2. You must be a Qantas Frequent Flyer member to earn and redeem Qantas Points. A joining fee may apply. Membership and the earning and redemption of Qantas Points are subject to the Qantas Frequent Flyer program terms and conditions.
3. To use Qantas Points earned by your business, simply transfer them to any Qantas Frequent Flyer account. Qantas Point earn rates vary between Qantas Partners and may differ from Qantas Point earn rates). Qantas Partner conditions and earning thresholds apply. We recommend you consult your accountant or tax adviser to ensure you understand possible tax implications, for example fringe benefits tax (if applicable).
An eligible flight means a domestic or international flight which has a Qantas 'QF' flight number on the ticket that is purchased in Australia; is operated by Qantas, Emirates or American Airlines; has a ticket number commencing with '081'; and is booked and travelled for business on or after from the date the business registers for the Qantas Business Rewards program. Exclusions apply. Minimum earning thresholds and eligibility conditions apply. Visit qantas.com/business.
Conditions, fees and charges apply. These may change or we may introduce new ones in the future. Full details are available on request. Lending criteria apply to approval of credit products. This information does not take your personal objectives, circumstances or needs into account. Consider its appropriateness to these factors before acting on it. Read the disclosure documents for your selected product or service, including the Terms and Conditions or Product Disclosure Statement available at westpac.com.au/disclosure-documents before deciding. Unless otherwise specified, the products and services described on this website are available only in Australia from Westpac Banking Corporation ABN 33 007 457 141 AFSL and Australian credit licence 233714.
Complimentary Insurance covers: QBE Insurance (Australia) Limited ABN 78 003 191 035 AFSL 239545 has issued an insurance group policy to Westpac Banking Corporation ABN 33 007 457 141 which allows eligible Westpac Bank account holders and cardholders to claim under it as third party beneficiaries. The terms, conditions, limits and exclusions, of the group policy, are set out in Westpac Business Credit Cards Complimentary Insurance (Effective 1 June 2015) which may be amended from time to time. Westpac does not guarantee the insurance. You can get a copy of the policy booklet by calling 1300 650 107.
Credit criteria, fees, charges, terms and conditions apply. Talk to your banker for product details.