Starting a business
Whether it's business planning or taking payments - we're here to help you start up and manage your new business.
What do I need to start?

The first steps towards your new business are often the biggest.
It's the preparation you do and decisions you make here, which will set you on the road to success.

Financing your idea

It pays to be across the up-front costs you'll face, especially for new vehicles, machinery or equipment.
To give your business the best chance of success, it's important to start with a clear idea of the costs involved, both to start the business, and then to keep it running.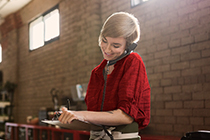 You have a great idea, feel sure it will work, but don't have the money to finance it. Where do you go?
Just about every business will need to spend on equipment, even if it's just for a computer and mobile phone.
Managing your banking and payments

Cash is the lifeblood of any business and it needs to flow easily in and out of your business.
Customers and suppliers should also find it easy to work with you.
Need help finding the right product?
Things you should know
General advice: This information is general only and does not constitute any recommendation or advice. It is current at the time of publication, and is subject to change. It has been prepared without taking account of your objectives, financial situation or needs. Because of this you should, before acting on the information, consider its appropriateness, having regard to these matters. Consider obtaining personalised advice from a professional financial adviser and your accountant before making any financial decisions in relation to the matters discussed in this document, including when considering the finance options for your business.