Choose an account for eftpos air
Before you can apply for EFTPOS Air, you'll need one of these accounts to receive payments into – if you don't have one already.
Business transaction accounts
Use an everyday business bank account to manage your income and outgoings. With these feature-rich accounts you can bank the way you want to online, on mobile, by phone, and in branch.
To be eligible for EFTPOS Air, you'll need to be a sole trader, association, company or not-for-profit.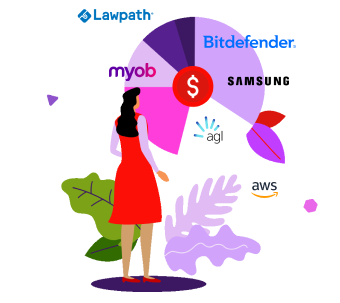 Access up to $10,000 of value for your business*
Business One Plus account holders can access exclusive special offers from 10 key partners.
Get discounts on energy, accounting software, legal services, online security, business support services and electronics
Sign into your account to redeem offers. T&Cs apply.
Not-for-profit transaction account
You can also apply for EFTPOS Air if you have a no-fees Community Solutions One account.
Things you should know
Deposit Accounts for Business Customers Terms and Conditions (PDF 876KB)
Business Debit Mastercard® Terms and Conditions (PDF 304KB)
Important information for Westpac business account customers - 19 December 2018 (PDF 29KB)
Foreign Currency Account Terms & Conditions (PDF 284KB)
International Products and Services Standard Fees (PDF 156KB)
Online Banking Terms and Conditions (PDF 409KB)


This information does not take your personal objectives, circumstances or needs into account. Consider its appropriateness to these factors before acting on it. Read the disclosure documents for your selected product or service, including the Terms and Conditions or Product Disclosure Statement and consider whether the product or service is right for you.


Select the 'Find out more' buttons to check your eligibility for any of our transaction accounts.

Find out what information you need to provide to become a Westpac customer.


* Total partner value has been calculated assuming you take up all partner offers for the entire offer period. Where applicable, we have used the highest subscription offered for Samsung, an initial purchase of $4,000, followed by a subsequent $1,000 purchase. For Uber, an annual spend of $1,000 is considered.

1. Fees may be incurred for certain electronic transactions such as foreign transactions and withdrawals from some overseas ATMs. Customers must be able to meet any applicable fees and charges. For a complete view of fees, please refer to our Terms and Conditions (PDF 390KB) (PDF 876KB).

2. Read the Westpac Online Banking Terms and Conditions (PDF 239KB) (PDF 409KB) before making a decision. Not all accounts are eligible to be included in a bank feed. Not all third-party service providers support bank feeds for all accounts. Bank feeds must be set up with third-party service provider before it can be connected in Westpac Online Banking. If your third-party service provider doesn't appear in the drop-down menu in Westpac Online Banking, you may need to check that your third-party service provider is registered with Westpac. Should there be any changes to your user access or network access levels, you may need to disconnect your bank feed(s) as any access changes won't impact bank feeds. The products and services offered by third-party service providers are subject to their own terms and conditions and fees and charges. Westpac doesn't guarantee or endorse the services or products offered by third-party service providers.
World Mastercard®, Mastercard® and the Mastercard brand mark are registered trademarks of, and PayPassTM is a trademark of, Mastercard International Incorp