2016 performance reports archive
We are committed to regular, transparent reporting to enable stakeholders to compare our relative performance over time.
2016 Sustainability Performance Report
Released 9 November 2016
A detailed report of sustainability performance is contained in the full Sustainability Performance Report available in the 2016 annual report centre.
2016 Interim Sustainability Report
Released 2 May 2016
An interim report on progress during the first six months of the 2016 financial year against our 2013-17 sustainability strategy.
2016 Westpac Foundation Annual Report
Released 9 February 2017
A report on the activities and social outcomes delivered by Westpac Foundation during 2016, in line with its goal to support Australians in need.
2016 UN Global Compact Communication on Progress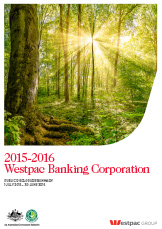 2016 National Carbon Offset Standard Disclosure
December 2016
Since 2013, Westpac Group's operations have been certified as carbon neutral under the Australian Government's National Carbon Offset Standard (NCOS) Carbon Neutral Program.