Indigenous Australians

We're listening, learning and partnering with Indigenous Australians.
Working together for reconciliation
Supporting reconciliation is an important part of our mission to help all Australians succeed. As Australia's oldest company, and one of its largest, we have a responsibility to do what we can within our sphere of influence to work towards a better future.

Our approach to reconciliation is guided by the word yindyamarra, from the language of the Wiradjuri nation. Yindyamarra means "go slow, show respect and listen, learn, take responsibility, and give honour".

In our role as a provider of financial services, we aspire to yindyamarra – to listen and build genuine relationships with Aboriginal and Torres Strait Islander customers, communities, and employees. We believe that this approach will help us to create the greatest impact.
Taking action

Our 2022 – 2025 Reconciliation Action Plan (RAP) – the fifth since we launched our initial plan in 2010, lays out our vision for reconciliation, focusing on four areas where we believe we can achieve the most significant outcomes. Reconciliation Australia has again recognised Westpac at the highest level as an Elevate RAP Partner, a status that reflects our ongoing commitment and leadership in working towards reconciliation.
Our RAP focus areas:
Valuing culture
Meaningful careers
Better banking experiences
Backing Indigenous enterprise
Reconciliation in action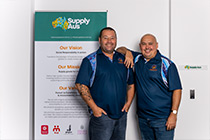 Westpac customer SupplyAUS Holdings is a 100% Indigenous-owned procurement business supplying a range of products to organisations across the country. Together, co-founders Adam Williams and Shawn Andrews are seeking to change the narrative of what it means to be a "modern Indigenous business".
Beyond the chaos of a purple courtyard filled with chickens, firepits and guitars, Mark Scott – the 900th Westpac employee on a Jawun secondment – discovers how dialysis is helping Indigenous communities "hold on strong" to culture.
More doors are opening for Indigenous businesses as corporates lift diversity in supply chain spending, including on projects like the fitout of Westpac's newest site at Parramatta Square.
"It's not until you're there on the ground that you can really understand what people need." That's been the greatest learning for Westpac Remote Services banker, Amanda Newton, in her role visiting remote Indigenous communities across WA.
Contact us