Social Enterprise World Forum 2022
Brisbane 28-29 September, 2022.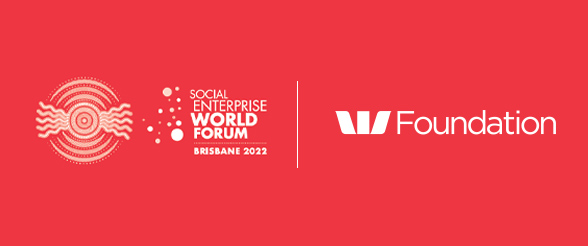 Major Partner
Social Enterprise World Forum 2022
Westpac Foundation is proud to help co-create our future as a Major Partner for the flagship event in the global social enterprise community, the Social Enterprise World Forum 2022 (SEWF22).
Join the business for good movement
SEWF22 provides space for purpose-led people, policymakers, philanthropists, intermediaries and entrepreneurs to learn from (and be inspired by) the potential of sustainable economic initiatives.
From Queensland with love
Be inspired, by Brisbane...
Empowering stories from social enterprises supporting SEWF22
Impactful collaboration
Green Collect and YMCA Rebuild are working together to create greater impact
Support for First Nations enterprises
APY Art Centre Collective is an Indigenous owned art centre creating emplyoment for First Nations people

Creating an inclusive economy
Meet Chris from Australian Spatial Analytics (ASA), a Work Integration Social Enterprise that employs young autistic adults to do high quality data analysis
Buy your ticket today
Tickets are on sale now for this hybrid event taking place on 28-29 September in Brisbane and online.
Things you should know
Public donations to Westpac Foundation are administered by Westpac Community Limited as trustee for Westpac Community Trust (ABN 53 265 036 982). Westpac Community Trust is a Public Ancillary Fund, endorsed by the ATO as a Deductible Gift Recipient.

Policies
The Westpac Foundation adopts the Westpac Group Speaking Up Policy in dealing with whistleblowing disclosures. A copy of that policy can be viewed here: Westpac Group 'Speaking Up' Policy (PDF 401KB). Some aspects of that policy may not be applicable in the operational environment of the Westpac Foundation. As such, the Westpac Foundation adopts the Westpac Group Speaking Up Policy to the extent reasonably possible.

Westpac Foundation Privacy Policy (PDF 142KB)