Stay safe online with our Security Wellbeing Check
Take the Security Wellbeing Check in the Westpac App
Safeguarding your information is our top priority. That's why we've introduced the Security Wellbeing Check. It's a list of safety measures to give you added protection when banking.
Banking and identity protection features
Tap and update any features marked red:
Contact details – keep up-to-date so we can contact you when we detect suspicious activity on your account.
Westpac Protect™ Security Code – register for added security and access to extra features within Online Banking or the Westpac App.
Daily Payment Limit - keep at $1,500 or less and increase when you need in Online Banking or the Westpac App.
eStatements – switch to eStatements to reduce the risk of identity theft.
App version – keep your app up-to-date for the latest security and features.
Location – turn on location settings so we can check activity in unexpected places and pinpoint the nearest Westpac ATM or branch.
How to take the Security Wellbeing Check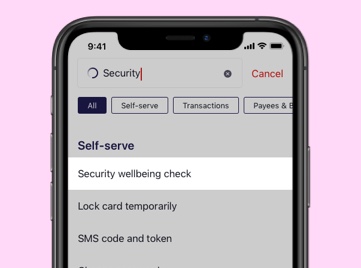 Step 1
Search Security Wellbeing Check in the Smart Search bar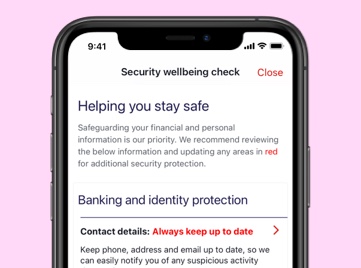 Step 2
Review the sections and action any areas in red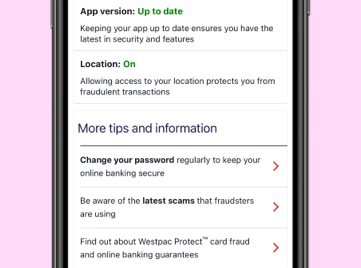 Step 3
For tips on how to safeguard your banking read More tips and information
More tips on staying safe
Check to see if you're running the latest version
Things you should know
Online Banking Terms and Conditions apply.
Westpac Mobile Banking applications are only available for use by Westpac Australia customers.
Internet connection is needed to access Westpac Mobile Banking app. Normal mobile data charges apply.
Google Play is a trademark of Google LLC.
Apple, the Apple logo, iPhone and iPad are trademarks of Apple Inc., registered in the U.S. and other countries. App Store is a service mark of Apple Inc.
If your Westpac account is compromised as a result of Internet fraud, we guarantee to repay any missing funds, providing you comply with our Westpac Live Online Banking Terms and Conditions. This includes keeping your sign-in details (including passwords, Westpac Protect™ Security Code and SecurID ® Token codes) private. You must inform us immediately if you suspect the security of your access details has been compromised, or you suspect an unauthorised transaction or potential fraud on your accounts.