Protecting what's important
Preparing for the unexpected? Here you'll find resources to help you make informed decisions about insurance and the things you hold dear.
Bushfire Preparation checklist
Bushfires are a fact of Aussie life. As unpredictable as they can be, being prepared for a blaze to happen at any time can go a long way to protecting you and your property.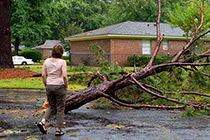 Storm preparation checklist
Storms can hit at any time, often without warning. Getting prepared well in advance could make all the difference to how you cope before and after the forces of nature hit.