Sustainalytics ESG Risk Ratings
ESG Risk Ratings
Westpac Share Trading has partnered with Sustainalytics to deliver company level ESG Risk Ratings1, making it easier for clients to develop and implement responsible investment strategies.
What are ESG Risk Ratings

ESG Risk Ratings measure the degree to which a company's economic value is at risk driven by ESG factors or, more technically speaking, the magnitude of a company's unmanaged ESG risks.

Environmental, Social, and Governance (ESG) is an approach to evaluating businesses that goes beyond the sole focus of shareholder return. Instead, an ESG framework takes into consideration the ecosystem, both internal and external, that businesses operate in and how they affect each other.

The ESG criteria are a set of standards for company's operations that help you proactively assess potential investments.
The combined ESG score is an overall company score based on the reported information in the Environmental, Social and Governance pillars. It measures to what extent a company's economic value is potentially at risk from unmanaged ESG factors.


Three pillars of ESG
Environmental relates to the biosphere and ecosystem of our planet, specifically, how human activity affects the natural world. This includes things like:


Greenhouse gases (GHGs)

Air pollution

Energy consumption

Water consumption

Waste output

Nature usage

Environmental policies
Social encompasses the factors regarding how businesses treat their human stakeholders – both inside and outside the corporation. This includes:

Comparative living wages

Diversity and inclusion percentage

Gender pay gap

Employee engagement

Reskilling/training

Health and safety

Human rights

Charity

Wealth generation
Governance is about how a corporation operates at the highest-level including decision making, political involvement, and ethics. This includes:

Executives' pay ratio

Quality of governing body

Ethics and anti-corruption policy

Tax paid

Ecosystem ESG
Where to find ESG Risk Ratings

Simply log into your Westpac Share Trading account and navigate to Quotes & Research > Research > Company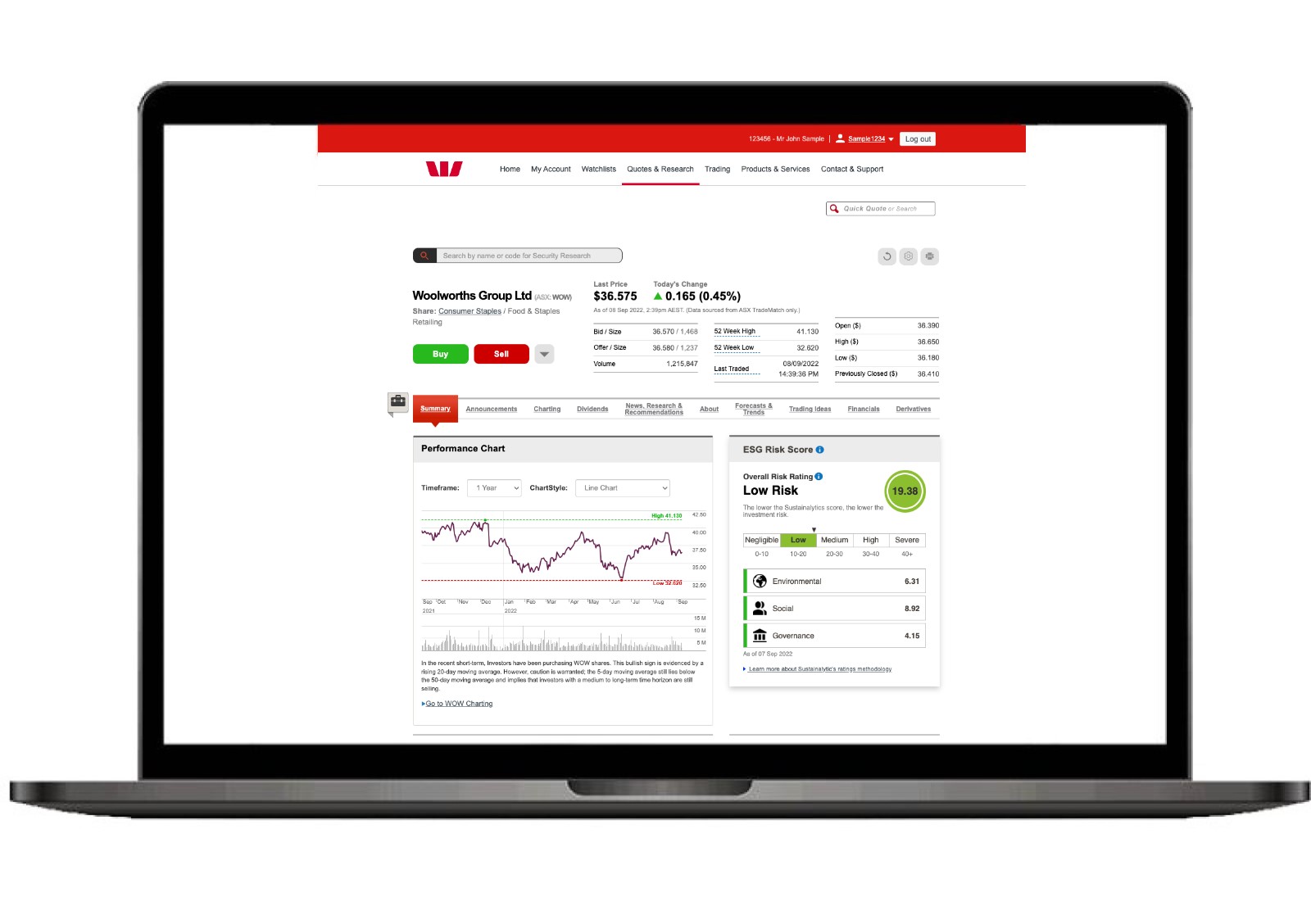 Things you should know
1ESG Ratings provided by Sustainalytics. Sustainalytics is a subsidiary of Morningstar Inc.
This website is directed to and for the benefit of Australian residents who are located in Australia only. Share trading through this website is a service provided through Westpac Securities Limited ABN 39 087 924 221 AFSL 233723 by Australian Investment Exchange Ltd ABN 71 076 515 930 AFSL 241400 ("the Participant"), a market Participant of the Australian Securities Exchange Limited (ASX) and Cboe Australia, a clearing participant of ASX Clear Pty Limited and a settlement participant of ASX Settlement Pty Limited.
The information on this website has been prepared without taking account of your objectives, financial situation or needs. Because of this, you should consider its appropriateness, having regard to your objectives, financial situation and needs and, if necessary, seek appropriate professional advice. If a Product Disclosure Statement is available in relation to a particular financial product, you should obtain and consider that Product Disclosure Statement before making any decisions about whether to acquire the financial product. The information contained on this website does not constitute the provision of advice or constitute or form part of any offer, solicitation or invitation to subscribe for or purchase any securities or other financial product nor shall it form part of it or form the basis of or be relied upon in connection with any contract or commitment whatsoever. Any securities or prices used in the examples on this website are for illustrative purposes only and should not be considered as a recommendation to buy, sell or hold. Past performance is not a reliable indicator of future performance. This website may contain material provided directly by third parties. This information is given in good faith and has been derived from sources believed to be accurate at its issue date. While such material is published with necessary permission, no company in the Westpac Group nor any of their related entities, employees or directors (together, "Westpac"), nor the Participant, accepts responsibility for the accuracy or completeness of, or endorses any such material. This website may also contain links to external websites. Westpac and the Participant do not accept responsibility for, or endorse the content of, such external websites. Except where contrary to law, Westpac and the Participant intend by this notice to exclude liability for material provided directly by third parties and the content of external websites.