Charting with Westpac Share Trading

Westpac Share Trading's advanced charting feature makes tracking share prices quick and easy. You can analyse share price trends over time frames ranging from one day to 10 years and use overlay indicators to evaluate how and when to trade.
Key Features
Use our advanced charting tools to:
Chart the price and volume of market-listed securities, indices and sectors
Easily compare the performance of securities
Understand complex technical indicators
View the impact of news, announcements and events on share pricing.
Access a wide range of indicators
Deep dive into data using basic tools or complex analytics. Our advanced charts include a wide variety of indicators and overlays, including:
Simple, weighted and exponential moving averages
Bollinger bands
Momentum analytics
Stochastics indicators
Chaikin's volatility indicators
Moving average convergence/divergence indicator
Relative strength indicators.
Make quick and easy comparisons
Track and analyse a security's performance against:
Another security
Its sector in Australia
Australian and international indexes
Commodities
Foreign exchange rates.
Customise your time frames
Time frames for requested historical data and analyses aren't restricted to regular calendar months or yearly intervals in our charts. You can select the exact week, month or year you would like to analyse.
Use trendlines
Our trendlines enable easy drawing of support and resistance levels to assist your technical analysis and forecasting.
Choose from flexible chart styles
Select the chart style that suits your analysis techniques, including:
Mountain charts
Line charts
Candlestick charts
Open-high-low-close charts
Percentage change charts.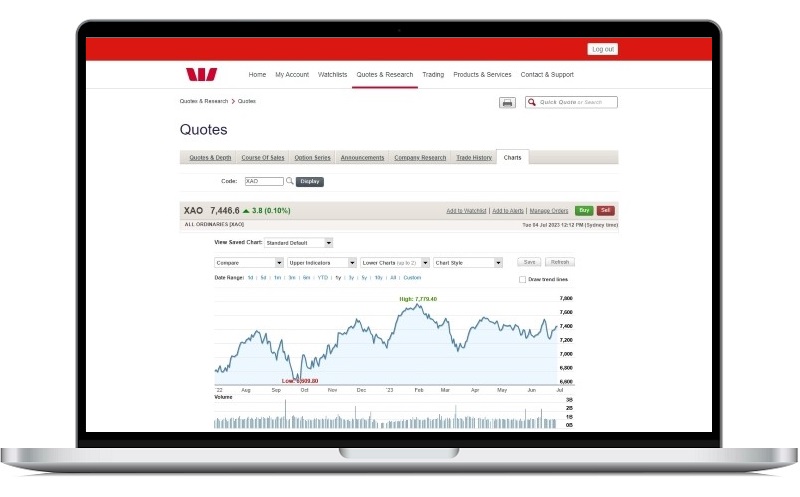 Things you should know
This website is directed to and for the benefit of Australian residents who are located in Australia only. Share trading through this website is a service provided through Westpac Securities Limited ABN 39 087 924 221 AFSL 233723 by Australian Investment Exchange Ltd ABN 71 076 515 930 AFSL 241400 ("the Participant"), a market Participant of the Australian Securities Exchange Limited (ASX) and Cboe Australia, a clearing participant of ASX Clear Pty Limited and a settlement participant of ASX Settlement Pty Limited.
The information on this website has been prepared without taking account of your objectives, financial situation or needs. Because of this, you should consider its appropriateness, having regard to your objectives, financial situation and needs and, if necessary, seek appropriate professional advice. If a Product Disclosure Statement is available in relation to a particular financial product, you should obtain and consider that Product Disclosure Statement before making any decisions about whether to acquire the financial product. The information contained on this website does not constitute the provision of advice or constitute or form part of any offer, solicitation or invitation to subscribe for or purchase any securities or other financial product nor shall it form part of it or form the basis of or be relied upon in connection with any contract or commitment whatsoever. Any securities or prices used in the examples on this website are for illustrative purposes only and should not be considered as a recommendation to buy, sell or hold. Past performance is not a reliable indicator of future performance. This website may contain material provided directly by third parties. This information is given in good faith and has been derived from sources believed to be accurate at its issue date. While such material is published with necessary permission, no company in the Westpac Group nor any of their related entities, employees or directors (together, "Westpac"), nor the Participant, accepts responsibility for the accuracy or completeness of, or endorses any such material. This website may also contain links to external websites. Westpac and the Participant do not accept responsibility for, or endorse the content of, such external websites. Except where contrary to law, Westpac and the Participant intend by this notice to exclude liability for material provided directly by third parties and the content of external websites.