Account statements and information
Account statements and information
We can provide you with extra copies of your statements, or if you're registered with Westpac, you can view and print up to 7 years' of statements at your own convenience. Available in Online, Mobile and Tablet Banking.
See the eStatements FAQs for more details
. Most of our ATMs will give you access to transaction information. Alternatively, just call us on
132 032
8am – 8pm Sydney time or visit any branch.
Introducing our new-look statement
Westpac has updated Home Loan and Deposit Account Statements.
The new statement summary provides key account information at a glance, and the new design format makes it easier to identify the information most important to you.
To help you understand the changes, below are some sample statements.


Statement Period: easier to find with statement date range now at the top
Account details: easier to find, customer information is now highlighted
Statement summary: key account information in a more prominent position.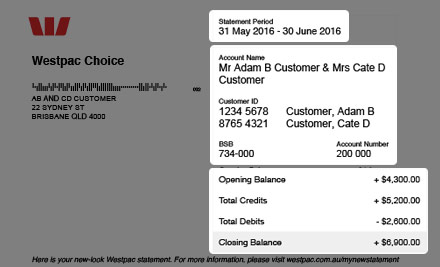 New bank contact points: located at statement end so you can contact us when you need to