'It's all people': What 50 years in business taught Jack Cowin
Jack Cowin's Hungry Jack's celebrates its 50-year anniversary in Australia this year.

After half a century in business, Jack Cowin doesn't blink when asked what it takes to get an idea off the ground and enjoy success.

"I don't think – in my case or for other entrepreneurs that I know – that you ever feel you've been successful because you carry this paranoia about what could go wrong," the 79-year old tells Westpac Wire as his Hungry Jack's burger chain celebrates its 50 year anniversary.

"When you're growing a business, risk is part of it and the more risk you take on the more you feel somewhat insecure when you lie in bed at night saying 'what is this or that happened'? As the business grows you get complications that come with it."

But, he says, this watchfulness is necessary because it means challenging the decisions that are made. "Most successful businesses I know carry this degree of paranoia and that paranoia's healthy."

Choosing "the right people on the bus and in the right seats" is also critical, he says.

"It's all people," he says. "If you get the people side of it wrong the business will fail. Business is a team sport. If you don't have the right players on the footy team, you're not going to win the game."

Freshly arrived in Australia from Canada, Cowin launched Hungry Jack's hamburgers in Australia in 1971 with the energy, brio and the full-charge-ahead enthusiasm of youth.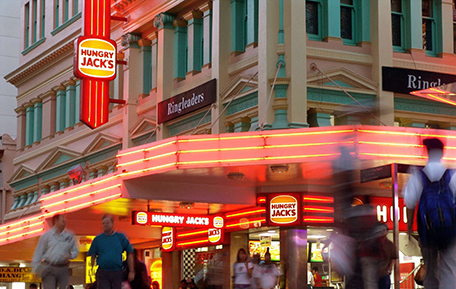 Jack Cowin launched Hungry Jack's in Australia in 1971. (Getty)
"I was in my mid-20s and it was an adventure," he tells Westpac Wire as the business celebrates its 50 year anniversary.

"One of the beauties of youth is that you don't know what you don't know, so everything was possible. You're climbing the mountain and you make a lot of mistakes."

From one restaurant in Perth to 444 around Australia 50 years later, Hungry Jack's has become one of the nation's phenomenal success stories, built by Cowin from scratch. According to a report by IBISWorld in June, Competitive Foods – which operates Hungry Jacks and which Cowin chairs and leads as managing director – has grown into the second-largest fast food business in Australia.

"I got 30 Canadians to lend me $10,000 each to raise $300,000, and moved to Australia," Cowin, who has also backed Domino's Pizza and served as a director on various boards.

Cowin never took anything for granted.

In the early days – and for years afterwards – Cowin took it day by day. His great pride in giving many young people their first job, first pay packet and first professional responsibilities is also clear.

"The primary drive for a start-up in a new business is survival, make sure you don't go broke," he says.

"Hungry Jacks began in 1971, by the end of 1972 we were moving to Adelaide, then two years later we were in Brisbane. Today you would never do that. You build a critical mass in the market, get the supply lines going and then you move. We didn't know any better. We were expanding at a rate which was probably beyond what we should."

Seared in his memory is launching a business facing the 27 per cent interest rates of the early 1970s.

"That was the greatest education I ever had – you are going to the bank to try and borrow money. If you had 25 per cent interest rates in business today there would be some horrific things taking place. We learned very early that if we were going to grow, we were going to have to generate the cash out of the business."

Asked what advice he would offer emerging entrepreneurs, Mr Cowin says it was crucial to enjoy what you're doing.

"To me the most important element in deciding what you're going to do is – do you enjoy it? Can you develop a passion for the product or service you are selling? Does it make you feel good every time you think about it? If you get on the wrong tram, you become a prisoner with a mortgage and school fees."

He stressed the need to be unafraid to try different pathways, noting his own ambition was to find a role that allowed him to control his own destiny. This began by doing paper routes, cutting lawns and shovelling snow through university to get the money to buy his own car pay his "own way".

"My advice is 'get out and try something else'. And if you're young, do some experimentation," he says. "If you are passionate about it, you are probably going to be successful because you will overcome the problems that eventually come to everybody."

"My father worked for the Ford Motor Company all his life, from 17 to retirement. He worked his way up the corporate ladder. I grew up with phone calls coming in 'we want you in Mexico' or 'we've got a plant in Geelong, Australia'," he recalls.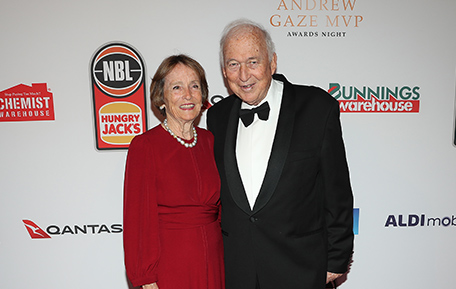 Mr Cowin and his wife Sharon arrive at the 2020 Andrew Gaze MVP and Awards Night in Melbourne. (Getty)
"I wasn't conscious of this at the time but in my head I recognised that when you are in big corporate entities you do not control your own destiny. I thought 'how do you become independent and build your own self destiny'?"

Hungry Jack's 50th year anniversary has coincided with the second year of the global COVID-19 pandemic. Like other businesses in the industry such as Domino's and Collins Foods (which runs KFC in Australia), lockdowns across the country over the past 18 months has made Hungry Jack's one of the "beneficiaries" of the pandemic given the accessibility of drive-through and home delivery, Mr Cowin says.

"We don't say that in a cavalier sort of way, but we just happen to have those aspects which have increased and made our business strong performers," he says. "But there are a lot of people out there who I have a lot of sympathy for who don't have that same luxury, they just had to close down and they must be going through hell."

Mr Cowin believes Australia had done "a pretty good job" limiting the number of those who had died from COVID 19 to around 1000. He says he has the "standard" view about the pathway out of the pandemic.

"We have to return to some form of normality and recognise that we have to get everybody vaccinated," he says.

"There will probably be other variants (after Delta). It's something we have to live with. The reality is that we cannot on a permanent basis close down the economy and society. We just have to get on with things and accept that we do our best with the vaccination, but it's not going to go away."

Mr Cowin says a challenge for government and business is "the compulsory aspect of it" and the issue of indemnification against legal action.

Asked if the Hungry Jack's business would mandate vaccination for its employees, he says: "We'll think about it. We haven't crossed that bridge, but my guess is it would be that rather than individual companies (mandating vaccination), it would probably be best if we do this as a nation, just say 'boom – here's what the policy is going to be."

Mr Cowin says it was likely that people not having access to events and venues would serve as a strong motivator.

"What's going to happen is if you can't get on an airplane or into a restaurant or do this or that – I'm sure there are people who may have medical reasons why they don't want a vaccination," he says.

"But those that just don't like the idea, my guess is if we structure the implementation of what it means to (not be vaccinated), i.e. getting on an airplane, that I think will move towards a universal acceptance."
The views expressed are those of the author and the individuals interviewed, and do not necessarily reflect those of the Westpac Group.