Build your own investment portfolio
If you like more control over building your investment portfolio, you can create your own from a range of investment options.

Why BT Invest?
Westpac's wealth expert, BT, is now offering a new way to invest that's easy. With BT Invest you can build your own portfolio from a wide range of investments. From a selection of shares, managed funds, managed portfolios and term deposits - you can choose what you want, all from one place.

Take charge of your portfolio with tools to help you choose from over 2600 investment options.


View and manage all your investments in one place, side by side with your online banking.


Track performance across your portfolio with real-time online reporting and one easy login.


Save time on your tax with a consolidated tax statement for all your investments.

When building your own portfolio you can choose from any of the below assets - giving you access to a great range of diversified investment. The BT Invest platform has an investment finder tool to help you select from the available investments.
Prefer to have your portfolio managed by an expert?
Choose one of five ready-made investment portfolios
See what it's like to use the BT Invest platform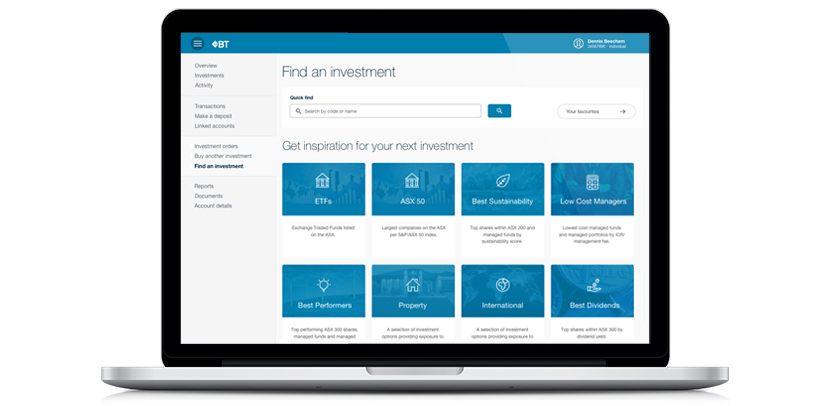 Minimum investment amounts
You can open an account and view your investment options without making a deposit. When you are ready to make a deposit, a minimum of $100 is required to be held in the BT Cash account at all times. Once your initial deposits have been made, and provided the minimum BT Cash holding is maintained, there are no minimums to regularly contribute to your current investments.
For all other minimum investment amounts, see below:
| Investment option | Minimum investment amount | |
| --- | --- | --- |
| BT Cash | $100 | |
| Any diversified managed portfolio option | $900 | |
| Any specialised managed portfolio option | $25,000 | |
| Managed funds | No minimum | |
| Shares | One share | |
| Term deposits | $5,000 | |
The total fees and charges payable by you will include the fees for the BT Invest service as well as any fees and costs of the available investments chosen by you. It is important to understand the fee of any available investment you choose, and that those fees will be in addition to the fees charged for BT Invest.
The amount you pay for specific investments, is generally shown in the relevant product disclosure statement or other disclosure documents for each available investment.
What do I need to get started?
Westpac customer

If you're an existing Westpac customer, simply sign in to online banking to open an account in 5 minutes.
New customer
If you're new to Westpac you will need to open an eligible Westpac bank account first.
Once you are on the BT Invest platform, choose one of the ready-made portfolio options, set your initial deposit from as little as $1,000, and leave the rest to us!
Important things to consider before you invest
Before you consider investing through BT Invest, it is important you understand the risks that can affect your investment. Generally, these are:
Risks associated with using BT Invest.
Investment risks associated with the investments you access through BT Invest.

Things you should know
BT Invest Product Disclosure Statement (PDS)
BT Portfolio Services Ltd ABN 73 095 055 208 AFSL 233715 (BTPS) operates BT Invest. Throughout this website, BTPS is referred to as 'the Administrator', 'us' or 'we'. BT Funds Management Limited ABN 63 002 916 458 AFSL 233724 (BTFM) is the responsible entity and issuer of interests in BT Cash and Westpac Financial Services Ltd ABN 20 000 241 127 AFSL 233716 is the responsible entity and issuer of interests in BT Managed Portfolios (the Panorama products). An Investor Guide is available for BT Invest and a PDS is available for BT Cash and BT Managed Portfolios. These disclosure documents can be obtained by clicking here or calling 1300 881 716. You should obtain and consider the disclosure documents before deciding whether to acquire, continue to hold or dispose of interests in the Panorama products. Unless otherwise stated, capitalised terms used in this website have the meaning given in the BT Invest Investor Guide. Any tax position described in this website is a general statement and for guidance only; it does not constitute tax advice and is based on current tax laws and our interpretation. You should seek independent professional tax advice.
BTPS, BTFM and WFSL are subsidiaries of Westpac Banking Corporation ABN 33 007 457 141 (Westpac). Apart from any interest investors may have in Westpac term deposits or securities acquired through BT Invest, an investment in or acquired through BT Invest is not an investment in a bank or a bank deposit. It is subject to investment risk, including possible delays in repayment of withdrawal proceeds and loss of income and principal invested. Westpac and its related entities do not guarantee an investment in or acquired through BT Invest. When investing, there will always be the risk that the value of your investment will go down. The future performance of any specific Investment can't be guaranteed and past performance is not indicative of future performance.
© BT Portfolio Services Ltd 2016.