Helpful cashback offers with Westpac Extras.
Get rewarded with cashback offers and discounts.
Westpac Extras is just one way to say thank you for choosing us.
Enjoy cashback to your account on eligible transactions from well-known and loved brands – from department stores and supermarkets to petrol stations, travel partners and more. Better still, these cashback offers are on top of any in-store sales, discounts, loyalty benefits and credit card reward points.
We'll let you know by email, (if you choose to hear from us this way) and in your Online Banking when we have an offer, we think you'll love. Then all you need to do is make an eligible transaction at the featured store and the reward is yours – no complicated codes or coupons to remember.

Your offers
We'll email your offers straight to your inbox, if you choose to hear from us this way. You can also find them by signing into Online Banking and going to Rewards & Offers.

Shop
Shop at participating stores using your eligible Westpac credit card.

Statement credit
We'll give you a statement credit back on your account within 7 days.
Look out for Westpac Extras like this:
If you qualify for these personalised offers, expect to see them in your email or in Online Banking in Rewards and Offers.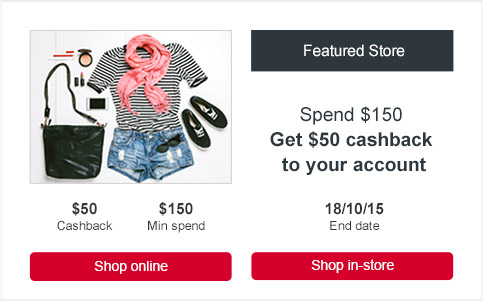 Like more information?
If you have any further questions about Westpac Extras, please call the contact number on the back of your card between 8am - 8pm, Monday to Friday (Sydney time).
Things you should know
1. To receive the cashback, you must make the eligible purchase on an eligible Westpac credit card and comply with the offer criteria.
2. You will receive the cashback amount as a statement credit on your credit card account. This statement credit will normally be paid onto your credit card account within 7 days after the date on which the eligible purchase is processed, but please allow additional days during public holidays or if your card is being replaced.

3. The statement credit will not contribute to any minimum monthly payment applicable to your credit card account.

4. Eligible Westpac credit cards include most Westpac branded consumer credit cards and the Altitude Business credit card. Westpac BusinessChoice credit cards, Westpac Commercial credit cards and Westpac Consumer or Business Debit Cards are not eligible. Purchases made using an online payment platform such as PayPal are not eligible (even where an Eligible Credit Card is linked to that online payment platform).

5. You are not eligible to receive cashback if your credit card account is in default or if your card has been cancelled or suspended.

6. Cashback is available only on local or domestic purchases made in Australian dollars.

7. Offers are non-transferrable and can only be redeemed by either the cardholder who has been sent this offer directly by Westpac (the Primary Cardholder) or by an additional cardholder using a card linked to the Primary Cardholder's credit card account. Cashbacks are not transferrable to the additional cardholder's other Westpac credit card(s). Only 1 cashback offer per merchant per cardholder.

8. Offers cannot be refunded, exchanged or redeemed for cash or credit.

9. To be eligible, your transaction must be made between 12:00AM AEST on the Start date and 11:59PM AEST on the End date. The relevant date for determining eligibility is the date of the transaction as it appears on your monthly card statement.

10. The Westpac Extras program is subject to these Terms and Conditions (PDF 370KB). Offers will also be subject to their own Terms and Conditions.

11. Westpac is not responsible for the accuracy or completeness of claims made in relation to the services provided by merchants who participate in the Westpac Extras program.