Everyday bank accounts with debit card
Here or overseas, Westpac everyday bank accounts can help you keep your banking rolling your way.
Everyday accounts suitable for
Get up to 2.5% p.a. variable interest on your savings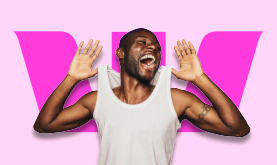 When you grow your savings with a Westpac Life account and make 5 eligible purchases with a debit card linked to your Choice account each month
This is made up of 0.15% p.a. variable base rate + 0.15% p.a. variable bonus for saving each month + 2.20% p.a. Spend&Save bonus for spending 5 times. Applies to the first $30,000 in your Westpac Life savings account. After this amount you'll earn 0.30% p.a. variable interest.*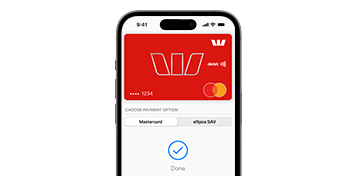 Apple Pay offers a fast and secure way to pay in-store and online, using your favourite Apple device.
Things you should know
Before making a decision about any of our products or services, please read all the terms and conditions and consider whether the product or service is right for you. Fees and charges apply and may change.
Who can apply for a Debit Mastercard?
Debit Mastercard®: holders need to be at least 14 years of age, and have an Australian residential address to be eligible for the card. If you're not eligible for a Debit Mastercard, apply for a Handycard to access your account.
Read the Apple Pay Terms and Conditions (PDF 79KB) before making a decision and consider if it is right for you. To use Apple Pay you will need an eligible card and a compatible device with a supported operating system. See our Apple Pay FAQs for more information. Apple, the Apple logo, Apple Pay, Apple Watch and iPhone are trademarks of Apple Inc., registered in the U.S. and other countries. App Store is a service mark of Apple Inc.
World Mastercard®, Mastercard® and the Mastercard brand mark are registered trademarks of, and PayPassTM is a trademark of, Mastercard International Incorporated.