Everyday bank accounts with debit card
Here or overseas, Westpac everyday bank accounts can help you keep your banking rolling your way.
Everyday accounts suitable for
Need to save?
Get an account that pays interest, along with your everyday account. Open both accounts in one go.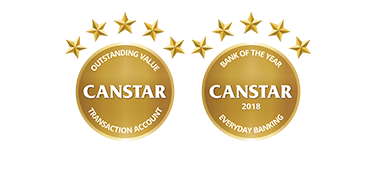 Award-winning transaction accounts2
Winner of the Canstar 2018 Bank of the Year – Everyday Banking
Winner of Canstar's 5-star Rating for Outstanding Value Transaction Account in 2019
Things you should know
Deposit Accounts for Personal & SMSF customers Terms and Conditions (PDF 1009KB)
Westpac Debit Mastercard® Terms and Conditions (PDF 129KB)
Westpac Emergency Cash and Westpac Get Cash Terms and Conditions (PDF 91KB)
Online Banking Terms and Conditions (PDF 1MB)
Find out what information you need to provide to become a customer (PDF 768KB)

Information valid as at 31/10/2018 and subject to change. Fees and charges, terms and conditions apply.


Who can apply for a Debit Mastercard?
1. Debit Mastercard holders need to be at least 14 years of age, and have an Australian residential address to be eligible for the card. If you're not eligible for a Debit Mastercard, apply for a Handycard to access your account.

2. Awarded 2018 Canstar Bank of the Year – Everyday Banking on 11th September 2018
The Canstar Rating was awarded on 17th May 2019 for the Westpac Life product for the Regular Saver profile, for the Westpac Choice product for the High Transactor profile and Youth Transactor profile, and for the Westpac Choice 55+ and Retired product for the Senior Transactor profile.

# 50 Offer: Excludes customers who hold or have held a Westpac Choice account at any time. To receive up to AUD$50 credited to an everyday account, customers must open a Westpac Choice account online (or in an Australian Westpac branch for Youth, Student and Migrant Choice accounts) between 10/7/19 and 09/10/2019 (inclusive) and must deposit $500 or more and make at least five (5) eligible purchases using their debit card within 30 days of account opening ('eligible customer'). Eligible purchases: include in-store purchases, online purchases, regular card payments, PayPass, and Google Pay™ transactions. Offer excludes ATM withdrawals. Eligible customers will receive $50 deposited into their account within 45 days of account opening following successful identification verification. The account must remain open during this period in order to be eligible for the offer. Offer limited to one deposit per customer and is not available in conjunction with any other offer. Where a joint account is opened, if one of the joint account holders has already received their deposit in respect of another account, then none of the remaining joint account holders will be eligible for the offer in respect of the joint account. Read the Terms and Conditions available at westpac.com.au, including for fees and charges that may apply, before making a decision and consider if it is right for you.
World Mastercard®, Mastercard® and the Mastercard brand mark are registered trademarks, and PayPass is a trademark of Mastercard International Incorporated.
© Westpac Banking Corporation ABN 33 007 457 141 AFSL and Australian credit licence 233714.