Manage your Term Deposit Online
Renew, make changes or close your Term deposit online in minutes via Westpac Online banking.
Did you know you can manage your Term Deposit online?
You can now update your renewal instructions at any time during your term. If you haven't already registered for Online Banking, you can get set up quickly and easily.

You can also choose to have your Term Deposit correspondence sent securely to your Digital Mail box within Online and Mobile Banking instead.
Benefits of managing online

No need to go to branch
Sometimes it's hard to get to a branch during your maturity period. With Online and Mobile Banking, you can manage it all online from anywhere1
Complete control
Update your maturity or renewal instructions at any point (you don't need to wait for your Term Deposit to mature)2

Compare different rates
Easily access all available rates and terms3
Disburse some or all of your funds on a maturing Term Deposit to a linked Westpac account (or other bank account within Australia)
Receive notifications via email and your Online Banking Message Centre when your Term Deposit is maturing.
Managing your Term Deposit is easy

You can provide maturity instructions to rollover, change term, withdraw some funds or close your account at any time during your term. If you decide to renew, we'll confirm your rate at maturity.

1. Select your Term Deposit in your Online Banking.
2. Update your Term Deposit instructions.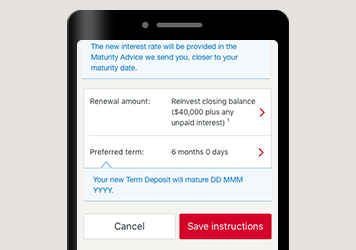 3. Save your instructions (you can update them again at any stage during your term).

Once your Term Deposit has matured you have 6 business days (called the Variation Period) to provided or amend maturity instructions for your account. During this period instructions can be provided only once4..
Need help sorting out Online Banking?
Things you should know
1. Westpac Mobile Banking applications are only available for use by Westpac Australia customers. Internet connection is needed to access Westpac Online Banking and the Mobile Banking app. Normal mobile data charges apply.
2. Westpac Live will be available to update Term Deposits from 8:00 am to 9.30 pm on a Business Day and 8:00am to 4:00pm Saturdays (Sydney time)
3. Any bonus rates offered above may only be available through Westpac Live Online Banking.
4. 'Variation period' means 6 Business Days from the date the Term Deposit matures.

Customers must provide a minimum 31 days' notice to access funds prior to maturity (except in cases of hardship). If the rate applying to your term deposit is a special or standard rate and your term deposit rolls over automatically, it may be automatically re-invested at a lower rate than the initial rate (including any initial special rate).
Term Deposits are 'protected accounts' under the Financial Claims Scheme (FCS). Payments under the FCS are subject to a limit for each depositor. For more information see the APRA website at www.fcs.gov.au. This information does not take into account your personal objectives, financial situation or needs. Read the terms and conditions (PDF 202KB) and Important Information Document (PDF 1MB) before making a decision and consider whether the product is appropriate for you. Other fees, charges, terms and conditions apply.