Goal saving account
Open a flexible Westpac Life savings account today.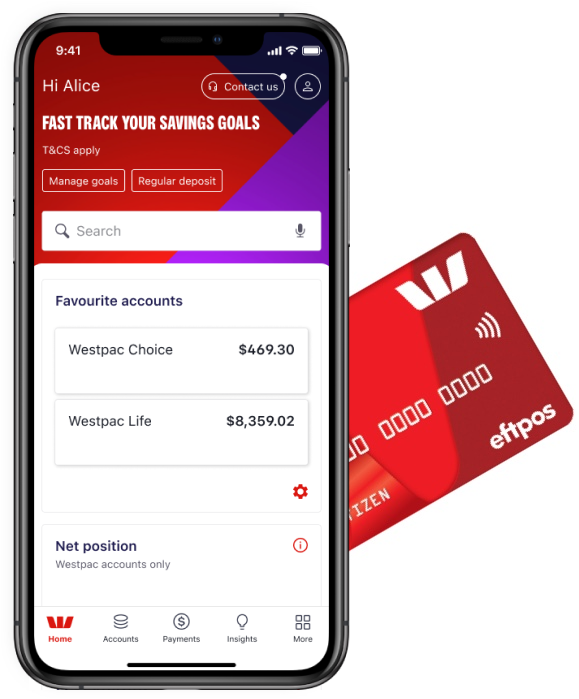 Why open a Life account?

Split your savings into different goals
Saving for more than one thing? With our handy Savings Goals feature 2 you can bucket your savings into up to 6 different goals with just the one account.

Give your savings an easy boost
Earn up to 5.00% p.a. variable interest, including a 2.00% p.a. standard variable base rate on all your savings plus 3.00% p.a. variable bonus rate each month you grow your balance 1.

Keep your spending and savings separate, but visible in one view
It's easy to keep tabs on both your accounts in one simple screen with our mobile banking app.


Master your money with the Westpac App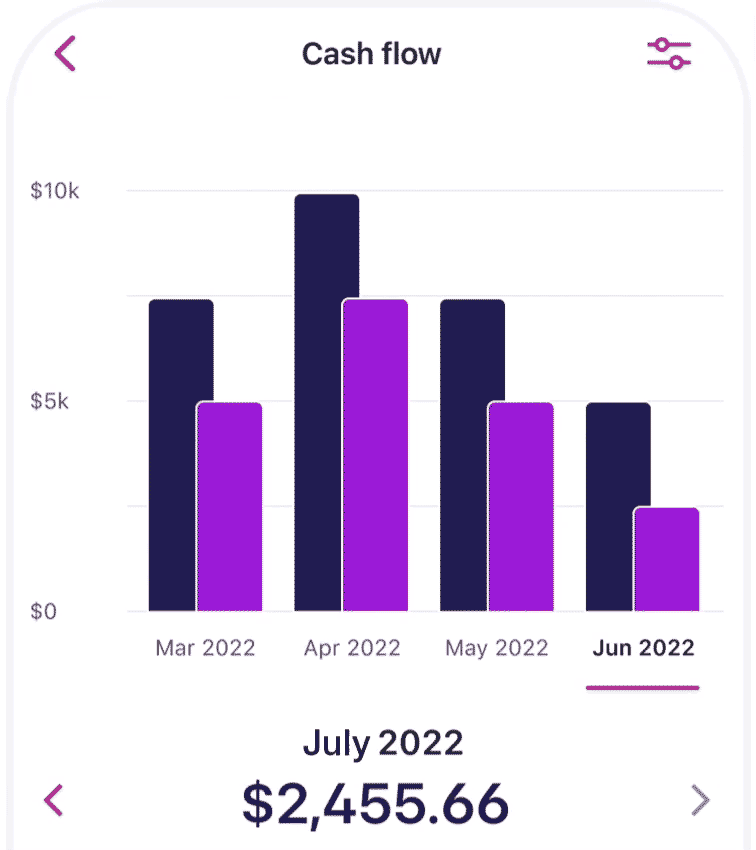 View and transfer funds fast

See the available balance of up to 3 accounts and transfer money without signing in with Quick Balance.

Set and track savings goals

Create up to 6 savings goals for things that matter to you, like saving for a home deposit or a holiday, and track your progress with Savings Goals.


Account for every dollar

Track your month-to-month Cash flow and spot areas where you could be making savings with your spend sorted in Categories.

Get rewarded for saving small and often
You can still earn bonus interest even if you're only able to save a small amount, so long as you've grown your balance by the end of the month.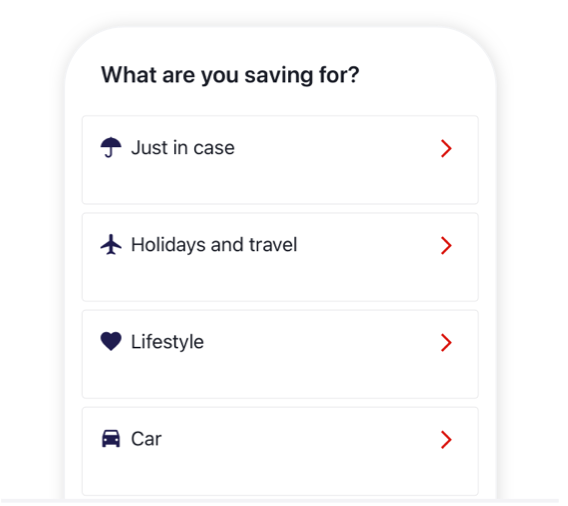 Set up to 6 Savings Goals

Set up to 6 different goals in just the one account. You can change the savings amount, date and category across all your goals and adjust them at any time.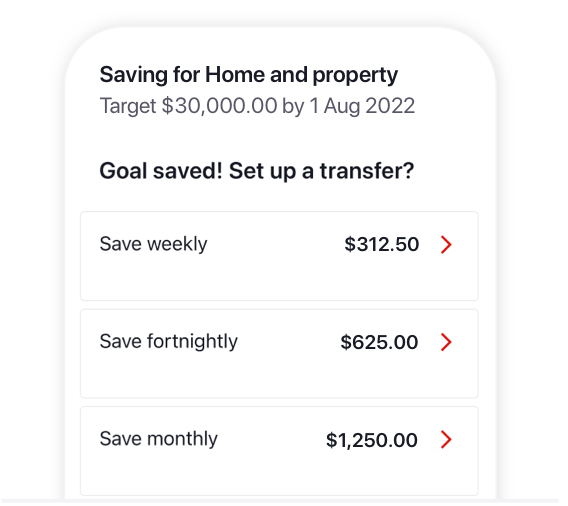 Put your savings on autopilot

Make it easy by setting up a regular transfer from your everyday transaction account every payday that automatically splits your savings across your goals.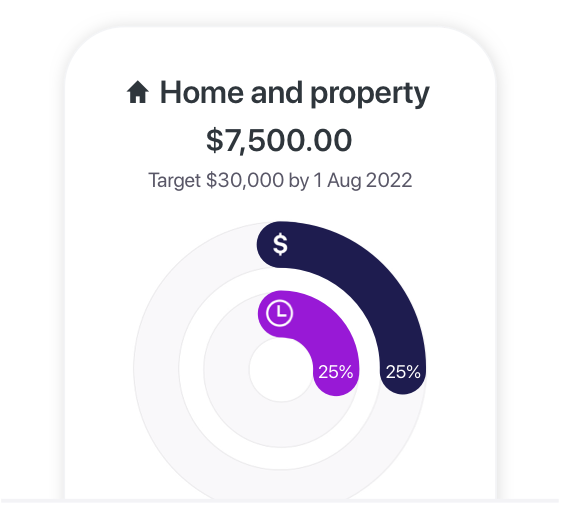 Track your progress
You can keep tabs on your progress whenever you want in our mobile banking app. Just tap on each of your savings goals to see how you're doing and how much you should be saving to reach your goal in time.
Safe Online Banking guarantee
If your Westpac account is compromised as a result of Internet fraud, we guarantee to repay any missing funds, providing you comply with our Online Banking Terms and Conditions4.
Protected by the Financial Claims Scheme
Deposits to this account and other eligible Westpac accounts are guaranteed by the Australian Government up to a total of $250,000 under the Financial Claims Scheme5.
Westpac Protect™ Security Code
Increase your Online Banking security by using your Security Code to confirm certain transactions via the Westpac App or SMS.
How to open
You can open your savings and linked everyday account together online.
Open online in less than 3 minutes
You can get your ID verified instantly with your driver's licence, Medicare Card, passport, NSW Photo Card or birth certificate (no need to visit a branch).
If you're Aboriginal and Torres Strait Islander and you don't have any of the required forms of identification, please call our Indigenous Call Centre on 1800 230 144 Monday to Friday 9am – 6:30pm CST or visit your nearest branch.
Activate Online Banking
Once you're set up you can import BPAY® billers and Payees from selected banks into your Online and Mobile Banking.
Use your debit card
Your linked everyday account comes with a debit Mastercard that will arrive in the mail within 2 weeks. If you choose to use your card you can also add it to your Apple Pay, Google pay or Samsung Pay digital wallet.

You may find these useful
Things you should know
Before making a decision about any of our products or services, please read all the terms and conditions and consider whether the product or service is right for you. Fees and charges apply and may change.
Westpac Life variable interest: includes a standard variable base rate plus a variable bonus rate. Interest is calculated on the daily balance of your Westpac Life account and paid on the last business day of the month. For the purposes of calculating interest paid, a month is the period between the last business day of the previous month to the second last day of the month (inclusive). Therefore, interest calculated on closing balances on and after the last business day of a month won't be included in the interest payable for the month but will be included in the interest payable for the next month.
Bonus interest: You will be eligible for bonus interest if during the month (subject to transaction processing times):
a. your account balance has not fallen below $0; and
b. you (or someone on your behalf) have made a deposit of any amount; and
c. the account balance on the last business day of the month is higher than the account balance on the last business day of the previous month.
Interest paid into your account does not qualify as a deposit in terms of bonus interest eligibility.
Savings Goals: Both an account holder and an authorised user can use the Savings Goals feature, including to view, add, edit and delete the savings goals on a Westpac Life or Bump account.
Westpac everyday account: To open a Westpac Life or Bump account, customers must hold a Westpac everyday account in the same name and be registered for Online and Phone Banking. Fees and charges may apply on the everyday account.
Safe Online Banking guarantee: ensures that customers will be reimbursed for any unauthorised transactions provided that the customer has not contributed to the loss and contacted Westpac promptly. Refer to the Westpac

Online Banking Terms and Conditions (PDF 409KB)

for full details, including when a customer will be liable.
Financial Claims Scheme: payments under the FCS are subject to a limit for each depositor. For more information visit www.fcs.gov.au.


Spend&Save bonus variable interest:
You must be aged 18-29 with a Westpac Life and a Westpac Choice account – both in the same name. Joint accounts are not eligible.
If you have multiple Westpac Life or Choice accounts, only the earliest opened account is eligible.
You must make 5 eligible purchases with the debit card linked to your Westpac Choice account and have these settled (not pending) within a calendar month. The following transactions are ineligible: ATM transactions, PayID, BPAY, EFTPOS cash-out only transactions, direct debits and paying off a credit card account.
For bonus interest qualification, a month is the period from close of business on the last business day of the prior month to close of business on the last business day of the current month. Bonus interest is calculated on the daily balance of your eligible Westpac Life account up to $30,000, and paid to your eligible Westpac Life account by the 20th day of the following month.
If your eligible Westpac Life account is closed before 21st day of the following month, the bonus interest will not be paid.
Only one Spend&Save bonus interest offer per customer.
Offer may be varied or withdrawn at any time in accordance with the

Deposit accounts for Personal customers Terms and Conditions. (PDF 897KB)