开设一个Westpac Life储蓄账户,您可获得更佳的利息
开设一个Westpac Life储蓄账户,让您更轻松地达成储蓄目标。当您的eSaver储蓄账户开户优惠利率已经结束时,您也可获得比您eSaver储蓄账户更佳的利率。
1.30% 年利率
每月浮动奖励利率,增长您的余额1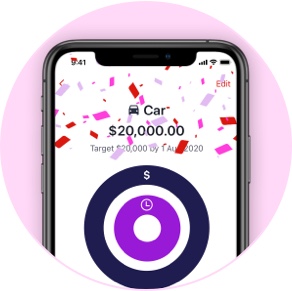 Savings Goals (储蓄目标)
通过网上银行设立并查看您的个人储蓄目标3


持续的奖励利率
您每个月可以获得奖励利率来增长您的余额1
Savings Goals3(储蓄目标)是 Westpac Life 一个便利的功能,通过网上银行来帮您设立并查看个人储蓄目标。利用 Savings Goals(储蓄目标),您可以查看自己的进度,并且储蓄计算器会告诉您需要定时存入多少金额来让您保持进度。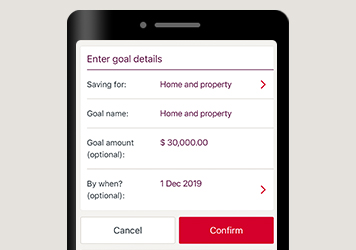 1. 设立您的个人储蓄目标
您可以为您的目标命名,设定您想要储存的金额和想要达成目标的日期。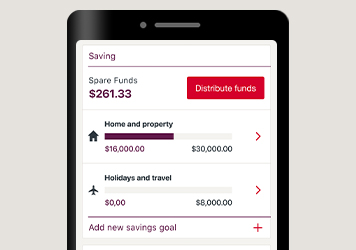 2. 分配您的存款至不同的目标

当您增加您的存款时,您可以分配您的存款至不同的目标。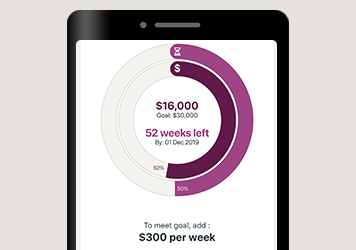 3. 查看您的进度

选择一个储蓄目标来查看自己做的怎么样。
不必管理繁琐的多个账户,即可为不同目标进行储蓄
获得有竞争力的利率,即使您没有增加存款
在网上完成大部分的日常银行事务
| 标准费用(费用或产生变化) | 金额 |
| --- | --- |
| 月服务费 | $0 |
| 网上银行服务(包括移动银行服务) | $0 |
| 电话银行服务取款(自助服务) | $0 |
| 电话银行服务取款(非自助服务) | $2.50 |
| 支行员工辅助取款 | $2.50 |
| ATM 交易 | N/A |
| 账户超额取款费 | N/A |
| 定期付款失败费 | N/A |
| EFTPOS | N/A |
通过网上银行或者自助电话银行,从 Westpac Life 账户转账至账户持有人或已验证的用户名下的 Westpac Choice 日常交易账户,不产生费用。为使用您的钱款,我们建议您转账至 Westpac Choice 日常交易账户,然后取款或支付。

直接借记,定期付款,BPAY®,Pay Anyone,支票取款和ATM交易不适用于 Westpac Life 账户。
Things you should know
Before making a decision about any of our products or services, please read all the terms and conditions and consider whether the product or service is right for you. Fees and charges apply and may change.
1. Bonus interest: Payable each month that you; make a deposit to the account, ensure the account balance is higher at the end than the beginning of the month, and keep the account balance above $0. For bonus interest qualification, a month is the period from close of business on the last business day of the prior month to close of business on the last business day of the current month.
2. Savings Goals: Both an account holder and an authorised user can use the Savings Goals feature, including to view, add, edit and delete the savings goals on a Westpac Life account.
3. Westpac everyday account: To open a Westpac Life account, customers must hold a Westpac everyday account in the same name and be registered for Online and Phone Banking. Fees and charges may apply on the everyday account.
4.
Safe Online Banking guarantee
: ensures that customers will be reimbursed for any unauthorised transactions provided that the customer has not contributed to the loss and contacted Westpac promptly. Refer to the Westpac
Online Banking Terms and Conditions (PDF 341KB)
for full details, including when a customer will be liable.
5.
Financial Claims Scheme:
payments under the FCS are subject to a limit for each depositor. For more information visit
www.fcs.gov.au
.