Money management - Katya's savings story

Saving money is easier when you build good money management habits, even when times are tough. To compliment your good habits, you should find a good savings account that motivates you and provides a good interest rate as Katya1 did in the following story.
Key take-outs
Start to form some positive money management habits
Set up a couple of different savings goals
Find a good savings account

Katya has recently had a setback in her savings. She and her friend Ping have been saving up for a dream holiday to Europe. They hope to go next year, if the borders are open.
However, Katya has had to dip into her savings due to the current situation and while she had saved around $8,000, she now only has approximately $5,000.
Katya has been using some financial management tools like our downloadable Budget Planner (PDF 82KB) and Cost-cutting checklist (PDF 123KB). Learn more about managing your finances on our Master Your Money pages.


By managing her living expenses, Katya is now able to save again. She has set savings goals of $10,000 for the European trip and $5,000 for emergencies. As part of her financial planning she really wants to boost her savings and has decided to use a Westpac Life account as it pays a good interest rate, suits how she wants to save, and Westpac feels like a safe place to bank.
She set up a couple of different savings goals calling them "European adventure" and "My financial backup" for her emergency fund. Naming the goals and having them all in the one account has helped Katya take responsibility for her goals.
The account also helped work out how much she needs to save each month by simply putting in the goal and the date she wants to achieve it by. For her European adventure she needs to save $5,000 in 12 months. Which is $417 per month. As she gets paid fortnightly that is approximately $193 per fortnight that she needs to save to achieve this goal.
Katya also likes the graph that lets her see how close she is to the goal and how much time she has left.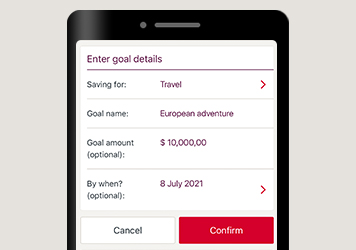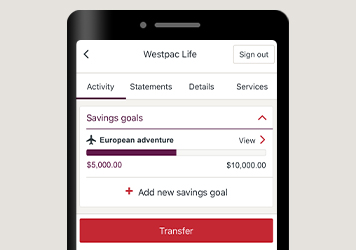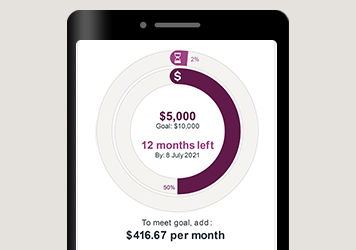 While it is easy to access her savings online, on the phone or at the branch, she really likes this extra feature, as it reminds her about her goals before using the money for something else.

All these features are great to help keep Katya focused and saving towards her goal, but she also wanted a good interest rate, so she would earn a little bit extra for her trip. The Westpac Life account has up to a 5.20% p.a.2 variable interest rate if you are between 18 and 29 years of age, for which Katya qualifies.

This is a great rate, at the moment, but Katya wanted to know more about the conditions to get the rate and what it would mean for her. She did a bit more digging and found out there are 4 different interest earning options to encourage her to save and spend with Westpac.

Option 1 - 2.00% p.a.
A base variable interest of 2.00% p.a. will be paid on the balance in her Westpac Life account even if she does not meet the any other criteria.

Option 2 - 5.00% p.a.
If she makes one deposit to her Westpac Life account and the balance of her account is higher at the end of a month by at least one cent, compared to the start of that month, she will get an additional 3.00% p.a. variable interest rate. Adding this to the base rate of 2.00% p.a. brings her combined interest rate to 5.00% p.a. Yay.

Option 3 - 2.20% p.a.
As Katya has a Westpac Choice account and makes more than 5 debit card purchases from that account each month, Westpac will give her an extra 0.20% p.a. Spend&Save bonus variable interest rate. Adding this to the base rate of 2.00% p.a. brings her combined interest rate to 2.20% p.a. Yay.

Option 4 - 5.20% p.a.
If Katya grows her savings by 1c each month (option 2, an additional 3.00% p.a.) AND has 5 card transactions on her Westpac Choice account in the same month (option 3, an extra 0.20% p.a.), adding these to the base rate of 2.00% p.a. brings her combined interest rate to 5.20% p.a. Double yay!

So how much extra will Katya get for her trip from the interest earned over 12 months at the current variable interest rates on the 4 options.


| Option 1 | Option 2 | Option 3 | Option 4 |
| --- | --- | --- | --- |
| Base Rate | Bonus interest for growing your Westpac Life savings account balance by the end of each month. | Reward interest for making 5 eligible purchases a month with your debit card linked to your Choice account. | Qualify for all bonuses. |
| 2.00% p.a. | 5.00% p.a. | 2.20% p.a. | 5.20% p.a. |
| $5,000 for 12 months. | $5,000 + $193 deposited each fortnight for 12 months. | $5,000 + $193 deposited each fortnight for 12 months. | $5,000 + $193 deposited each fortnight for 12 months. |
| Interest earned | Interest earned | Interest earned | Interest earned |
| $101 | $372 | $162 | $388 |
Earning another $388 to take on her European adventure sounded great to Katya and easy to do if she keeps to her savings goal and keeps using her Westpac choice account for her transactions.

With a little bit of money management, staying on top of her living expenses and utilising the benefits of a savings account like Westpac Life, Katya now believes she can achieve her savings goal and be off to Europe with her friend Ping next year.



1 This story and the names used in it are for illustrative purposes only and is not based on any one individual.
2 Westpac Life interest rates are current as at 17 November 2023 for customers between the ages of 18 and 29.


This article is from Westpac's financial education specialists, continuing the legacy of Sir Alfred Davidson in helping you create a better financial future

Things you should know
© Westpac Banking Corporation ABN 33 007 457 141 AFSL and Australian credit licence 233714.
This information is general in nature and has been prepared without taking your objectives, needs and overall financial situation into account. For this reason, you should consider the appropriateness or the information to your own circumstances and, if necessary, seek appropriate professional advice. Before making a decision about any of our products or services, please read all the terms and conditions. Fees and charges apply and may change.