Lightsource bp says solar build out can ease power price crunch
A major expansion of grid-scale solar and wind power is the best way to get power bills down on a long-term sustainable basis, says Australia's top solar developer Lightsource bp, after it secured financing to progress two projects.

Westpac is among a number of banks participating in a $540 million green financing package for Lightsource bp, enabling it to begin full construction of the Wellington North and Wunghnu solar farms located in New South Wales and Victoria respectively.

"When you build a solar plant all of your capital is up front, so you know what the cost of your energy is going to be for 40 years. Customers like that, so we can enter into long term price agreements to lock in their energy costs," Adam Pegg, Lightsource bp's managing director for Australia and New Zealand, said in an interview with Westpac Wire.

"We need to develop more of these internal resources to move away from coal and gas, where the price is set on the global commodity market. We can insulate ourselves from the sort of shocks that we've seen over the last 12 months by developing more solar, and we will as coal exits the market.

The new generation being added by Lightsource bp comes at a critical time for Australia's east coast grid, as energy planners scramble to replace ageing coal-fired power plants, many of which are scheduled to retire over the next decade.

The two solar farms combined will have a capacity of 515 megawatts, making Lightsource bp the first renewables developer in Australia to reach financial close on over 1 gigawatt of power - enough to power more than 350,000 homes. Project contractor Gransolar expects to have the facilities ready to begin commercial operations in 2024.

Lightsource bp is also playing a key role in 50 per cent owner bp's ambitious decarbonisation strategy. The London-based energy giant is targeting a 40 per cent cut in its oil and gas production by 2030. Over the same timeframe the group aims to have 50 gigawatts of renewable generation capacity in place.

"It's a genuine transformation of their old business," Pegg said, adding that the partnership married bp's financial clout with Lightsource's expertise in project development and execution.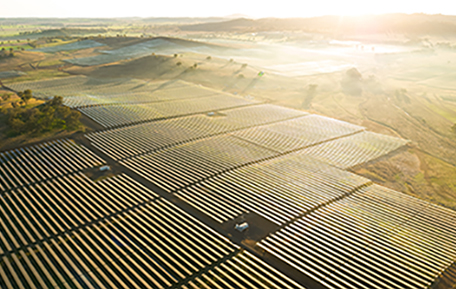 Pegg said he was hopeful that the Australian government's target to cut greenhouse gas emissions by 43 per cent by 2030 would help to accelerate the energy transition in a country where around 60 per cent of power still comes from coal.

"We now have investor certainty, we don't have to worry about the political landscape - it's encouraging more capital into the sector," Pegg said. "We have the best solar, the best wind resources of anywhere in the world, so we should be leading that transition."

Lightsource's new solar farms are backed by power purchase agreements with industry heavyweights Boral, Orica, Mars Australia and Engie, while Pegg said there were plans to add battery storage at the facilities in the future to back up the solar generation.

The debt package is being structured as a green financing loan - where the funding is earmarked by lenders for new projects that create positive environmental outcomes.

"It is fantastic to again be supporting Lightsource bp in their objective of delivering affordable and sustainable solar power in Australia," said David Scrivener, head of energy, infrastructure and resources at Westpac Institutional Bank.

Westpac is the leading bank lender to Australian greenfield renewable energy projects, helping to deliver $6.5 billion worth of capital investment across 24 new projects in the last five years.

"Westpac will continue to play its part in supporting the transition to net-zero by financing renewables at scale while we work closely with customers in higher emissions sectors to support their transition. Our recently announced Net Zero Banking Alliance targets set the framework for the bank and our customers to achieve that," Scrivener said.