BILL'S BITES: Sentiment drops again as property gloom deepens
The Westpac-Melbourne Institute index of consumer sentiment fell a further 3 per cent in August, with expectations for tumbling house prices a feature of the latest report.

The index is now down to 81.2 – comparable with the lows we saw during the global financial crisis and the height of the Covid pandemic in 2020, although still well above the levels seen during the recession of the early 1990s.

Since the recent peak last November, it's fallen by 23 per cent, and it's significant that among the components that have fallen most during that period is the question of whether now is a good time to buy a major household item. That gauge has dropped by 27 per cent, more than the overall index, and in my view that's being driven by inflation.

The June quarter inflation report showed that furniture prices have risen over 8 per cent in the past twelve months, while major household items have risen over 5 per cent and it's likely that is weighing down on confidence.

On the plus side, there was a 5.8 per cent improvement in how people see the state of the labour market, and that is supporting ongoing, relatively strong spending.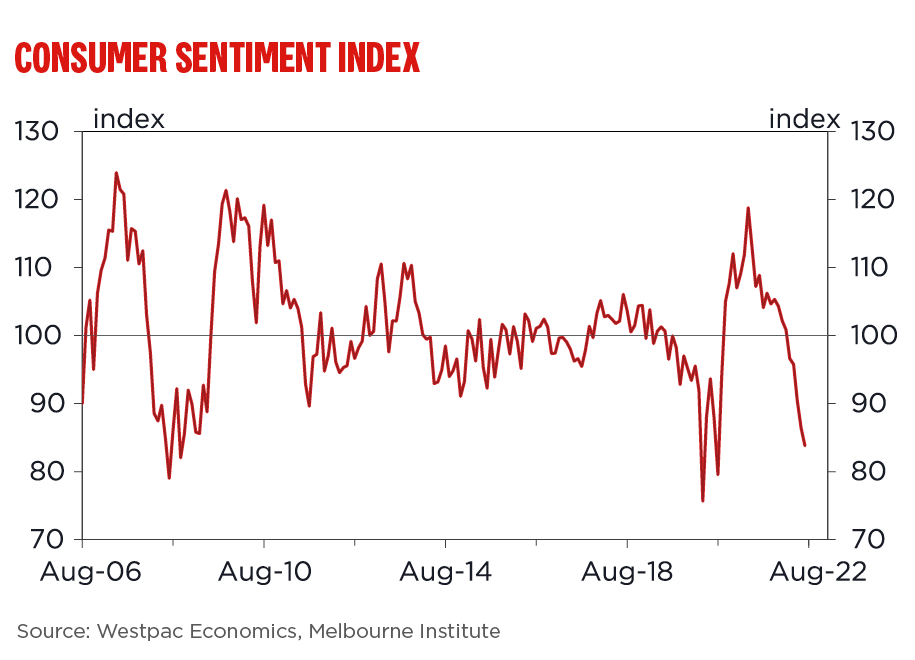 Interest rates also continue to weigh on sentiment, and the confidence of people with a mortgage fell by 8.9 per cent in the month. But the big story remains the weakness in the housing market.

We saw a 7.5 per cent drop in the outlook for house prices, with particularly weak measures in New South Wales, Victoria and even Queensland. The market there has been very strong, but the Queensland index dropped 10 per cent in the latest survey and is now just above the 100 level which marks the balance between optimists and pessimists.

The Reserve Bank board meets again on September 6 and we think they need to continue to raise rates. The important point here is to ensure that economic agents accept the fact that next year's demand growth will be very weak. It will be a signal to the business sector that demand will be so weak that they will not be able to keep lifting their prices as they are doing currently. Managing those expectations will help to contain the inflation pressures that we're seeing at the moment and will continue to see for the rest of this year.

For the full report, click here.