BILL'S BITES: Sentiment sinks as rates, inflation rise
The Westpac-Melbourne Institute Index of Consumer Sentiment dropped 5.6 percent in May to 90.4, its lowest level since August 2020.

This was the largest monthly fall in almost seven years, if you exclude the confidence collapses we saw during the pandemic.

The drop shows consumers are clearly unnerved by two stunning recent developments.

The first was the news on April 27 that headline inflation had lifted above 5 per cent for the first time since 2007.

Then on May 2 – during the week the sentiment survey was conducted – the Reserve Bank of Australia raised the cash rate by a quarter of a percent, the first rise in more than a decade, and further rises have been signalled.

Consumers are bracing for a steep rise in interest rates, our May survey finding 77 per cent of respondents expect mortgage rates to rise over the next 12 months, up from 70 per cent last month, and that is feeding through to increased concern over family finances.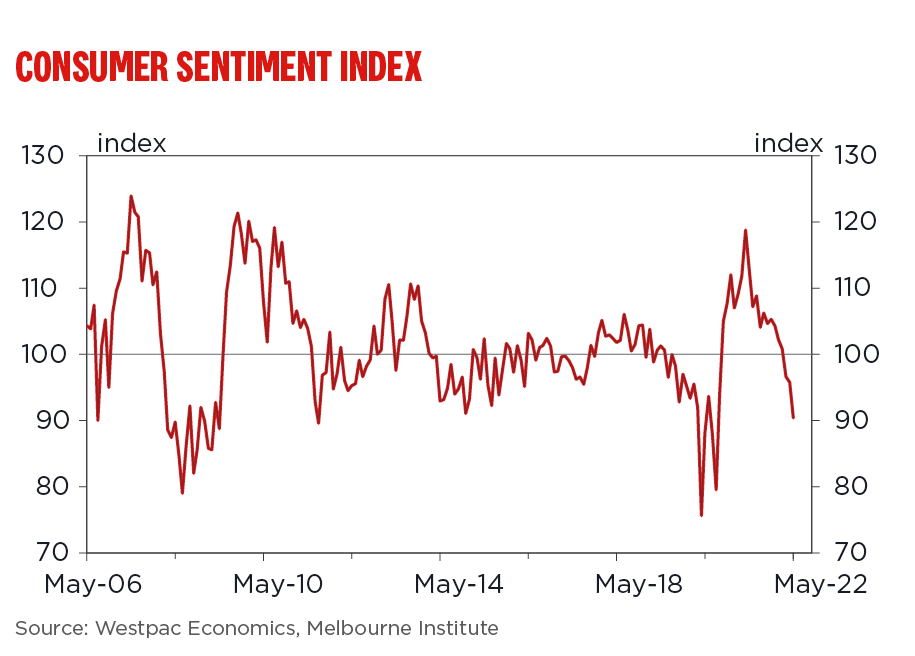 Weak sentiment comes despite spending being more buoyant so far in 2022 as households responded to the re-opening of the economy as Covid restrictions were lifted across the country, supported by a built up of excess savings over lockdown periods in the past two years.

Despite this disturbing tumble in consumer sentiment, the Westpac Economics team believes the prudent approach is for the Reserve Bank to lift rates by a further 40 basis points in June, rather than the 25bps currently favoured by most analysts.

Why? We think now is the time to get ahead of the curve, to take account of the unexpectedly robust surge in inflation and take strong action now to contain those pressures and contain expectations about how long those pressures will last.

We then expect multiple increases through the remainder of the year with the cash rate peaking at 2.25 per cent in May 2023.

For the full report, visit Westpac IQ. To hear Bill Evans' next economic update webcast at 2pm on May 25, register here.